Destinations
Microsoft Azure
Google BigQuery

Explore how Barilla collaborated with OMD and Adverity to reinterpret classic pasta recipes to embody inclusivity. Learn more about the impact of this campaign on brand favorability, engagement and mission for a more inclusive culinary world.
Background
Barilla, a revered culinary force globally, is synonymous with excellence in food products. Their commitment to delivering delightful, nutritious, and inclusive cuisine is inspired by the Mediterranean Diet and Italian lifestyle, resonating across their renowned brands. The world is becoming more multifaceted and multicultural, so it seems only natural for food to do so as well. That's why Barilla is heating up the pasta world making traditional pasta recipes more inclusive. With new research showing that more than half of global respondents (57%) said that they have to deal with a food intolerance or special dietary requirements, Barilla celebrated this year's Carbonara Day by launching 'Open Carbonara': a new recipe inspired by the original but reinterpreted as a sign of love for moments to be experienced together.
Key results achieved by Barilla
Positive brand lift
The campaign drove a significant and above-benchmark brand lift in three of the four markets, reinforcing Barilla's message of inclusivity and resonating with a diverse audience.
Engaging view through rates
Barilla experienced strong engagement rates, surpassing benchmarks and reaffirming the campaign's success in its objectives.
Data-driven decision-making
Adverity's real-time monitoring enabled Barilla to adapt, strategically overcome challenges and ensure the campaign's resounding success.
"At Barilla we measure thanks to Adverity, metrics in near or real time – a pulse check of success. Weekly, we measure more top level KPIs, uncovering our impact. Long-term, our in-house tools reveal the impact on performance and equity. Adverity, our vital ally, ensures every move counts, adapting on the fly."
Chief Analytics and Insight Officer, Barilla
Challenge
Barilla is dedicated to nurturing a data-driven culture within the Group. The ambition is to unlock the full potential of their data assets, enhance decision-making capabilities, and ultimately strengthen Barilla's market presence and competitive advantage. "We believe that robust data analytics and perceptive insights are the cornerstones of Barilla's future achievements. By 2025, our goal is for every commercial decision at Barilla to be grounded in data, inspiring people's actions", says Lyndsay Weir, Chief Analytics and Insights at Barilla Group.
To tackle this challenge, a key priority for Barilla is establishing the seamless processing and real-time visualization of their marketing and commercial data. This capability is essential, empowering Barilla to make well-informed decisions that contribute to their ongoing success.
Barilla's campaign aimed to transform the narrative around traditional pasta recipes, turning them into a symbol of inclusivity and shared moments. The challenge lay in counteracting negative sentiment that emerged in certain markets, threatening to overshadow the campaign's true impact.
Solution
With Adverity's robust data integration platform, Barilla gained real-time insights crucial for agile decision-making. The ability to access performance data and monitor metrics empowered the team to respond to changes fast, ensuring the campaign's delivered to benchmark "By being able to access our performance data in real time, through the APIs and reporting tools, we were able to act quickly. This allowed us to make data-informed decisions, and strategically decide to continue with the campaign on air across the world", says Lyndsay Weir, Chief Analytics and Insights at Barilla Group.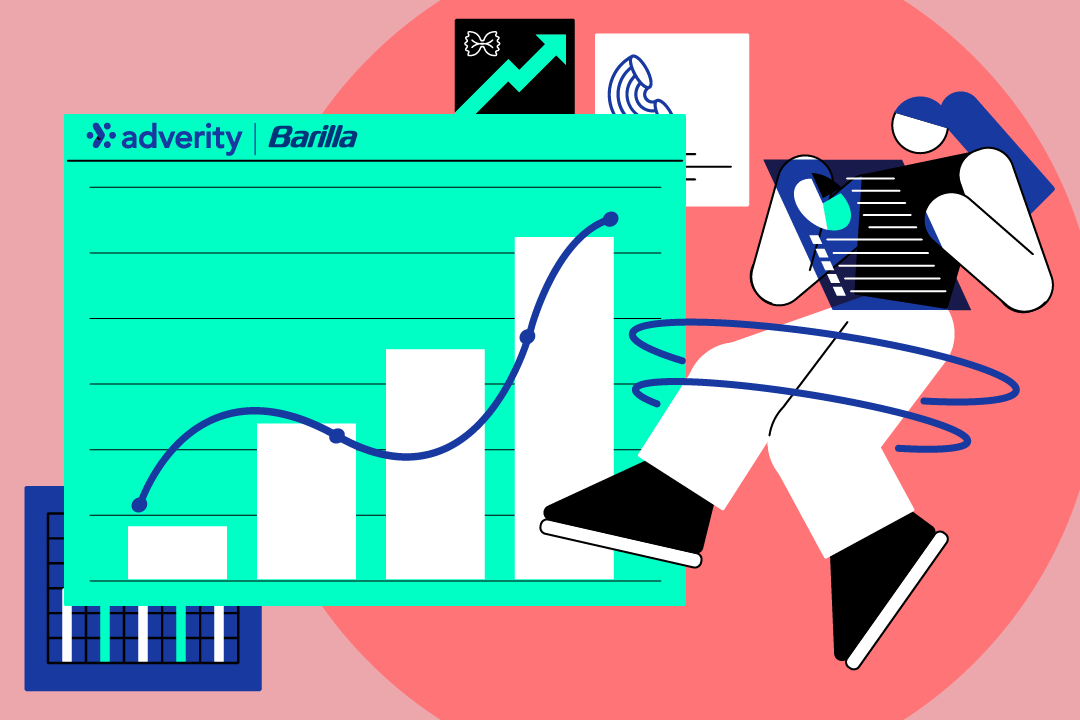 Impact
The collaboration between Barilla and Adverity led to a strong alliance. Utilizing data-driven decisions, Barilla enhanced brand favorability, engagement, and inclusiveness. The campaign's positive impact on brand perception and impressive engagement metrics highlight its effectiveness, showcasing the potential of data-driven strategies.