We take data security very seriously
Adverity's ISO 27001 certification and SOC 2 report confirm that we have successfully established an ISMS (Information Security Management System) and an Internal Control System to protect all information and data assets for the Software as a Service products offered by us.
By adhering to the highest standards for Information Security Management Systems (ISMS), we guarantee that we are handling our customers' data with the utmost care and attention, making sure our clients can focus on analyzing, rather than worrying about protecting their data.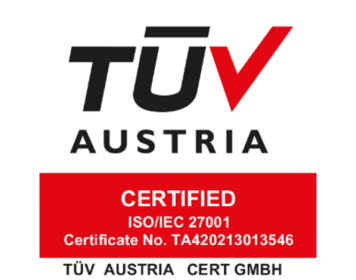 Focus on using your data instead of worrying about its security
Being a SOC 2 Type 1 audited company, Adverity ensures advanced data security by applying internal controls and demonstrating established security processes.
1
Secure data integration
Your data is fetched through fully protected API connections using SSL/TLS protocols to guarantee integrity and security of the data imported into our platform. All processed data assets are encrypted at rest, so no unauthorized access is possible during the data transfers
2
Reliable and safe data storage
Adverity built its product from the ground up to be a true SaaS environment in the cloud with security and privacy in mind at every step of the development and deployment.

This flexible, reliable, and secure cloud infrastructure allows us to maintain service availability levels above 99.9% and ensures a high level of information security
3
Complete access control
Access to our platform and data is fully protected with user access control and well-defined access rights. Permissions are set on user group or individual level and always follow our least privilege principle. Additional techniques such as 2-factor authentication add an important layer of security, while SSO simplifies daily use of our customers.
4
Full data privacy
The robust privacy protection requirements of the General Data Protection Regulation (GDPR) of the European Union (EU) and the European Economic Area (EEA) are in line with the values of Adverity.
Adverity is fully compliant with various data privacy legislation, such as the EU's GDPR. Our applications that handle data integration, processing, and storage are fully aligned with the best practices in protecting customer data privacy.