Get the most out of your Amazon Marketplace with Adverity
Adverity is an intelligent marketing analytics platform enabling sellers and marketers to make better decisions and improve performance. We help you transform disparate data from Amazon Marketplaces, Amazon Advertising, and hundreds of other selling and marketing platforms into actionable insights.
Our Amazon Marketplace connector empowers you to:
Increase automation of your sales process, enabling faster growth for your business on Amazon, through reduced manual workload and faster response to customer needs.
Optimize revenue through better visibility and understanding of the effects promotional and marketing activities have on sales across your Amazon Marketplaces and other platforms.
Better understand the effect a specific campaign has on sales of a particular item across all Amazon marketplaces, and other platforms.
IMPORTANT: Amazon MWS is set to be deprecated on September 30th 2021, and replaced by the Amazon Selling Partner API. But don't worry – we already have an API connector for the Amazon SP-API.
Connecting to your Amazon marketplace
Amazon Marketplace is one of the most popular global eCommerce platforms. It enables third-party sellers to sell new or used products to a huge online audience, right alongside Amazon's regular offerings.
Amazon Marketplace Web Service (MWS) is an integrated web service API that enables programmatic data exchange with Amazon Marketplaces for listings, orders, payments, reports, and more. It provides features such as inventory management, Order management, and Reports management.
The Adverity platform easily connects to the Amazon MWS API, and hundreds of other sources. It automates the process of seller and marketing data collection and management, enables fast and easy harmonization and transformation of that data, and delivers compelling visualization dashboards and reports. It also facilitates a straightforward route to analyzing the data in many other BI and analytics tools, and features advanced AI, for even greater insights.
Benefits of integrating Amazon Marketplace data in Adverity

Real-time analysis of your Amazon Marketplace data
Easily deliver data on up to sixty different reporting criteria from your Amazon Marketplace to Adverity dashboards or many other BI and analytics tools, in real-time. Achieve fast, up-to-date performance analysis on the likes of, payments, inventory and sales orders.

Compare results across products, countries etc.
Contrast sales performance across products, countries, and other criteria., by bringing together data from multiple Amazon marketplaces, allowing you to achieve the optimum mix.

Analyze ad performance and its impact on sales
Combine Marketplace data with your Amazon Advertising metrics to more effectively understand your overall advertising performance and its effect on sales.

Holistic view across all selling platforms
Get the full picture across all seller platforms and sites by combining Marketplace data with other sources. Compare the overall results of different campaigns and products across those platforms, to make more effective decisions.
Infographic: how to get the most out of your Amazon Marketplace and boost performance
As we all know, Amazon is a fiercely competitive marketplace where there is very little room for error or hesitation when making important business decisions. This is where an intelligent marketing analytics platform can enable sellers and marketers to make better decisions and improve performance.
We've created an infographic that you can use to identify the most important features that your eCommerce marketing intelligence solution should include to ease your daily struggles with data, help increase sales and lower your customer acquisition costs.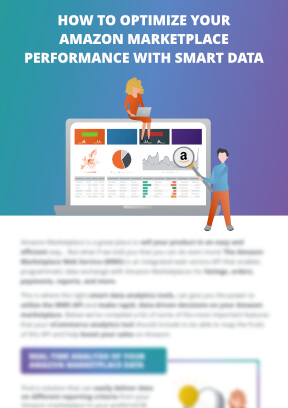 We love being able to compare Amazon Marketplace data to our other marketing channels in a single source of truth within Adverity's Data Visualization solution. Prior to partnering with Adverity, we had to manually pull a report from each channel to compare the data.
Anwar Ayad, Online Marketing Manager at Tectake