Why Adverity and Walmart Marketplace?
Adverity lets you quickly and easily fetch Walmart Marketplace data, clean and harmonize it, and combine it with ad platform data, before sending it wherever you need it for further analysis and insights into your ad campaign performance.
Single source of truth
Use our Data Mapping functionality to combine your Walmart Marketplace data with other data sources and create cross-channel dashboards.
Optimize for growth
Make data driven decisions in real-time based on data you can trust.
Data where you need it
Send your data anywhere you need it or keep it in Adverity's secure data storage.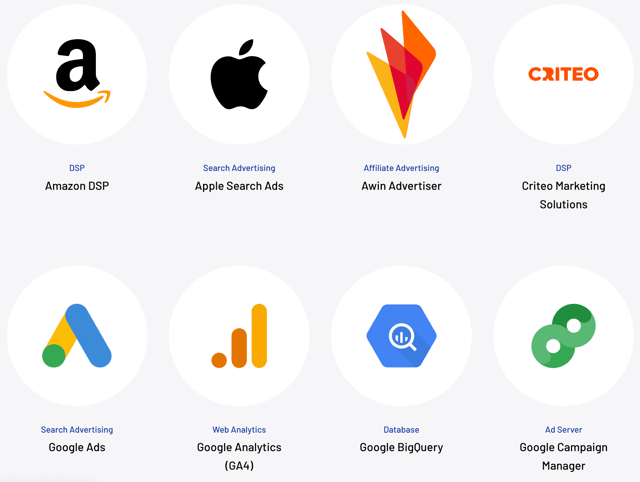 Combine your Walmart Marketplace data with data from multiple sources
With more than 600 prebuilt connectors as well as the option to custom build new connectors, combine your Walmart Marketplace data with any other data source you need.
Best in business data integration
Connect to any data source you need with one of the most sophisticated automated data integration platforms available.
Unrivaled data transformation options
Choose from a range of data transformations that scale in complexity - from simple transformation templates to flexible python/regex-based instructions that can be used sequentially.
Powerful and intelligent automation
Utilize smart automation tools to efficiently conduct advanced data operations fast and at scale.
Data governance built-in
Easily ensure data quality and completeness and manage access across the entire business - all from a single place.
Built-in storage and instant access to data
Immediately visualize and explore your data within the platform for faster time to insights.
Integrate with your wider tech stack
From BI tools to big data storage or apps, send data wherever you need it and easily integrate into your existing tech stack.
Adverity has been a game changer for our organization
Adverity makes data access simple. This frees our engineering resources to focus on more.

Automated reporting in just a few clicks
Since we've implemented Adverity, our data is more consistent and automated. We can now focus on analyzing the data and optimizing our campaigns.

Great tool for controlling your marketing spend
Very flexible and powerful solution, all relevant traffic and tracking partners are available.

What is Walmart Marketplace?
Walmart Marketplace is a major eCommerce platform where third-party sellers can showcase and sell products on Walmart.com. With a vast customer base, sellers benefit from the platform's established reputation and infrastructure.
The marketplace provides tools for easy inventory management, product optimization, and marketing, offering businesses a streamlined way to reach millions of potential customers.
Visit the Walmart Marketplace website for more information.
Report types
Item
Inventory
Cancellation
Item performance
Shipping configuration
Performance
Orders
Order line items
Uncover real-time insights into your marketing campaign performance.