"It's taking us too long to leverage our data across the business."
"We need to sense-check our data before sharing it with others."
"We need flexibility about where we store, visualize and use our data."
Visualize data in seconds
Organize your freshly pulled data with in-built dashboarding features for rapid time to insights.
Full control
Directly access, filter, and review your newly transformed data with Adverity's Data Explorer.
Full flexibility
Store and visualize your data in Adverity, or forward it wherever you need it - enjoy full interoperability with the rest of your tech stack.
Adverity Data Explorer and Dashboards
Keep it simple - immediately visualize and explore your data within the platform for faster time to insights.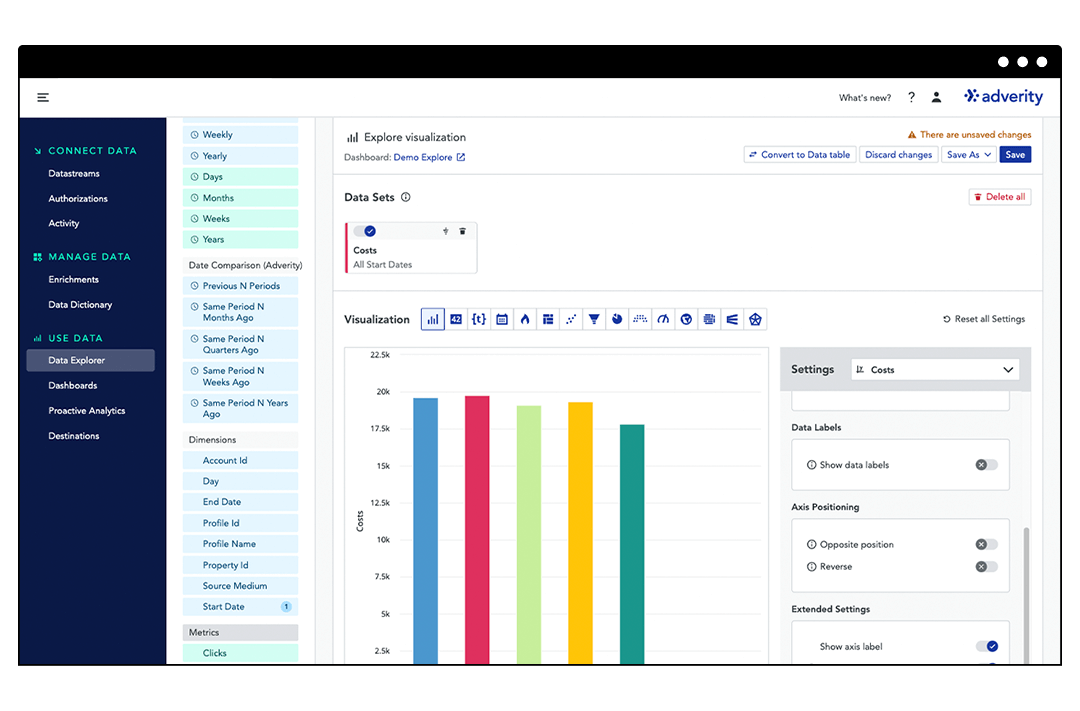 A holistic approach to marketing has been the driving force behind our passion to get the most out of our data. Our expectations for data quality and maximizing gains accrued from our analytics efforts have truly been exceeded.
The data area is becoming increasingly important for RTL. Manual reporting is therefore no longer viable for us and, to be honest, it is no longer in keeping with the times,...With Adverity, we can monitor our data sources on a daily basis and check the success of our campaigns on a daily basis. Adverity's harmonization function also ensures that we can fully rely on the correctness of the data.

Since using Adverity, collecting data and creating reports are now table stakes. It's on autopilot, allowing our team to focus on getting the most out of our data. We're starting to get more into prescriptive and predictive strategies. If we do XYZ, we know it would make this impact for this specific customer.