Google Connectors with Adverity
Google Ad Manager
Google Ads Keyword Planner
Google Analytics (UA)
Google Calendar
Google Content for Shopping
Google My Business
Google PageSpeed Insights
Google Sheets
Google Trends
Why Adverity and Google Display & Video 360 ?
With the endless possibilities for targeting, bidding, auction types, and much more comes the creation of a massive amount of data to look at on a regular basis. This is where Adverity can help to automatically pull this data together into a single source of truth, allowing you to get insights in minutes without having to manually log in and upload all your data. By using the dedicated Google Display and Video 360 API.
You can then send your clean, connected data to your chosen visualization or storage tool, such as Google BigQuery.
Single source of truth
Easily combine your Google Display & Video 360 data with multiple other data sources for a holistic view of business performance.
Optimize for growth
Make data driven decisions in real-time based on data you can trust.
Data where you need it
Send your data anywhere you need it or keep it in Adverity's secure data storage.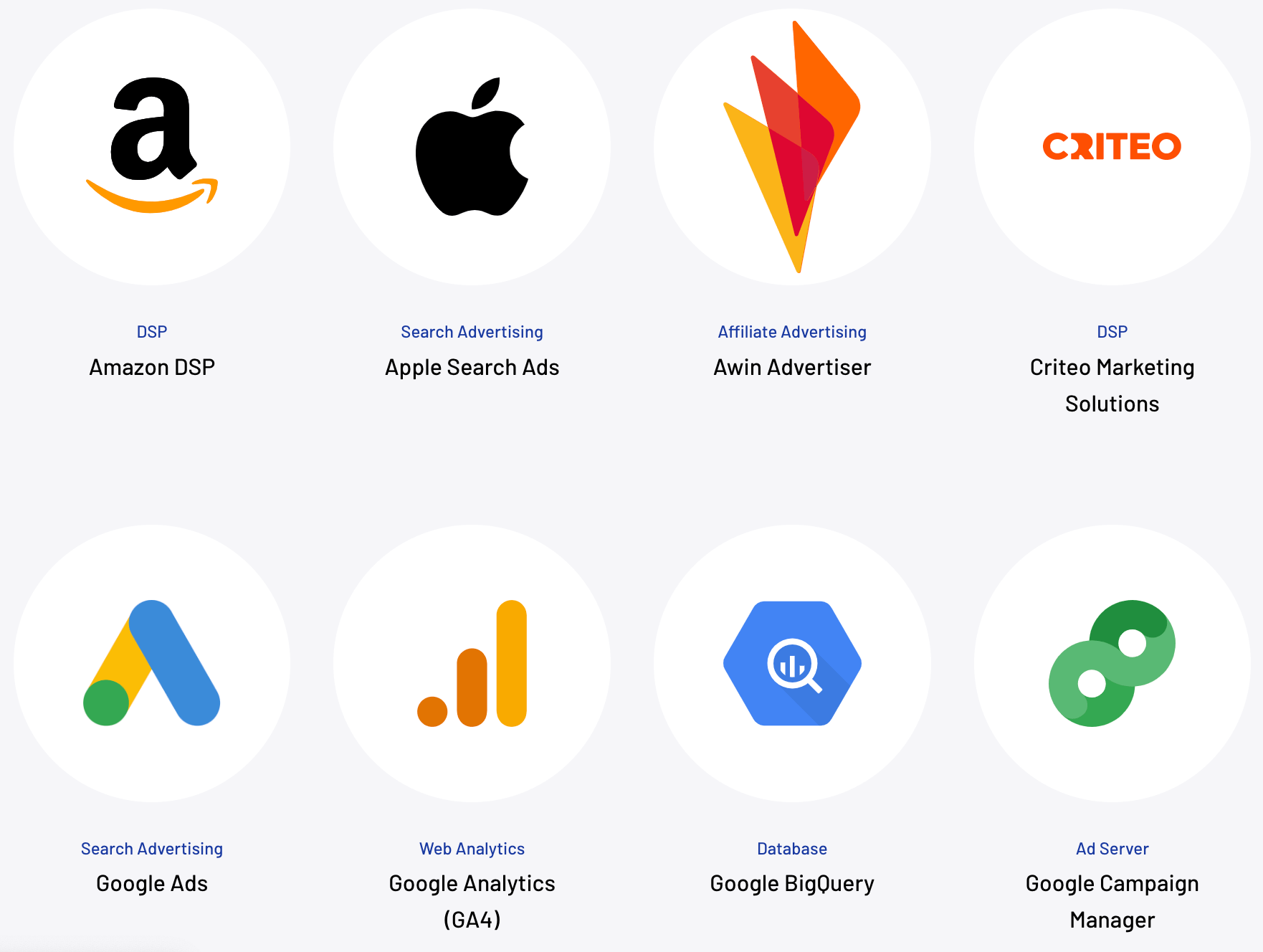 Combine your Google Display & Video 360 data with data from multiple sources
With more than 600 prebuilt connectors as well as the option to custom build new connectors, combine your Google Display & Video 360 data with any other data source you need.
Best in business data integration
Connect to any data source you need with one of the most sophisticated automated data integration platforms available.
Unrivaled data transformation options
Choose from a range of data transformations that scale in complexity - from simple transformation templates to flexible python/regex-based instructions that can be used sequentially.
Powerful and intelligent automation
Utilize smart automation tools to efficiently conduct advanced data operations fast and at scale.
Data governance built-in
Easily ensure data quality and completeness and manage access across the entire business - all from a single place.
Built-in storage and instant access to data
Immediately visualize and explore your data within the platform for faster time to insights.
Integrate with your wider tech stack
From BI tools to big data storage or apps, send data wherever you need it and easily integrate into your existing tech stack.
Adverity has been a game changer for our organization
Adverity makes data access simple. This frees our engineering resources to focus on more.

Automated reporting in just a few clicks
Since we've implemented Adverity, our data is more consistent and automated. We can now focus on analyzing the data and optimizing our campaigns.

Great tool for controlling your marketing spend
Very flexible and powerful solution, all relevant traffic and tracking partners are available.

What is Google Display & Video 360 ?
Google Display and Video 360 (Google DV360) offers a variety of features for advertisers to target their audience with display ads. The targeting possibilities of the DV360 are almost unlimited. DV360 can access a wide range of first-party data such as your Google Ads lists, Analytics 360 audiences, YouTube audiences, manual cookie uploads, or even Facebook custom audience data. In conjunction with second-party data, this can enable precision targeting with your ads.
Visit the Google Display & Video 360 website for more information.
Report types
Audience composition

Conversion performance

Conversions

Floodlight reporting

Inventory availability

Line item reach

Easily handle data from multiple sources
Our comprehensive library of more than 600 data connectors enables you to effortlessly integrate data from all your business data sources. All are continuously maintained and updated with no maintenance work required from your end.
Once your data sources are connected, our platform automatically collects all the data, maps it to the exact data structure you need, and uploads it to your preferred data destination - leaving you free to concentrate on data analysis rather than manual data integration and harmonization.