Why Adverity and Microsoft Ads?
The Microsoft Advertising API allows tools like Adverity to directly communicate with Microsoft Advertising. This makes it possible to query certain datasets regularly. By automating data integration, you can keep an eye on your favorite metrics without having to take on time-consuming reporting tasks.
Adverity is equipped with the latest Microsoft Advertising API, and its connection is regularly maintained by us. Use the API connector in our Intelligent marketing analytics platform to connect, clean, and normalize data from Microsoft Advertising to improve the quality of your data and the results of your advertising campaigns on this ad platform.

Single source of truth
Use our Data Mapping functionality to combine your Microsoft Ads data with other data sources and create cross-channel dashboards.
Optimize for growth
Make data driven decisions in real-time based on data you can trust.
Data where you need it
Send your data anywhere you need it or keep it in Adverity's secure data storage.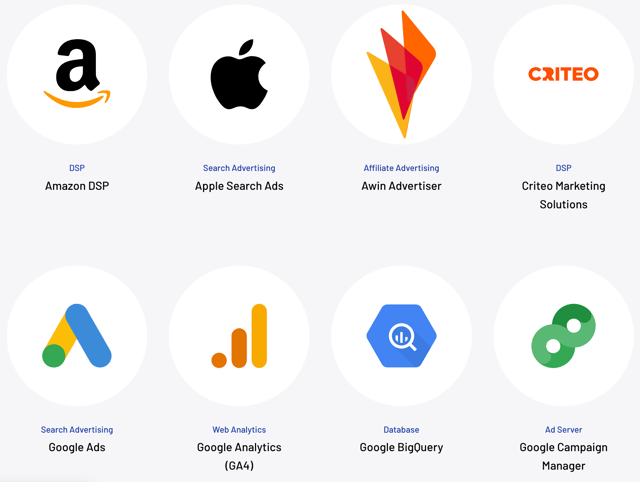 Combine your Microsoft Ads data with data from multiple sources
With more than 600 prebuilt connectors as well as the option to custom build new connectors, combine your Microsoft Ads data with any other data source you need.
Best in business data integration
Connect to any data source you need with one of the most sophisticated automated data integration platforms available.
Unrivaled data transformation options
Choose from a range of data transformations that scale in complexity - from simple transformation templates to flexible python/regex-based instructions that can be used sequentially.
Powerful and intelligent automation
Utilize smart automation tools to efficiently conduct advanced data operations fast and at scale.
Data governance built-in
Easily ensure data quality and completeness and manage access across the entire business - all from a single place.
Built-in storage and instant access to data
Immediately visualize and explore your data within the platform for faster time to insights.
Integrate with your wider tech stack
From BI tools to big data storage or apps, send data wherever you need it and easily integrate into your existing tech stack.
Adverity has been a game changer for our organization
Adverity makes data access simple. This frees our engineering resources to focus on more.

Automated reporting in just a few clicks
Since we've implemented Adverity, our data is more consistent and automated. We can now focus on analyzing the data and optimizing our campaigns.

Great tool for controlling your marketing spend
Very flexible and powerful solution, all relevant traffic and tracking partners are available.

What is Microsoft Ads?
"677 million monthly unique searchers on the Microsoft Search Network and 201 million unique users through native advertising on brand-safe experiences." (https://ads.microsoft.com/)
Microsoft Advertising is the platform's self-service solution to run ads on Microsoft's search engine Bing, and several other search engines.
By including Microsoft Advertising and counting on its ability to reach smaller search engines, advertisers can complete their search engine marketing mix. Brands, eCommerce sites, and agencies can promote their businesses to anyone actively looking for their product.

Visit the Microsoft Ads website for more information.
Uncover real-time insights into your marketing campaign performance.