SAP Analytics Cloud dashboards, fueled by Adverity
Get thoughtful insights from dynamic reports
Access all your data through a single platform and leverage the power of consolidated data from all your sources in visually appealing and interactive reports done by SAP Analytics Cloud.
Connect ad, website, sales and all other data into a single dashboard that displays the performance of your business and the success rate of your campaigns.
With no effort used on acquiring data, you can spend your time analyzing the data and discovering insights that will help you grow and show value.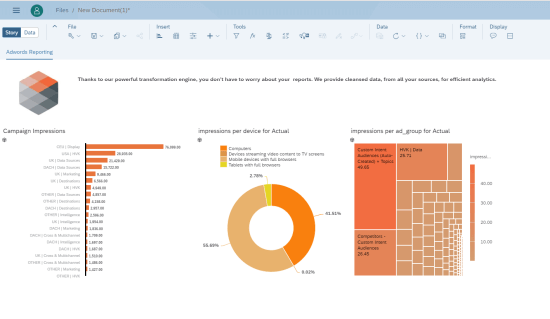 Integrate data from all your marketing tools automatically
Forget about manual data wrangling, and introduce automated data acquisition and transformation into your daily work with the Adverity engine.
Move all consolidated data into the SAP BI platform and start making informed decisions based on up-to-date, consolidated data.
With your new automated reporting capabilities you can invest more time into seeking new opportunities for advancements and getting new ideas that could improve your business.
Leading brands and agencies trust Adverity
Adverity is able to prove their excellence in leveraging the big data needs for a highly agile company. Their ability to provide cleaned and harmonised data – in a very transparent way – caused a huge spark in our productivity
Read what other clients think of our product
Find independent reviews from genuine Adverity users at G2 and Capterra.