How the integration works?
Our analytics platform provides a data connector to the API of Google Trends. You can clean and harmonize your data coming from Google Trends API and and improve the quality of your data. Our solution allows you to combine data from different marketing channels, in one single hub.
With our platform, you can apply real-time analytics to track consumer search behaviors. So that you can make confident and data-driven business decisions. And increase the ROI of your marketing campaigns.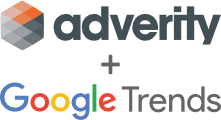 Benefits of Google Trends API integration into Adverity
Right content at the right time
Seasonality, the day of the week and other factors can affect search volumes for keywords. Our solution helps you to better plan your publishing schedule.
Identify seasonal trends, and how they influence the demand
Identify time trends, such as the day of the week or an hour of the day, and understand when your content will perform the best
Create and promote the right content at the right time
Plan your content publishing schedule easier
Increase campaign profitability with improved content planning
Enhanced planning of future content
The long-term view of search terms helps you to make smarter decisions on future direction. Find out what type of content you should focus on.
Get insights on a long-term view of keyword search and popular search terms, and plan future actions according to the results
Know when it's the right time to think about shifting content resources
Know when it's the right time to change your content model altogether
With the right information, you can create a better strategy. And realign your marketing tactics
Capitalize on relevant trending topics
Find relevant topics that are trending right now, in various countries or regions, and then capitalize on them and increase your conversion rate.
Find out what's holding consumer interest and capitalize on the current conversation, and tailor your content for what they want to hear about
Identify the latest trends and hot topics. Create content and shape up your marketing strategy accordingly
Refine your SEO strategy by analyzing what people are searching for, and which search terms users type into a search engine when they want to find something specific
Optimize your content by integrating trending search terms
Find your audience with geo-targeting
See exactly which countries, cities and subregions need your products or services, and then get laser‐targeted with your SEO strategy.
Use geo-targeted marketing to skyrocket the audience engagement
Determine what areas are the best to reach out to
Recognise areas and regions of high interest
Find out what is working and what areas need improvement
Find new customers
Tailor your content to specific regions
Set up effective ad campaigns, whilst helping you target the right audiences
Influence demand of your product
Find out what search terms people are querying on a frequent basis, and find new search term and keyword ideas.
Increase traffic to your website by knowing the best performing keywords and search terms
Get your company's websites as high up the listings as possible and attract more visitors
Use "related queries" to find new search term and keyword ideas
Cut search terms and keywords with low performance
Avoid search term and keyword "unicorns" by checking for data‐skewing popularity spikes
Monitor your brand and competitors
Track your marketing performance and discover how much interest is being shown towards your product or brand, but also analyse your competitors' performance.
Discover when the search term is most often looked up and when people interact less with your brand
Get a detailed report on how searchable is your product
Analyse your competitors. How often their product is being looked up
Get a competitive advantage, knowing where you stand in the battle of the search engines
Find out how competitors do things differently: How do they rank in searches? What is the public recall of their brand?