What is MailChimp?
Imagine you have a mailing list with several thousand, maybe even tens of thousands of email addresses. Do you write these emails from your personal mailbox? No. The task of mass mailing, sending an email to a large number of recipients, is handled by email marketing tools or ESPs (Email Service Provider). E-mail marketing tools facilitate many of these processes and provide a whole host of new functionality for e-mail marketers.
MailChimp is perhaps one of the most powerful email marketing solutions on the market. The California-based marketing automation platform has developed many intelligent targeting capabilities, which integrate seamlessly with multiple large marketing platforms. One of MailChimp's USPs is the ability to precisely optimize your Facebook, Google or Instagram ads with intelligent and highly targeted email delivery.
This visualization has been embedded directly from Adverity
With MailChimp, address list segmentation has never been easier. MailChimp is the world's leading marketing automation tool for small and medium businesses. It is, therefore, the backbone of customer relationship building for many companies.
In addition to its sophisticated solutions for delivering the right message for each customer base, MailChimp has also revolutionized template creation. The days of spending countless hours creating new advertising graphics in HTML5 are now over. MailChimp allows advertisers to easily create email marketing templates within the tool itself. Users can create beautifully designed email creatives using the easy-to-use drag and drop interface.
Marketers also benefit from continuous optimization throughout the sending process. The system takes multiple signals into account to maximize engagement. MailChimp dynamically adjusts delivery time and offers the ability to perform A/B testing.
Ultimately, advertisers have multiple metrics to consider when evaluating campaign performance. This is where the MailChimp API comes in.
What is the MailChimp API?
If you're still spending time manually downloading campaign or customer data, the MailChimp API has got you covered. MailChimp's API allows users to synchronize their email activities with their databases.
Basically, the functionality of the MailChimp API can be divided into two use cases:
Automatic export of CRM data into lists to manage customer data.
Querying e-mail marketing stats to tracking relevant KPIs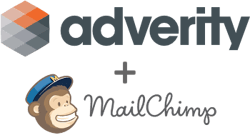 What are the benefits of using the MailChimp API?

Don't waste time logging into multiple tools to gain insight. The MailChimp API automatically sends email marketing data to your reporting stack.

Be ready to get a complete picture of all your marketing statistics at a glance.

By using the MailChimp API, marketing managers are able to continuously evaluate campaign performance against open, click, conversion or unsubscribe rates – without any ongoing manual work. With the MailChimp API, email marketers can automate their entire email marketing stack.

Adverity users have the ability to retrieve, enrich and harmonize data from MailChimp. Ultimately, users will be able to add email marketing data to their dashboards.