What is Google Shopping?
Google Search still is one of the most important entry points for online shopping and product searches. In 2002, Google founded the price search engine named Google Shopping. Previously known as Google Product Search, and its much earlier name Froogle, the platform enables users to find products directly within Google search.
Google Shopping ads are usually displayed on search result pages when users enter product-specific keywords. Each Google Shopping entry contains a small image of the product, a title and the price.
Google Shopping ads have become an integral part of many marketing mixes for retailers across several industries. In order to achieve scalable campaign success, advertisers need:
A properly maintained product feed
A well thought-through account setup
Ongoing campaign optimization
Regular monitoring of metrics
All four factors together can make Google Shopping a revenue generator – ensuring that you get fuller shopping carts in your shop. However, having an eye on all the latest developments about your product feed, as well as your performance metrics can be tough.
The data coming through Google Shopping Content API, paired with data from the Google Ads API, combined in our ETL module and presented in our Data visualization module, can be the solution.
What is the Google Shopping Content API?
Google merchant center
The Google merchant center is a tool that lets you upload your business, brand and product information and share it with Google Shopping and other Google services. To promote your items on Google, you need a Merchant Center account. Basically, the Merchant Center is the link between your product feed and Google Ads.
Google merchant center API (Google Shopping Content API)
The Google Shopping Content API enables direct communication with the Google Merchant Center – allowing you to query your product feed on a regular basis. By using the Google Shopping API connector in Adverity, marketing analysts can create meaningful dashboards showing the performance of their products and ads in Google Shopping.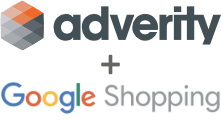 Benefits of using Google Shopping data in Adverity

By using the Google Shopping API connector, advertisers can add relevant product feed information to their eCommerce reporting stack

Diagnostic metrics such as product expiration dates, data quality issues or problem descriptions can be queried automatically

By combining Google Merchant Center data with performance metrics from Google Ads or Google Analytics accounts, users are enabled to stay up to date about their eCommerce performance data.

No manual work is required to retrieve relevant data on a regular basis. After an initial setup, the integration process is fully automated. In addition, analysts and campaign managers can create compelling visualizations from – normally hard-to-retrieve – marketing data.
Connections to other Google products
Explore our library of preconfigured API data connectors to other tools from the Google ecosystem.