What is Twitter Analytics?
With over 300 million active users, Twitter is one of the most popular social networks and offers an enormous reach for advertisers. Therefore, any marketer who wants to focus on developing a sound social media marketing strategy should also consider being active on Twitter.
Any well implemented marketing strategy today should consist of a data-driven approach, where every campaign should have a clear and quantifiable goal. To track and constantly analyze this, marketers need to continuously look at their performance data, displayed in Twitter Analytics.
This requires marketers to extract data sets from multiple platforms regularly. The Twitter Analytics API in combination with our data analysis platform is here to help. To complete the picture of your social media performance, we also offer a Twitter Ads connector, that lets users retrieve data from ads running on Twitter.
This visualization has been embedded directly from Adverity
What is the Twitter Analytics API?
The Twitter Analytics (Twitter Engagement) API allows tools like Adverity to regularly retrieve datasets. Adverity users can then blend metrics from Twitter Analytics with data from other connectors.
By benchmarking performance data from Twitter with data from other social media channels, advertisers can get a clear picture of how well their social media posts are performing.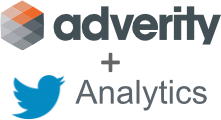 Benefits of using Twitter Analytics with Adverity

By using the Twitter Analytics API Connector in Adverity, advertisers can automate report generation based on data from Twitter.

Users can query several organic metrics, such as Engagements, Impressions, Followers or Retweets.

Tweet data can be segmented by a daily or even hourly granularity

Data retrieval, transformation, harmonization and visualization can be fully automated.