How our integration works?
Adverity enables you to integrate data from Google Search Console using the official API provided by Google. Our ETL module allows you to put all your data at your fingertips within a single central hub. With our platform you can improve the quality of your data by harmonizing all datasets into a consistent format.
This enables you to explore new correlations using data from different platforms. Identify the kind of content resonates best with your audience, so you can optimize your marketing activities for an improved ROI.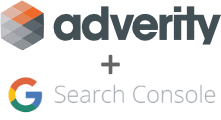 Benefits of Google Search Console integration into Adverity

Monitor your website's performance
Track how different types of content are performing and create content that delivers better rankings and click-through rates
Monitor the health of your website
Make sure that Google can easily access your content
Submit sitemaps for Google to crawl and get a crawl error report
Remove pages you don't want to see in search results
Keep your site clean and track and resolve malware or spam issues
Find missing HTML tags, title tags, duplicate titles or even non-indexable content

Establish direct communication with Google
Receive automated messages from Google about your site's health
Review your website's performance and get advice on how to improve it
Find out whether Google is able to index your content
See if there are any viruses or malware on your website
Learn whether anyone has attempted to hack your site
Receive alerts for broken links and 404 errors

Assess presence in serps and across the internet
Understand what search queries and keywords are driving traffic to your website
Discover which pages receive the most clicks and impressions
Is any of your content appearing as rich snippets? Rich snippets allow search engines to better understand the content on a web page. This content can then be displayed as part of the search results e.g. prices, product reviews etc.
Is your mobile site providing a good user experience on mobile devices?