What are Facebook Ads?
No other platform offers such precise targeting opportunities for its advertising products. The Facebook algorithm knows about an upcoming wedding, the desire to buy a new car or about a person's worn-out sneakers, even before the user indicates any desire to buy new shoes online.
Therefore, Facebook Ads offer endless possibilities to target ads precisely to one's target group, delivering a huge potential for successful marketing campaigns.
However, millions of advertising companies are already competing against each other on the Facebook ad exchange. And that's exactly the challenge: How do you set yourself up against the competition in the fight for a place in the user's news feed?
Most advertisers have conceptualized complex and well-crafted campaign setups and optimization processes. A key factor to success, however, is to continuously monitor and base actions on KPIs (Key Performance Indicators).
By using our intelligent analytics platform you can integrate and analyze all your Facebook Ads data, and match it with data from other marketing channels you are using, to get a complete picture on your campaign performance.
This visualization has been embedded directly from Adverity
What is the Facebook Ads API?
In order to find out which creative, targeting and bidding option works best, continuous retrieval and analysis of datasets is inevitable. Facebook advertisers face infinite news and updates on social advertising every day. Manual downloading and processing of data should not be on their to-do list.
The Facebook Marketing API, combined with our data integration module, will help. This API allows apps like Adverity to regularly retrieve pre-defined sets of data. By combining this functionality with the features of our platform, users are able to regularly monitor data in beautifully designed dashboards without any ongoing manual work.
Additionally, Adverity users can send Facebook Ads data to any desired destination, like BI tools, data visualization solutions, databases, or data warehouses, for further analysis or storage.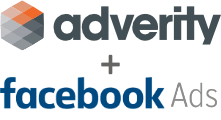 What are relevant Facebook Ads KPIs?
The Facebook family includes Instagram, Facebook Messenger, Whatsapp, the Audience Network and the Facebook platform itself. By combining all of these platforms, advertisers have enormous potential to reach a large number of users and thus potential customers.
Reaching a large number of users also means a great variety of data to look at. In recent years, Facebook has become a serious alternative to Google's advertising products in terms of generating performance-based traffic. In addition to interacting with your customers on social media, campaigns can be optimized towards relevant business objectives. This means that data-driven decisions already dominate the daily lives of most social media managers.
Depending on the company's set of goals, different metrics should be monitored on a regular basis.
Branding or top-of-the-funnel campaigns require having an eye on reach-KPIs, such as CPM (Cost per Mille), frequency (how often have I reached one user) or reach (Unique Impressions).
Campaigns that are optimized towards user engagement should be evaluated based on engagement metrics such as link click rate, view through rate (for videos) or post engagement rate.
Advertisers should also implement the Facebook Pixel on their website. This enables them to optimize their campaigns based on data, generated by the conversion pixel. Metrics, based on the Facebook Pixel include the cost per conversion, return on investment (for e-commerce stores) or other website engagement metrics.
Benefits of using the Facebook Ads API with Adverity
Get access to more than 75 metrics with several breakdown possibilities, such as attribution window or action type.
Analyze the performance of different segments, such as campaign objective, publisher platform or ad format across Facebook Ads accounts
Build dashboards based on Facebook Ads data to compare the performance against ads on other advertising channels
Blend Facebook data with data from several other social advertising platforms, such as LinkedIn, Youtube or Snapchat to get the complete picture of your social media ads
All available dimensions can be queried and segmented by several breakdowns, such as age, gender, publisher platform, device or region.
Use our our data integration capabilities to upload target metrics to regularly compare your actual metrics against your planned values
We automatically screenshot your Facebook creatives
The Adverity platform is also equipped with exclusive functionality that generates screenshots of your creatives.
We automatically screenshot your ads and host them as PNGs on our platform. Finally, users can add links to the hosted creatives to their databases.
Whether desktop or mobile ad, Facebook or Instagram, our platform allows you to create an extensive catalog of your creatives.