What is the YouTube Analytics API?
YouTube Analytics API delivers several key metrics such as Total Views, Viewing Time or Average View Duration. Furthermore, YouTube Analytics offers several breakdowns, by Country, Device, Operating System, and many more. These KPIs (Key Performance Indicators) are crucial in evaluating video performance.
To avoid manual data retrieval, the YouTube Analytics API allows apps, such as Adverity to automatically and continuously retrieve data from YouTube Analytics. This enables you to build customizable and always-up-to-date marketing dashboards and efortlessly monitor the performance of your videos on YouTube.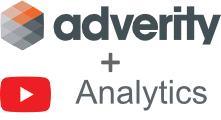 Benefits of using YouTube Analytics data in Adverity

By using the YouTube Analytics API Connector in Adverity, advertisers can automate report generation based on data coming from YouTube Analytics.

Users can query several metric, such as Likes, Subscribers, Comments or Video Views.

Our connector offers more than 10 report types. Report types include for example Audience Retention, Traffic Sources or Viewer demography.

Adverity provides YouTube Analytics data at a highly granular level. Users can choose from a daily, monthly or 7 day time granularity level.