What is Google Analytics?
Google Analytics is the most widely used marketing analytics service on the web. It provides the technology that enables you to track and analyze your website traffic.
You can easily review the performance of your online campaigns, track landing page quality and various other marketing analytics goals such as conversions, sales, and lead generation.
All the information provided by the Google Analytics API is given through dimensions and metrics. Dimensions can be used to break down metrics across some common criteria e.g. date range, country or browser. When you make a query, you can specify the dimensions and metrics you want to see in your report data.
Google Analytics also provides many advanced marketing analytics features, including 'Advanced Segments', which allows you to isolate specific types of traffic.
Adverity is an official technology partner of Google

This visualization has been embedded directly from Adverity
What is the Google Analytics API?
Application programming interfaces (APIs) make it possible for one program to communicate and interact with another. In the case of digital marketing, APIs are here to help save you time, money and human resources by simplifying communication between separate systems.
Google Analytics provides two types of APIs:
Management API: access information related to your Google Analytics account (e.g. account ID, web properties and views);
Core Reporting API: access report data (e.g. sessions, users, page views, time on page, and bounce rates)
What do you get?
Query and manage multiple properties or websites at once
Merge Google Analytics data with other data sources
Retrieve information in any way you want by using our extensive customization properties
Schedule exports to any destination you can think of: spreadsheets, data warehouses, and any data visualization tool
Automate dashboard and report creation
Simplify the process of data extraction, integration, and visualization
Get data from Google Analytics without any coding
Adverity uses APIs so you can effortlessly integrate data from all your favorite marketing tools without you having to use a single line of code or needing a data scientist on your team.
With our advanced ETL module, users can collect, harmonize and send Google Analytics data to a spreadsheet or visualization tool of their choice, or visualize the data in dashboards within our platform.
Our platform makes it possible to automatically integrate data from both Google Analytics APIs: Management and Core Reporting. What's more, we're able to send your clean and harmonized datasets to any BI tool, visualization software, database or data warehouse.
How our product's integration works?
Adverity's advanced data analytics platform is able to extract, transform and load data coming from Google Analytics through their API. We're able to run such queries for dimensions and metrics that are relevant to your business from Core Reporting API. With Adverity you can easily customize queries and automate report generation.
Moreover, our platform allows you to combine data from different channels and improve the quality of your marketing data. Get the freshest insights about the performance of your web properties, and find out what matters most to your customers.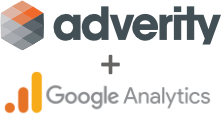 Benefits of integrating Google Analytics in Adverity
A complete picture of your customer journey
Understand your site and app users. Evaluate the performance of your marketing, content, products, and more.
Understand how your site users are engaging and interacting with your content
Know what's working and what's not
Connect various data sources to get the bigger picture and understand better which points of sale and touchpoints are being used by website visitors
Get a deeper understanding of your customers, so you can deliver better experiences and drive business results
See how different interactions throughout the customer journey affect conversion rates
Discover your best performing content
Understand how customers use your website, so you can take action to improve their experience.
Find out which pages retain visitors the longest, and which ones have the lowest bounce rate
Identify your worst performing pages
See what people click on the most
Discover which keywords and search terms bring the most visitors to your site
Learn what people are searching for on your site
Determine if people are able to find what they were looking for on your site
Master customer intelligence
Organize and manage your report data. Encourage collaboration with an easy-to-use interface and shareable marketing analytics reports.
Discover how your business is performing through report data and learn which users are likely to convert and which customers have high revenue potential
Build custom marketing analytics dashboards
Automate complex reporting tasks to save time
Process and easily share huge amounts of data in next to no time
Make smarter marketing decisions based on powerful analytics data
Efficient marketing budget allocation
Understand what works and what doesn't and determine the best uses for remaining budgets.
Identify gaps in your budget allocation, by using user location report data, and reallocate your budget to target a specific location
Measure the ROI of your marketing activities and advertising campaigns
Find an ideal budget distribution across campaigns and channels
Make sure that future activities will deliver the highest ROI
Identify your target audience
Understand your target audience: user locations, age, gender, and interests, and target them effectively with the right SEO and advertising strategies.
See which countries, cities, and regions have a high demand for your products or services
Implement geo-targeted advertising campaigns to skyrocket your audience engagement
Create effective localized content to drive organic traffic to your website
Ensure your ads and campaigns capture the interests of your audience
Compare results across various marketing channels
Compare results across offline and online channels to better understand your customer journey, and then optimize content to improve conversion rates.
Connect Google Analytics data with other data sources
Get all campaign results within one single hub
Create remarketing lists using data from Google Analytics and other platforms
Customize your search ads campaign for customers who have previously visited your site
Tailor bids and ads to previous website visitors searching on Google and other search partner sites
Seamless integration with Google Analytics API
We have designed Adverity to work seamlessly with Google Analytics API, as well as other data sources and products. Adverity saves you time and increases your efficiency. Easily access data from various sources in one single hub. Connect search dimensions metrics with other omnichannel events. Produce a holistic view of customer experience.
Here's what you'll be able to find out…
By answering the following questions, you'll be better equipped to optimize your content strategy:
How many people visit my website?
Where do my visitors live?
How do visitors arrive on my website?
What websites send traffic to my website?
How much time do visitors spend on my site?
What marketing tactics drive the most traffic to my website?
Which pages on my website are the most popular?
How many visitors have I converted into leads or customers?
Where did my converting visitors come from?
What blog content do my visitors like the most?
Send clean data to any destination
We can ship your clean data stack to any destination, no matter if it is a data warehouse or a visualization tool. Adverity is a highly flexible solution that allows you to work with all your favorite BI, visualization and analytics applications.
Our mission is to provide your team with increased velocity and agility! Start unlocking the true potential of your Google Analytics data – and leave the complex data work to us.
Eliminate manual data wrangling
Data has become more diverse and unstructured. This has resulted in increased time spent by collecting, cleaning, and organizing datasets. With our joint solution, you can harness the power of big data.
How? Adverity will orchestrate all the data wrangling for data coming from Google Analytics API and other sources. We'll take care of the process of cleaning, structuring raw data into the desired format. This empowers you to make better decision making in less time. Our solution allows analysts to tackle more complex data more quickly, and produce more accurate reports.
Adverity is able to prove their excellence in leveraging the big data needs for a highly agile company like MediaCom. Their ability to provide cleaned and harmonised data – in a very transparent way – caused a huge spark in our productivity
David O'Neill, Global Data Solutions Manager, MediaCom

Still not convinced? Read what our clients say about us over at G2 and Capterra.
How Adverity helped Mediacom improve their data infrastructure
Implementation of Adverity at Mediacom, one of the leading global media agencies, has enabled them to meet ambitious targets. Using our platform they have created smart datasets to maximize the output from the team's analytics efforts and offer added value to their clients.
Data Acquisition
Automated integration of marketing data at scale: over 150 global online and offline sources
Data Harmonization
Transform and harmonize all campaign data into a clean, consistent structure – across all global and local clients, time zones and currencies.
Data Provisioning
Real-time data provisioning to MediaCom's business intelligence and analytics solution. This has significantly reduced the time spent on campaign analytics and creating client reports.