What is Google Display & Video 360?
In June 2010, Google acquired Invite Media. Invite Media at that time was a high impact demand-side platform (DSP) that enabled advertisers, agencies and agency trading desks to use real-time bidding to buy and optimize online media.
Later, Google renamed the Invite Media tool to DoubleClick Bid Manager and integrated DBM into their, previously acquired, DoubleClick Suite – today known as Google Marketing Platform.
The functionality of the DoubleClick suite at that time was more or less limited to that of an ad server. Google had the explicit goal of making the DoubleClick suite an all-encompassing advertising platform that would meet every need to bring together publishers and advertisers.
With the integration of DoubleClick Bid Manager into the suite, Google greatly expanded the available functionality of the DoubleClick Suite. It enabled users to buy media inventory programmatically.
What is programmatic advertising?
Programmatic advertising or Real-Time-Bidding basically means that publishers sell their ad inventories on exchanges. Every time a user sees an ad, a programmatic instantaneous auction, similar to financial markets, takes place in the background.
Several advertisers bid for a specific impression and compete with each other on who will win the auction. The winner of the auction can finally display their ad to the user. The auction itself takes place on an Ad Exchange. Bids on certain targetings, placements or sites are placed on DSPs, such as Google Display & Video 360.
Functionality of Google DV360
In 2018, Google renamed the DoubleClick Suite to Google Marketing Platform. As part of this rebranding, the DoubleClick Bid Manager was also renamed to Google Display & Video 360. Today, Google Display & Video 360, or DV360 for short, is one of the largest and most powerful DSPs on the market.
Google DV360 offers a variety of features for advertisers attempting to target their audience with display ads. It is the place to store rules and algorithms that automatically locate the right visitors in the ever-increasing display inventory and book them accordingly. DV 360 users can buy ad inventory from more than 80 different ad exchanges. This covers about 98% of all available ad inventory worldwide.
1. Access to premium inventory
Besides public auctions, there are several alternative models for purchasing inventory.
The buying model options in the DV360 also cover the desire of advertisers to place ads directly next to premium content on very popular publisher sites. Private Marketplace (PMP) and Programmatic Guaranteed (PG) deals can be negotiated and set directly within DV360, providing a real alternative to direct media buying.
2. Precise targeting
The targeting possibilities of the DV360 are almost unlimited. The DV360 can access a wide range of first-party data such as your Google Ads lists, Analytics 360 audiences, YouTube audiences, manual cookie uploads or even Facebook custom audience data.
Advertisers are also able to use 2nd party data from publishers through deals that can be set up directly in the tool. In addition, advertisers can access and use Google's powerful collection of third-party data such as affinity groups, custom intent data, or even third-party data by external providers.
3. Powerful optimization
Display & Video 360 offers various bidding options that advertisers can choose from when setting up a campaign. The tool then uses this strategy during the campaign to determine how much can be invested to achieve a single impression for an ad booking.
4. Real-time data for optimal bidding
Google DV360 comes equipped with a powerful reporting engine. The endless possibilities for targeting, bidding, auction types and much more also creates a massive amount of data to look at on a regular basis.
What is the Google Display & Video 360 API?
API stands for Application Programming Interface and enables applications, such as our ETL module, to retrieve advertising data from Google Display & Video 360 on a regular basis. This eliminates the burden on advertisers from having to perform manual, recurring tasks and enables campaign managers to always keep an eye on the latest performance.
The data can be sent to any BI tool, data warehouse, or can be directly displayed and analyzed within our data visualization module.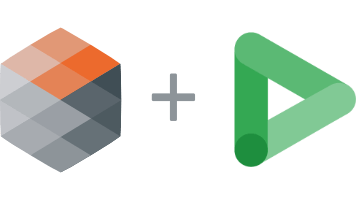 By using the Google Display & Video 360 (DoubleClick Bid Manager) connector in Adverity, advertisers can add data about their programmatic advertising campaigns to their marketing dashboards.
The connections comes with more than 15 report types, such as Audience Performance, Trueview or Inventory Availability.
Users can query over 200 metrics, such as clicks, impressions or revenue. Available metrics also include more specialized KPIs, such as unique cookie reach, trueview impression share or video companion clicks.
Two-way connectivity
Adverity supports data being loaded directly from AWS – allowing you to also work within AWS and send your updated data stack back to Adverity.