Technology businesses, including SaaS companies, are rich in data but they're not always the best in utilizing all the benefits coming out of it. SaaS marketers could raise their game massively by pulling information out of silos and unifying it into one holistic database of all business and marketing data.
Through the use of data integration and transformation, marketers can create efficiencies for the entire marketing and data analytics department - and help businesses understand their customers better.
As a result, marketing and data teams will be able to deliver relevant customer experiences and drive profitability. So, let's take a look at how data integration and transformation work.
Drowning in Data?
Today's marketers are overwhelmed by data and they're spending too much time looking for information. It often involves juggling huge spreadsheets, sometimes even SQL database wrangling, manual and time-consuming processes that take away time for creativity and discovering room for improvement.
The problem is that valuable business data is often siloed in organizational departments: marketing, sales, or customer service databases. There is a pressing need for a bigger system that can connect different data sources and data types together – uniting systems such as CRM, ad platforms, social media, customer service, and sales databases.
This creates a complete overview of the business, and allows all decision makers to make quick, timely and data-driven decisions that push the business forward
Breaking Down Barriers
All this can be achieved by utilizing the benefits of data integration, which breaks down the data barriers and allows you to assemble data from multiple sources into a single source of truth. Then, through data transformation and harmonization, data science and business analytics teams can use the newly integrated data to discover trends, patterns, anomalies, and opportunities.
For instance, in the automated data integration technology, which is part of the Adverity's end-to-end analytics platform, data can be collected from virtually anywhere. It uses an extensive data connector library, and a flexible approach to process any type of data or format. Data can be provided in structured spreadsheets, Excel files, .json or .xml files, among many others.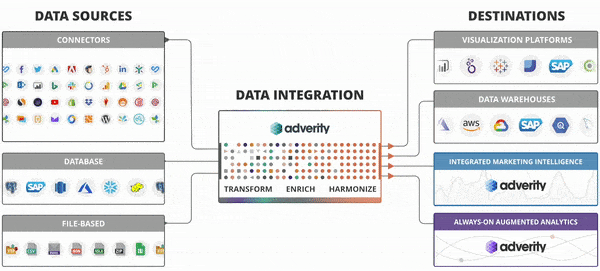 Image shows Adverity's solution engine and how it works.
The Power of Data Transformation
Once integrated, the Adverity platform applies its powerful transformation engine to the data to clean it, normalize it and unify it. It does this by joining data from different sources, stripping out the formats, enriching it with additional information, and applying rules to certain data segments to make them easier for analysts to work with.
As part of this process, the data integration engine will, for example, identify (and in some cases fix) various errors, fill in missing information, or make sure duplicate entries have been eliminated. Data harmonization also involves thorough and automated meta-tagging, so information from different data sources can be effectively analyzed alongside each other. Information in the data stack will also be continuously updated so marketers can stay on top of current activities and trends.
The advantages of having a clean data stack are limitless. SaaS and technology marketers can use it directly with their favorite BI or analytics tools, ingest it to econometric models - that apply statistics to economic data and problems - or populate their enterprise data warehouse.
Visualize with Marketing Dashboards
They can also use it together with data visualization dashboards to uncover actionable insights. Data integration and transformation is fundamental to turning business and marketing data into useful intelligence by presenting it on a dashboard, through powerful visualizations, most often with charts or graphs. This enables marketers to identify and analyze key information quickly and clearly.
Rather than building your own data integration, transformation, and dashboards in-house, which can be costly and complex, there are some powerful data solutions available on the market. For example, the Adverity's marketing analytics platform automates data integration from hundreds of sources, and delivers a single view of marketing performance across the business by using powerful data visualizations. This enables data-driven marketing teams to make better decisions and improve performance, faster and easier.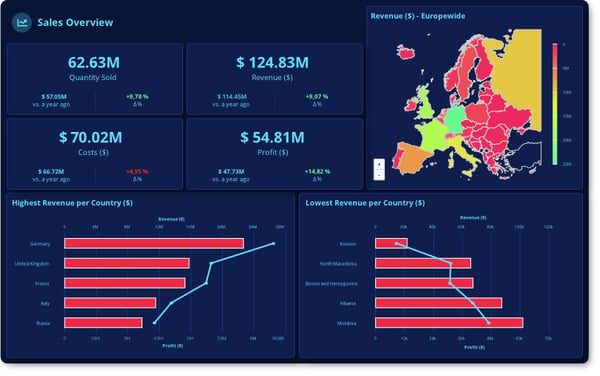 Image shows a data visualization sample that can drive SaaS performance.
So, by wielding an advanced marketing analytics solution that harnesses data integration, transformation and visualization to gather and analyze key data, marketers can derive tangible business impact from their activities.