While working on integrating data with numerous advertisers, our team spotted a common, but critical problem, and solved it with the use of pragmatic AI. We introduce to you Smart Naming Conventions, a practical add-on for advertisers of all sizes that helps you to eliminate campaign naming issues.
Artificial intelligence, or AI, has become a powerful enabler in many walks of life, and marketing is by no means an exception. In a recent Adverity blog post, my colleague Mitesh Lakhani highlighted the very real potential of AI-powered solutions in reducing the legwork that exists within the digital advertising space.
AI appears in many guises, but it can be boiled down into two distinct buckets: Pure and Pragmatic. Pure applications are very much the futuristic domain of machines with higher intelligence than humans, indistinguishable from us. This is the AI which makes the headlines, and causes either huge excitement or great concerns about the future, depending on your viewpoint. Pragmatic AI, however, is all about applying AI thinking to practical, everyday, perhaps complex or even mundane tasks. Pragmatic AI is already around us, and often we don't realize it's there: online navigation, spam protection and virtual personal assistants are all prime examples.
Adverity is eager to embrace pragmatic AI, and enable our customers to quickly benefit from it. So, over the next quarter, we'll be releasing a string of features which do just that. One of the key new additions, released in May 2020, is called Smart Naming Conventions.
Only one extra space, and you've got a problem
Smart Naming Conventions uses pragmatic AI to address a very real pain-point in the digital advertising space. Many eyes will glaze over at the mention of Naming Conventions. It's not the most alluring of topics, after all, but getting it right is critical within many organisations. The level of interest and anticipation generated around this significant new feature, from customers and our own operations team, certainly confirms this.
Many of you will already know that a strictly and consistently applied convention when defining named elements, such as those representing a campaign or specific placement, pays dividends in the long run. It enables you to compare 'apples with apples' across multiple platforms, filter and pivot across shared values, and ultimately leads to faster optimization, better insights and improved ROAS. The most enlightening analogy comes from media consultant company MightyHive:
"Developing a formal campaign naming convention is similar to laying a foundation for a tower. Without a solid foundation, you'll end up with a short tower that doesn't let you see very far. With a strong foundation, you'll be able to build a taller tower, and then keep on adding to it, allowing you to see more and see farther than your peers who didn't plan as well," explains Kirsten Hoff from MightyHive.
No one is going to disagree with that analogy, but I would add that human error has the potential to turn your tall tower into a crumbling shambles. The inescapable and dreary task of generating, copying and pasting the naming convention into the execution platforms is where problems start to arise. Human error has the tendency to creep in, polluting your data set and making it difficult to unpick later.
What's worse, the team that inputs this data is often two or three degrees of separation from the team actually crunching and visualising the data. A global brand designing dashboards needs to request "at source" corrections to a trafficking team in a far-flung region of the world, often in a different time zone.
Technology, at your service
Adverity's existing scripting method has always had the ability to 'unpack' naming convention back to its constituent parts, and then run through various hygiene processes. However, the scientific approach of Smart Naming Conventions brings with it some key Pragmatic AI-powered advantages over existing techniques:
It's easier and faster to set up - there's no scripting required
The alerts provided are far more insightful and flexible
It's actually able to proactively correct your naming convention
The 'Before' table below illustrates the particularly 'hairy' human error brought about by forgetting to include a value. The higher up the chain this missing value occurs, the more data is pushed out of sequence, one seemingly innocuous exclusion creating a domino effect in your data set.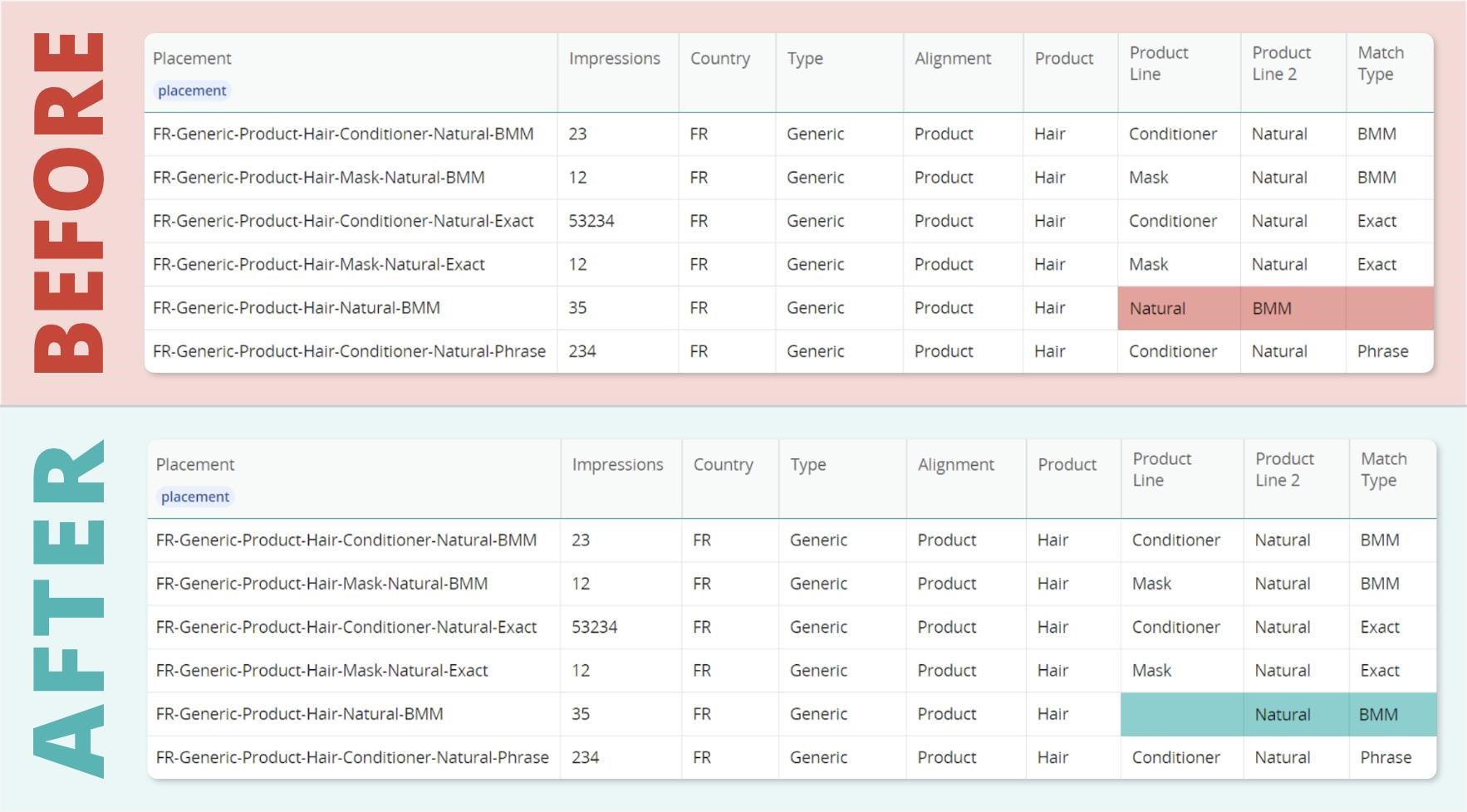 Try scripting in the ability to cross-check when a value is missing in a sequence; it's hard. Really hard. The process involves comparing any given value with its neighbouring values to check if they should be neighbours or not. With standard scripting the operations required quickly become exponential.
Spot, correct, move on
A powerful aspect of the Smart Naming Conventions feature is its ability to spot missing values based on neighbouring ones. It then politely pushes those values back into the correct order and flags the gap, as highlighted in the 'After' table above. Built into the workflow is the ability to raise errors and warnings to relevant trafficking teams. Wherever in the world the team is located, whatever time of day or night, they'll receive an automated email detailing the missing value and, in the meantime, no significant harm will come to your dataset.
Shown any given sample data set, the algorithm intelligently recognises when something is a naming convention and 'unpacks' it for you into separate columns; no coding, no testing, just automated, out-of-the-box detection and correction. And for the naming convention nerds out there, the answer is yes - it can handle more than one delimiter type within the same convention. It will also flag incorrect or unexpected values, not just missing ones.

Lastly, I'd like to draw attention to the ability to tailor and automate the level of governance applied to any given error in your naming convention. You might decide you want to stop processing data altogether until the value has been corrected "at source", hence avoid having to unravel the data hairball once it's landed in your database or file storage.
Equally important is the ability to control "soft" error handling. 'Boiling the ocean' isn't for everyone and can lead to unnecessary clutter, slowing the flow of data into your target systems. Tackling the more pernicious errors is the key to success, and the step-by-step walkthrough provided allows you to craft your approach (hard versus soft) to data governance.
Pragmatic AI is set to change many functional areas across our platform over the coming year and we are really excited to see the impact it will have for our customers and on the marketing industry as a whole. Exciting times indeed!
Want to learn more about the potential roles of AI in marketing?
Download our free whitepaper and read how artificial intelligence can help you to achieve more with your campaigns.