I'm sure you'll agree that buzzwords and acronyms are a ubiquitous aspect of modern-day marketing. In such a fast-paced industry, it can be a challenge to keep up with all the latest lingo.
One of the latest acronyms to throw its hat into the ring is iPaaS - otherwise known as 'Integrated Platform as a Service'.
As a term still in its infancy, marketers can expect to hear a lot more about iPaaS in the not too distant future. These platforms are expected to shape data integration and analytics processes of modern marketers and advertisers.
In this blog, we will look at the following:
What is iPaaS?
The benefits of iPaaS
The challenges of implementing an iPaaS system
Potential use cases
Future predictions for data integration
Without further ado, let's get started!
What is iPaaS?
iPaaS is a series of cloud-based applications and data integration tools managed by the vendor and delivered as a service.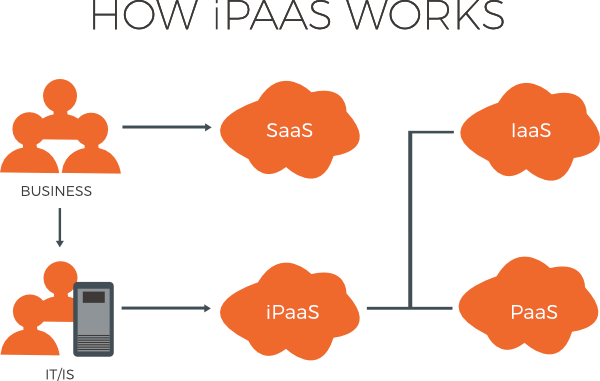 iPaaS platforms facilitate agile integration with other software and online tools
These platforms facilitate agile integration with other software and online tools. Robust API integrations offer easy interaction between platforms and provide real-time access to data and application functionality.
iPaaS platforms can automatically integrate data from a wide range of sources before harmonising the resulting datasets into a consistent and immediately workable format. No more manual data wrangling!
Despite its 'as a service' label, iPaaS platforms do not run exclusively in the cloud. They are also used to integrate cloud/SaaS applications to on-premise systems.
What are the benefits?
iPaaS supports the seamless integration of multiple platforms across various clouds and legacy platforms. This allows advertising agencies and businesses to meet their growing need for increasingly sophisticated data integration solutions - without placing any additional strains on existing IT infrastructure.
Integration flows can be deployed in the absence of additional hardware or middleware. What's more, iPaaS represents a cost-effective alternative to building custom integrations.
The agile creation of data integrations also ensures they can be easily edited and disposed of when required. Therefore, iPaaS is a far more nimble and less cumbersome alternative to traditional hard-coded approaches to data integration.
Typically provided as a multi-tenant service, iPaaS solutions are renowned for their scalability. Functionality can be easily adjusted according to the needs of your business. For instance, in response to a growth in data volume.
Ultimately, iPaaS circumvents much of the tedious manual work previously required from marketers. As a result, marketers can spend more time acquiring a deeper understanding of their marketing performance.
Leveraging an iPaaS platform as a central data hub has mitigated the need to switch between platforms. In other words, it's no longer necessary to log in to different accounts to access data - allowing for a more streamlined and efficient workflow.
Freed-up resources can then be used to generate actionable insights to optimize campaigns and improve ROI.
"Enterprise iPaaS offerings increasingly compete with classic on-premises integration platforms. However, especially in large organizations, enterprise iPaaS offerings often cooperate with established integration middleware. I expect this to lead to the emergence of hybrid integration platforms, combining enterprise iPaaS characteristics with those of traditional on-premises integration platforms, enabling public and private cloud deployment models and serving a variety of requirements."
A move towards iPaaS has subsequently demoted cloud-based marketing services toward the edge of the data stack. Cloud-based marketing services are now commonly being viewed as another piece of the iPaaS puzzle - irrespective of their weight to the overall marketing picture.
Another area in which iPaaS excels is its ability to automate business processes, particularly in task management and project delivery.
By harnessing the potential of automation, businesses can enjoy huge upsurges to productivity. More still, automation serves as a catalyst for bridging the information gap in the internal operations of many companies. The likely result from this is improved collaboration across teams and a more dynamic working environment.
The Challenges
1. Scalability
Yes. We may have just claimed that 'iPaaS solutions are renowned for their scalability', and we're sticking to our guns here.
That said, some organizations may still encounter scaling issues if they haven't sufficiently prepared beforehand. Any company considering investing in an iPaaS platform should consider each solution's scale potential beforehand.
This way, you can ensure that it will continue to provide high availability and performance should you need to scale your operations.
2. Complexity
Despite iPaaS often being labelled as an outlet for simplifying many complex data integration processes and environments, the highly sophisticated operations it performs still require a high level of attention from its users.
Nevertheless, iPaaS still provide a more lightweight integration solution to more antiquated on-premises integration systems such as ESBs (Enterprise Service Bus).
This makes iPaaS far more flexible and better suited for real-time applications - a critical requirement of cloud-based services.
3. Security
iPaas systems can be highly secure. That said, like many other cloud computing services, they can still be vulnerable to security breaches. Therefore, be sure to implement all necessary security measures to safeguard your data. Never take a chance with security!
What are some of the potential use cases?
API management
iPaaS provides a useful outlet for API management. Any organization that's serious about harnessing the true potential of its data will need a single platform to manage all of its APIs and data connectors.
This platform should provide the flexibility to add services and scale operations when required. A central data hub will allow employees to access and share real-time data across the organization. This will empower employees to devise and implement data-backed strategies faster than ever before.
Multi-tenant environments
A multi-tenant environments serve multiple (groups of) users - all while running on a single server. For instance, each tenant could correspond to a particular department (such as marketing, sales or finance) or, in the case of agencies, different clients.
This gives iPaaS solutions an immediate advantage over ESBs. Most ESB systems do not support multi-tenant architecture.
The benefit of this approach is that users (each with varying and preset access rights) can share a single instance, have access to the same datasets and figures and reduce costs in infrastructure and administration.

Multi-tenant environments mean users can share a single instance
Provide value from legacy platforms
Many businesses choose not to embrace next-generation approaches to data management, due to perceived risks and costs of migrating on-premise and legacy systems that fulfil much of critical business operations.
However, iPaaS solutions are cost-effective and reduces much of this risk by incrementally connecting on-premise systems to a new cloud environment.
Fast-track cloud-centric operations
Businesses that work with a large number of cloud applications should have a means of connecting and processing the data they produce.
iPaaS systems with pre-configured connectors to cloud applications provide a rapid framework that can continuously leverage data.
iPaaS tools can integrate high-quality data from a wide range of sources, including marketing platforms, software as a service (SaaS), e-commerce, CRM and much more.
What does the future hold for iPaaS in marketing analytics?
A primary engine for the growth in the iPaaS market has been the growing need for advanced marketing analytics software. More specifically, software that can integrate and harmonize large amounts of data from multiple data streams.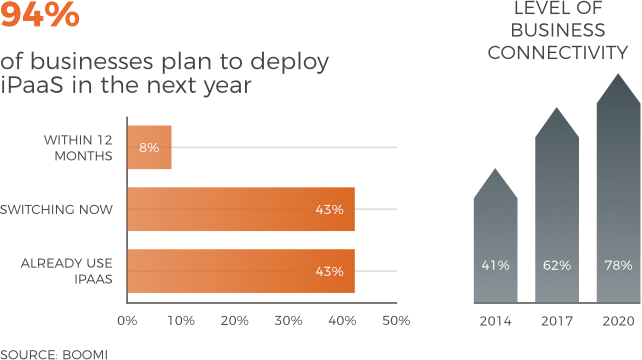 An increasing number of businesses are becoming data-driven and adopting iPaaS solutions
However, data integration has rarely been a strength of cloud-based marketing services. Though, efforts are now being taken to address what has since become a glaring deficiency in these platforms.
Only now do marketing cloud services appear to acknowledge that higher-order data operations typically yield far more valuable findings than low-order ones. An increasing number of businesses are adopting a data-driven approach to sanctioning new marketing activities.
Despite this, cloud-based marketing services appear to be failing to counter the rise of iPaaS. Instead, these platforms are increasingly being used as central marketing hubs. Users can immediately work with their data, thanks to advanced data integration and harmonization.
Should iPaaS platforms continue their seemingly irrepressible rise towards data-driven supremacy, it may yet spell the end for more antiquated data integration approaches.
It's quite possible that iPaaS may establish itself as the primary data integration method for brands and agencies.