As internet-connected devices continue to increase at exponential rates around the world, so does the amount of big data that is generated. Evidence that data-driven companies deliver better business performance continues to build, and companies such as Google, Facebook, Tesla, Walmart, and Amazon have harnessed that wealth of data and captured tremendous value.
With the economy becoming increasingly complex and volatile, are more digitally mature companies more resilient to economic shocks? Last year, while studying at McGill University in Montreal, I wrote a thesis paper that addressed this question.
The research looks at ten firms' strategies and tactics that have enabled them to be more data-driven, and analyzes their performance during the two most recent recessions: The Great Recession of 2008 and the Great Lockdown of 2020.
Here's what my research found
The data shows that:
The imperative to be more data-driven must come from the top.
Data and technology development must become core to business strategy.
Continuous learning and workforce training in data literacy must be instilled across the entire organization.
Consistent investments in research and development (R&D), and digital technologies makes a company more resilient to economic shocks.


Strong relationship discovered between data maturity and resilience to economic shock
In a series of hour-long interviews with business leaders from across a broad range of industries, I explored five main building blocks of a data-driven culture: culture and leadership, data operations development (DataOps), data and technology investments, focus on upskilling, and ability to wield automation favorably.
After grading and weighting these categories, I scored an assessment against their company's digital maturity level, and charted this alongside earnings before interest and taxes (EBIT). You can find more on the methodology here if you're interested.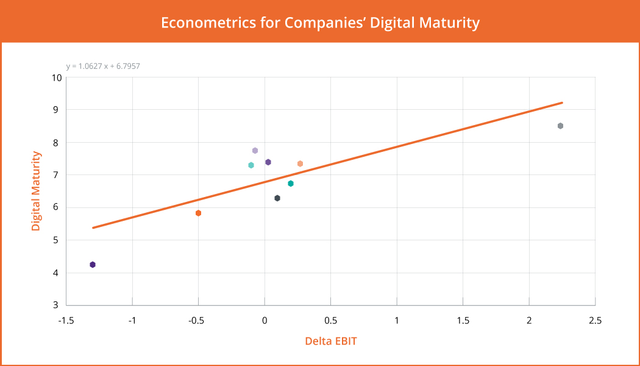 For the more data-savvy readers out there, the correlation coefficient was 0.817. In other words, there's a strong relationship between data maturity and resilience to economic shock.
While it might not pay off immediately, investing in data maturity makes sense as a long-term strategy. Companies can expect financial performance to improve the more they progress on the digital maturity spectrum.
But what does that mean exactly? Let's take a closer look at the five main indicators of data maturity.
1. Culture and leadership
According to Gartner, by 2023 data literacy will become an explicit and necessary driver of business value, demonstrated by its formal inclusion in over 80% of data and analytics strategies and change management programs.
Creating a data-driven culture requires an organization's leadership team to evolve how it thinks about data and to adapt its business model accordingly. Executive teams must decide that turning data into an asset is a top priority, and formalize the inclusion of a chief data officer (CDO) within their ranks to centralize and extend the role of data across business strategy and help drive the vision.
Often, this requires a commitment and investment in technology and human capital that do not yield immediate returns. Rather than confining data-related roles to the sidelines - typically under the IT department - leadership must diffuse data literacy and data-driven decision-making across all business functions. It is the entire organization that must get involved.
The consensus among all participants was that efforts to successfully drive digital transformation within their companies had to come from the very top.
2. DataOps development
From my interviews, I noticed three main impediments to effectively developing DataOps structures:
Excessive complexity in organizational structure
Lack of vision and direction
Lack of alignment and coordination between stakeholders
Nonetheless, a company cannot be data-driven if it does not focus on building the technology stack to enable it. Data-driven companies such as Netflix and Montreal-based CGI, build their stack on cloud-based environments that provide a variety of services for processing a company's data. These services range from storing and querying their data, to running front and back-end applications, to layering machine learning algorithms on the data collected to run advanced analytic models and data visualization dashboards.
Turning data into an asset requires a company to audit all its data, both structured and unstructured, before investing in a robust digital infrastructure to process it. The value is not in the data itself but in the system that enables insights to be extracted from said data. For DataOps to be successful, it requires a concerted effort by all functions in an organization to ensure that data pipelines are properly flowing with clean and reliable data. As the saying goes, "garbage in, garbage out".
For the executives interviewed who already had digital transformation on the top of their agendas even before the pandemic, the recurring theme was that the pandemic only accelerated the imperative to focus on further developing their data and technology initiatives.
---
How
data mature

is your marketing team?

Check out our Guide to Analytical Maturity in Marketing, a 5-Stage Journey for Marketers Aiming to Get More Value from Data.
---
3. Data and technology investment
To ensure a robust data architecture, an organization must prioritize its investments in data and technology. Following the Great Recession, JP Morgan's total annual expenditure on technology climbed to $8.5bn in 2011; that same year, it was estimated that hedge funds would spend an additional $2.09bn on information technologies.
Throughout my research, I noticed correlations between a company's level of investment in data and technology and its ability to withstand economic shocks. For these investments to be successful there must be a harmonious mix of budget allocated toward the "hard" IT factors such as hardware and software, as well as "soft" IT factors such as upskilling and training its human capital. Skewed investments lead to either having digital systems that few know how to use or a data literate workforce with no adequate infrastructure to leverage the data within their organization.
4. Upskilling focus
Several studies have shown that the main internal roadblocks to enable a data-driven workforce are culture and talent skill gaps. In its third annual CDO survey, Gartner found that "poor data literacy" is the second biggest impediment to success, preceded by "culture challenges to accept change".
As a result, data and analytics leaders struggle to adequately convey their message across a wide range of stakeholders, and, consequently, information assets are underutilized. Therefore, to be considered data-driven, a company must have a plan to implement continuous upskilling programs to teach data literacy across their workforce.
It turns out that in 2020, 50% of companies found that they lack the AI and data skills to achieve value from data. Indeed, these deficiencies transpired during the interviews I conducted with business leaders within multinationals and mid-size enterprises (MSEs). Among the executives interviewed, some admitted to not being data-driven but would rather consider themselves data-informed. In their view, they still had critical talent and infrastructure gaps that hindered them from moving toward a data-driven culture.
5. Use of automation
Another factor in assessing a company's digital maturity is its ability to wield automation effectively. Indeed, an organization is in a strong position to make use of automation when it achieves satisfactory levels across core pillars such as people, process, technology, and data. Typically, the primary aim is decreasing costs and improving performance.
The use of automation is an indicator of pervasive data-driven culture since it requires a concerted effort to script redundant tasks in a manner that can leverage data with little human intervention. The intent is to make the organization more resilient to economic shocks through a leaner and more flexible workforce.
Conclusion
We are witnessing a paradigm shift. One in which a global calamity has removed the final obstacle to a fully digital future: human attitude.
Groups that were lagging or on the fringes of internet adoption, were forced to embrace it out of necessity, and many found that investing in tech alone was not enough to create a data-driven business.
The imperative to be more data-driven must come from the top, and continuous learning and workforce training in data literacy must be instilled across the entire organization. Only then can investing in tech and R&D make a company more resilient to economic shocks.
---
Want to get the most out of your data?
Book a demo with one of our advisors to learn what Adverity can do for you!
---