What are Twitter Ads?
Twitter is one of the oldest and most popular social networks around. Over the past years, they have enhanced their platform with powerful advertising opportunities.
The social network offers now a wide variety of ad formats, targeting possibilities and optimization techniques. This makes Twitter Ads a powerful weapon in every marketer's arsenal. Advertisers can reach advertising goals, such as driving conversion, raising awareness or drive engagement for their brand. As a result, Twitter Ads have become an integral part of many marketing mixes in recent years.
This visualization has been embedded directly from Adverity
What is the Twitter Ads API?
Powerful advertising tools, such as Twitter Ads, constantly generate a vast amount of data. In order to make sound investment decisions, this data needs to be retrieved, processed and analyzed ongoingly. Executing this manually can be tedious or even impossible. The Twitter Ads API paired with our analytics platform can help.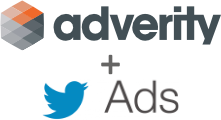 Benefits of using Twitter Ads data in Adverity

By using the Twitter Ads API Connector in Adverity, advertisers can automate report generation based on Twitter Ads data

Users can query several metric groups, such as Engagement, Video, Billing or Media.

The data can be segmented by more than 15 breakdowns such as Device, Interest or Age.

Adverity provides Twitter data at a highly granular level. Users can pull data on a daily, monthly or even hourly basis.