What is the Google Ads API?
The Google Ads platform offers a wide variety of advertising opportunities. This means that highly granular data is generated every second you run a campaign. Individual reports are required to keep up with the latest meaningful developments about your campaigns. Manual collection of report data can be tedious. This is where the Google Ads API can help.
This API allows apps like Adverity to interact directly with the Google Ads platform. It allows you to regularly retrieve large amounts of data from your search campaigns without manual intervention. The API can basically be used by anyone, and saves time, money and resources.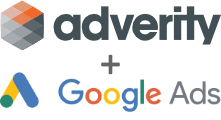 Benefits of integrating Google Ads data into Adverity

Automate your reportings
The Google Ads API allows marketers to focus on the most important work and leaves the recurring work to computers. By using the Adverity platform, any search engine marketer is able to automatically query multiple types of Google Ads reports.

Reach any granularity level
From the account to the keyword level, Adverity can handle any level of granularity of data integration. Stay up to date on any development and do not worry about long-loading downloads of reports anymore.

Regularly updated API data
We regularly ensure that our API integrations are always up to date. You will be able to check all your favorite metrics at any time. The availability of several pre-configured Google Ads report types makes setup quick and easy.

Gain real marketing intelligence
Integrate data with our extensive library of pre-configured connectors. By blending your Google Ads data with data from any other marketing platform, the Adverity platform makes you smarter. Connect your data from multiple platforms and gain complete marketing intelligence.