Please note: this case study is also available in German.
UPC Switzerland was the result of a merger of several cable network companies in 1994. The company has a workforce of over 1,400 employees and an annual turnover of CHF 1.349 billion (2017). With more than 2.6 million customers, UPC is the leading provider of telecommunications on the Swiss market.
Online Sales & Marketing Manager, Urs Bühler, is responsible for the implementation and analysis of all performance marketing activities in the Swiss region. Together with media agency OMD Switzerland, the marketing team executes a huge array of cross-channel campaigns every year. All the parties involved soon realised that there had to be another way to aggregate and visualise the data as well as storing and access big amounts of data at scale.
Efficient campaign reporting with dynamic dashboards
Urs Bühler monitors the performances of all channels and campaigns using dynamic dashboards in Adverity Insights. These dashboards provide a snapshot of the key figures for each channel, as well as a compiled view of the most important KPIs: including website traffic stats and conversion rates.
Before UPC Switzerland's began working with Adverity, reports were typically compiled in Excel spreadsheets. However, this arduous and manual approach to campaign report generation was time-consuming and error-prone. Furthermore, UPC had to deal with millions of data rows in their ongoing analysis.
"The dashboards generated by Adverity update automatically, which makes report generation far easier. We're working with customised dashboards that include the most up-to-date data - allowing us to observe daily trends and evaluate the impacts of our promotional campaigns."

Urs Bühler, Online Sales & Marketing Manager UPC Switzerland
The power of the interactive dashboard
UPC Switzerland uses Adverity to aggregate and visualise campaign data from multiple channels: including social media, display campaigns, retargeting ads, paid search and affiliate marketing. Furthermore, website performance is analysed using the Adobe Analytics API. In addition to traditional online advertising channels, this provides another outlook to cover the entire customer journey.
Each campaign is assessed according to their customer acquisition cost and performance against pre-defined conversion goals.

"Adverity is set as the starting page on my browser: checking the previous day's performance is the first thing I do each morning. In the eyes of a marketer, nothing can beat a dashboard that does all the tedious work and allows you to focus on the analysis"

Urs Bühler
UPC Switzerland is keen to optimise their website performance. The combination of different datasets allows for precise analyses of website visitor behaviour - notably, which advertising channel brought them to the website - and which promotional campaigns generate the largest return on investment.
Always up to date with Adverity
In-depth analyses require a consistent data structure. This data harmonisation process happens in the background without any manual data preparation needed before exploration.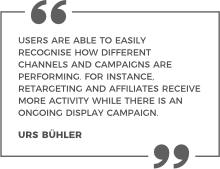 "Adverity is a great tool to identify correlations and measure cross-channel effects", Urs Bühler says.
The "alert widget" provides an additional security tool by highlighting key figures in graphs according to a chronological sequence.


A quick glance at the dashboard tells you whether or not there is any potential to relocate budgets or optimise campaigns.
This allows UPC to continually measure their brand health - an approach which has become an indispensable part of our daily routine. A simple, colour-coded overview provides an easy snapshot of how certain KPIs have performed. It also suggests when a deep-dive analysis would be beneficial and help avoid performance losses in the future.

Improved workflow and fast decision making
Since UPC Switzerland started using Adverity, the company has benefitted from faster decision making. Dashboards have been created with different goals in mind: a master dashboard provides a holistic overview of expenditure, conversions, traffic and current status of goal attainment.
In this example, all conversions and the most important KPIs are presented within the same widget and ready to be analysed with just a few clicks. For a more detailed observation, users can zoom in to look closer at the data:

With marketing experts managing dashboards for specific advertising channels, uncovering and implementing opportunities for short-term optimisations has never been easier. This helps the Marketing and Sales team to better contribute to the attainment of company goals.
What's more, automated reports are shared via email on a weekly, monthly and quarterly basis - ensuring that the executive board receives the full picture of online activities.
Maximum flexibility and ad-hoc reports
Adverity enables the team at UPC to react to short-term demands faster than ever. A new dashboard with all desired information can usually be built within a few minutes. Urs Bühler's team regularly uses the Dynamic Text Widget to provide notes on a campaign's performance. This guarantees that non-specialist employees can make sense of the report. Fast data integration and the retrieval of large amounts of data, as required by UPC in this case, is only possible through AWS's highly scalable product landscape. To ensure maximum customer satisfaction, Amazon Redshift and Amazon S3 were an integral part of our solution.
"We're highly satisfied with how Adverity Insights has improved our daily working routine. A dashboard provides a powerful overview of all Sales and Marketing data, which helps us to better understand what's happening in real-time, and take quick action to improve performance.""

Urs Bühler, Online Sales & Marketing Manager UPC Switzerland
To learn more about how AWS and Adverity can help your business, visit this AWS page. Obtaining an AWS Big Data Competency means Adverity has a proven expertise in Big Data on AWS. Adverity is a loyal customer since 2014 – and a large variety of AWS services is still Adverity's first choice when it comes to scalability and reliability. In 2019 and beyond, we want to grow with Amazon and offer our clients an optimized technical infrastructure.