Principal Analyst at Forrester, Tina Moffett, provides 4 tactical actions you can take to adapt to the changes brought on by the COVID-19 pandemic and data shortage caused by third-party cookie deprecation.
In our recent webinar featuring guest speaker Tina Moffett, Principal Analyst at Forrester, we explored the joint impact of the pandemic and the 3rd party cookie deprecation, and the four key strategic actions marketers should make to adapt to the new conditions.
From COVID-19 to having less data - how marketing has changed
As Tina Moffett notes, "The world turned upside down for all of us in March 2020. As COVID-19 spread, shutdowns expanded, unemployment rocketed, business spending curtailed, and consumers started staying at home and only buying essentials, everything felt uncertain."
"This left many CMOs asking, 'What in the world do I plan for now?'," says Moffett with marketing budgets and allocation shifting dramatically towards digital as marketers sought to readjust strategy to a new and unfamiliar market. Thanks to the vaccine this situation is changing, with many economies starting to reopen and the outlook looks good however, this is not the only thing to have happened to marketers.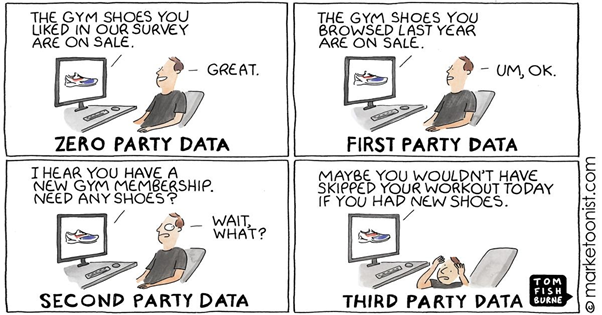 Just as marketers beginning to adjust to the new norm, Google announced its intention to deprecate third-party cookies in their Chrome browser. While this was something that the industry has been expecting, it was still a significant announcement with serious repercussions for marketing.
"You need to think about this in the context of overall data deprecation," says Moffett, "Data deprecation means an overall reduction in the amount of data that marketers can use to build relevant data-driven marketing strategies." This includes not only cookie deprecation but also restrictive ePrivacy laws, changes in mobile ad ID usage, consumer adoption of privacy tools and privacy-protecting behaviors, and the growth of walled gardens and the rules around how marketers can operate and build strategies within them.
And together with COVID-19, these changes have created a perfect storm that has torn up the rule book when it comes to marketing. "In a time when we had to measure efficacy and understand consumer behaviors more than ever before," says Moffett, "data deprecation made it hard for advertisers to do that all the way down to a campaign level." And this is forcing marketers to rethink – to go back to the basics of marketing and become much more adaptable.
Embrace the new normal
Data deprecation will dramatically shift or even derail common, well-adopted approaches to acquiring and retaining customers, and marketers need to embrace a new normal. "A very strategic change in mindset needs to happen," says Moffett. Marketers need to go back to the basics of building a customer-first strategy around a customer intricacy framework, and that means adapting their practices around transparency and choice, value to the customer, and relationship depth.
"First, make it easy for consumers to opt-out," says Moffett, "The more transparent you are, the more trust that will grow between your brand and the consumer. And when you have your team adopt that mindset you will see an increase in acquisition."
Second, marketers should ensure that their customers get value from each interaction. "Make sure you are providing meaningful communication. When you provide value, people will come back to you," says Moffett.
"When you provide value, people will come back to you."

Tina Moffett, Principal Analyst, Forrester
Lastly, develop the appropriate relationship across the stages of the customer lifecycle. "What cookie deprecation brought to light was how focused we all were on proving the value of every interaction across the lifecycle," says Moffett, however, there are other metrics marketers should use.
For example, in the awareness phase, you need to embrace brand based metrics to understand who you are reaching and their perception of the brand. "We need to shift back to the fundamentals of building appropriate communication and relationships given where customers are in their lifecycle," says Moffett.
Four tactical actions you can take
Develop a data strategy around zero and first-party data
According to Moffett, the changes happening around data deprecation and the pandemic can be managed by the data that businesses collect, and the future is in zero and first-party data. Zero-party provides explicit interest and preferences directly from the customer while first-party data is owned by the brand and includes transactions and loyalty behavior.
"Use these different data sources to develop insights that can drive a better online experience as well as for targeting by building customer profiles," says Moffett, "If you know a lot about your best customers, you can target other customers who look like them."
Create a cohesive targeting approach
Second, build targeting strategies based on customer journeys and availability of data and utilize insights from zero and first-party data sources for acquisition-based strategies.
"The most impactful of all the changes brought on by data deprecation is on targeting and syndicating audiences across a very fragmented ecosystem," says Moffett. First-party data is extremely valuable but there will always be a tranche of audiences you don't have data on. So, it is really important to activate and syndicate your first-party data in a way that can be used across retargeting and targeting net new customers combined with contextual.
Whether are targeting individually addressable vs non-addressable audiences, this will give you a sense of what sort of data sources and audiences you should use to achieve that.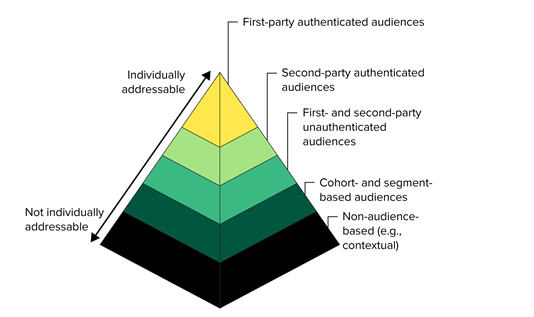 Adopt measurement models based on objectives and data availability
"Measurement as a whole has become really hard," says Moffett, "We suggest using more strategic marketing measurement models to understand how marketing drives the business. And these should be used to create your marketing and media plans".
Marketers should use alternative data-driven approaches for campaign measurement and day-to-day measurement. For example, digital panels with opted-in consumers, identity-based attribution that use identity as a way to connect ad exposure at the consumer level, or cohort measurement models where you look at different types of audiences you targeted and how they responded to an ad.
"These types of campaign-level-based measurement don't necessarily rely on third-party cookies, and we advise all of our clients not to use third-party cookies for measurement", says Moffett. Instead marketing teams should be more creative in using different approaches to measure ad efficacy.
Engage with walled gardens
Finally, engage with walled gardens. "We are going to see the rise of walled gardens," says Moffett, "and so it's important to build relationships with them so you can understand how changes can impact your strategy".
Marketers are advised to explore data clean rooms to build more privacy-friendly, advanced campaign/tactic-specific attribution models. "It's relatively nascent technology but it can be used to upload your data in a privacy clean way and join it with a third party for measurement purposes", says Moffett, "Lean on your measurement vendors for their experience and connection in the walled garden ecosystem."
Develop a new marketing strategy roadmap
Overall, marketers should develop a new strategy that recognizes all these changes in the market. "Develop closed-loop marketing/advertising approach," says Moffett, "You want to build a strategy where you're building targeted audiences, syndicating them across different publisher sites across the ad tech ecosystem, you are measuring efficacy, you're optimizing the results, and your re-targeting or making changes to your marketing plan."
"Second, rewrite your data strategy with a consumer-first lens," says Moffett. Marketers should look for opportunities to engage the consumers and learn more about what matters to them. What their preferences are what their intentions and use that to create meaningful plans and communication at the right point in time.
Third, all marketers should be evaluating their advertising and marketing tech stack. "Talk to your partners to see what is on their roadmap for dealing with things like data deprecation and make sure they are on top of these changes," says Moffett.
Finally, build cross-platform relationships. "You need to identify how data can connect across the platforms given that consumers are drastically changing behaviors and cookies are going away," says Moffett, "look into what the adtech eco-system is doing and consider what are the certain signals and digital behaviors I can learn about my existing customers and how can leverage user behavior that can help build your marketing strategy."
If you want to hear more actionable advice on how to tackle latest challenges in marketing, watch the complete webinar