After the topsy-turvy year that was 2020, we take a look at the most impactful changes that await marketers in 2021.
We don't need to tell you 2020 was a tough year. You already know this, and it isn't worth repeating. Instead, let's move swiftly on and take a look at 7 key changes marketers need to look out for in 2021.
Farewell to the Third-Party Cookie
One of the most important developments of the past year has been the slow demise of third-party cookies. Increased public awareness over data privacy, not to mention several high-profile data leaks and scandals, led many companies to start suppressing the use of third-party cookies on their platforms.
Apple implemented Intelligent Tracking Prevention (ITP) in their Safari browser, which effectively blocks all third-party cookies, while announcing a similar approach for iOS14, blocking all information exchange between mobile apps and advertising platforms on their mobile devices. Likewise, in January last year, Google announced that their browser Chrome will begin blocking third-party cookies by 2022.
The impact of this on marketers should not be underestimated, with huge repercussions in areas like ad effectiveness, conversion, and, in particular, attribution modeling. Most advertising platforms and analytics tools rely on information from cookies to establish the full path of the customer. Thus, removing third-party cookies from the equation leaves attribution largely impossible. All in all, the extinction of third-party cookies will potentially result in no reliable conversion tracking for about 86% of website visitors using major browsers.
Nonetheless, alternatives have been touted. By far the largest global advertising platform, Google has offered the Privacy Sandbox – a set of APIs that will allow advertisers to track certain parameters, such as basic ad conversions. But in comparison to what has come before, it's highly limited and, to date, details on how exactly this will work have not been forthcoming.
As a result, savvy marketers are shifting to more old-school marketing methods to provide valuable insights without relying on third-party cookies - Marketing Mix Modelling is one of the most obvious examples. Either way, one thing is certain – the golden days of full data availability on user behavior are coming to end, and marketers are going to have to decide how best to adapt to this brave new world.
Expect Further Data Privacy Regulatory Changes
With everything that has happened in the past 12 months, you'd be forgiven for forgetting about the headaches brought by the EU's General Data Protection Regulation (GDPR). Put into effect way back in May 2018, the GDPR was one of several legislative frameworks around the world aimed at strengthening data privacy that has changed the way companies handle personal data, especially in the EU.
Last year, however, the final ruling of the 'Schrems II' case saw the Court of Justice of the EU invalidate the Privacy Shield, a mechanism that the EU Commission had adopted to make data transfers to the US GDPR-compliant. If that sounds confusing, that's because it is, however, the outcome is that it is now extremely difficult for EU-based companies to transfer customer data to systems located outside of the EU.
With the majority of martech tools owned by US-based entities, many companies were subsequently left between a rock and the proverbial hard place – refrain from using industry-standard tools such as Google Analytics, or face potentially extreme penalties for falling foul of the GDPR.
However, despite the initial storm following the ruling, things went quiet towards the end of the year, and the long-term impact remains somewhat uncertain. On November 11, 2020, the European Data Protection Board (EDPB) published its recommendations following the Schrems II decision, and businesses transferring data to the US should ensure that they take those supplementary measures.
As 2021 progresses, we should get more clarity on the measures necessary to enable legally approved transfers of data to the US, alongside the likelihood of additional rulings on the GDPR (and comparative laws around the world). Very much 'watch this space' as the situation unfolds.
Oh, and don't forget - it's International Data Privacy Day on January 28.
Cool New Solutions for Web Analytics
Tied into privacy legislation changes and disappearing third-party cookies is the emergence of new and improved web analytics solutions. Google released v4.0 of their Analytics suite in October 2020, with a strong emphasis on using machine learning to fill in the gaps created by the lack of cookie-based tracking. This brought in some advanced features, like churn probability analysis, reserved until now for more sophisticated analytics platforms (and you've guessed it right, Adverity is one of those).
The new version also brings user tracking across devices, with deeper integration with Google Ads and YouTube, allowing you to track and consolidate conversions across browsers and mobile apps. You can now track user events without adding additional code, and, in line with the increased scrutiny on data privacy, companies can now remove personal data from Analytics upon individual user requests.
At the same time, Google also introduced brand new analytics features for YouTube. Besides the usual metrics like Reach and Engagement, you can now see the individual sources that drive traffic to your videos, look at performance trends for each source, and compare the results with typical user-behavior from that particular source.
Microsoft too jumped into the fray with the release of their free product Clarity. This brings some pretty advanced features alongside your usual traffic analytics, such as heat maps and session recordings.
Likewise, one of the largest CDN providers, Cloudflare, also released a new web analytics product that allows you to drill down into core traffic data, like visits segmented by traffic source or country. Cloudflare emphasizes that their solution doesn't use any user tracking techniques, making it an ideal basic web analytics tool for the upcoming cookie-less future. What's more, they even made it freely available to non-customers, which is very nice of them indeed!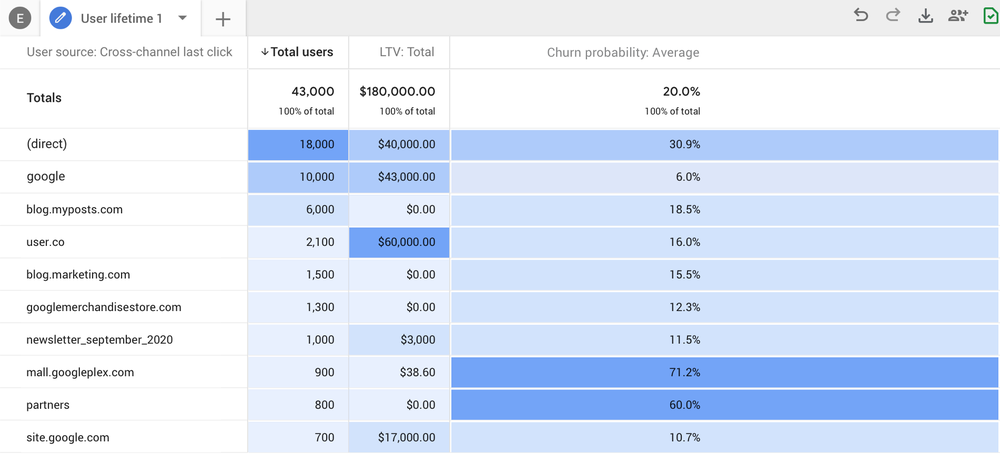 Churn probability is now available in Google Analytics. Source: Google
Content is King, but Video is Wearing the Crown
During 2020, we all saw the exponential growth of platforms with visual, user-generated content. Almost overnight, TikTok became a household name to the point that even your gran had heard of them, helped in no small way by the fact that for large swathes of the year many of us were stuck indoors with very little to do.
Ironically, their quarrel with the US Government only served to raise TikTok's profile further, with the video platform hitting some 800 million monthly active users by year-end. TikTok Ads were launched back in June and the brand's scale and influence threaten to overcast all other social platforms in the year to come, initiating a major shift in how companies approach social.
That said, with a billion users and 500 million people using Stories every day, Instagram can hardly be seen as trailing TikTok. Even with its not-so-successful IGTV feature, Instagram became a recognized advertising platform during 2020, with many brands increasingly coming to rely on it. With a growing user base outside of the US and EU, Instagram now represents a truly global customer outreach tool, so you can expect to see more than a few budgets shifting focus in 2021.
The rise of Instagram and TikTok also brought with it an explosion of Influencer Marketing. True, there have definitely been some teething problems and more than one brand has fallen victim to some (in retrospect) ill-advised partnerships. However, expect this space to mature in 2021, alongside a shift in focus towards micro-influencers as a key marketing strategy for a number of big brands.
The Continuing Growth of eCommerce
While the rise of eCommerce was inevitable, COVID-19 and the resulting lockdowns massively accelerated the shift to online shopping. In hindsight, this is not really surprising - early growth in Chinese eCommerce platforms can trace at least some of its origins to the 2002 SARS pandemic. However, the speed at which online retail became an integral part of everyday life took many businesses by surprise, resulting in some rapid pivoting as businesses scrambled to get their online sales up to scratch. Or, in some cases, get online for the first time.
Launching a successful online store is a technical and logistical challenge even at the best of times, and a solid portion of it lands in the lap of marketers, who need to be ready to tackle this challenge. As the dust (hopefully) begins to settle into a new norm, now is the time to start upskilling in the area of eCommerce marketing.
Make no mistake, this is not going to stop. Expect to see the term "omnichannel" being used a lot more frequently in 2021, as everybody looks to make sure they have a viable, functioning, and competitive online presence, along with or on top of their physical stores and brick-and-mortar business.
In addition, the shift to online retail has also sparked massive growth in social selling, with some industries attributing over 50% of their revenue to it. Leaning on that success, Facebook launched Shops, a simplified selling platform for brands with the promise of a 1.7bn user base. How well this new feature performs in 2021 will of course depend on the willingness of brands to further diversify their online sales channels, but also how other platforms rise to the challenge.
SEO Will Change (But Essentially Remain the Same)
Let's not forget about SEO - the complicated long-game of gaining organic traffic from search engines that's forever changing, but also somehow remaining pretty much the same. If that sounds a little dreary, perhaps it's because, despite various algorithm changes (with cryptic abbreviations like E-A-T and BERT), Google has continued to confirm what we already knew – high-quality, distinguishable content wins the game. If you create stuff that people appreciate and like, Google will like it too, and this starts the magic flywheel of constantly increasing organic traffic coming to your website.
Nonetheless, there are two important SEO-related things to be aware of in 2021. First, the switch to mobile-first indexing Google was finally completed in September last year. Essentially, this means that sites not optimized for viewing on mobile devices will rank lower. Back in 2015, when Google first started favoring mobile devices, they caused a "mobilegeddon", with 50% of non-mobile friendly websites losing search engine rankings. So, unless your website is already fully optimized, immediate action on website design is imperative.
And it needs to be done very soon, because the next "Google-geddon" is coming in May 2021, with the introduction of Core Web Vitals as a crucial ranking factor. With them comes another set of cryptic abbreviations (LCP, FID, or CLS anyone?), but basically all of this means that, on top of being mobile-friendly, safe, and non-intrusive, websites now have to load quickly, be easier to interact with, and be "visually stable" (read: don't use any dirty tricks to turbo-charge ad impressions or SEO).
So, our advice is: don't get caught out and get cracking with website updates before May comes. Google is not the only one forcing you to make the move to mobile - users are too, as they are predominantly using mobile devices to access your website (58% of them in January 2021, and rising). And, of course, remember to keep creating (and promoting) quality, engaging, relevant content.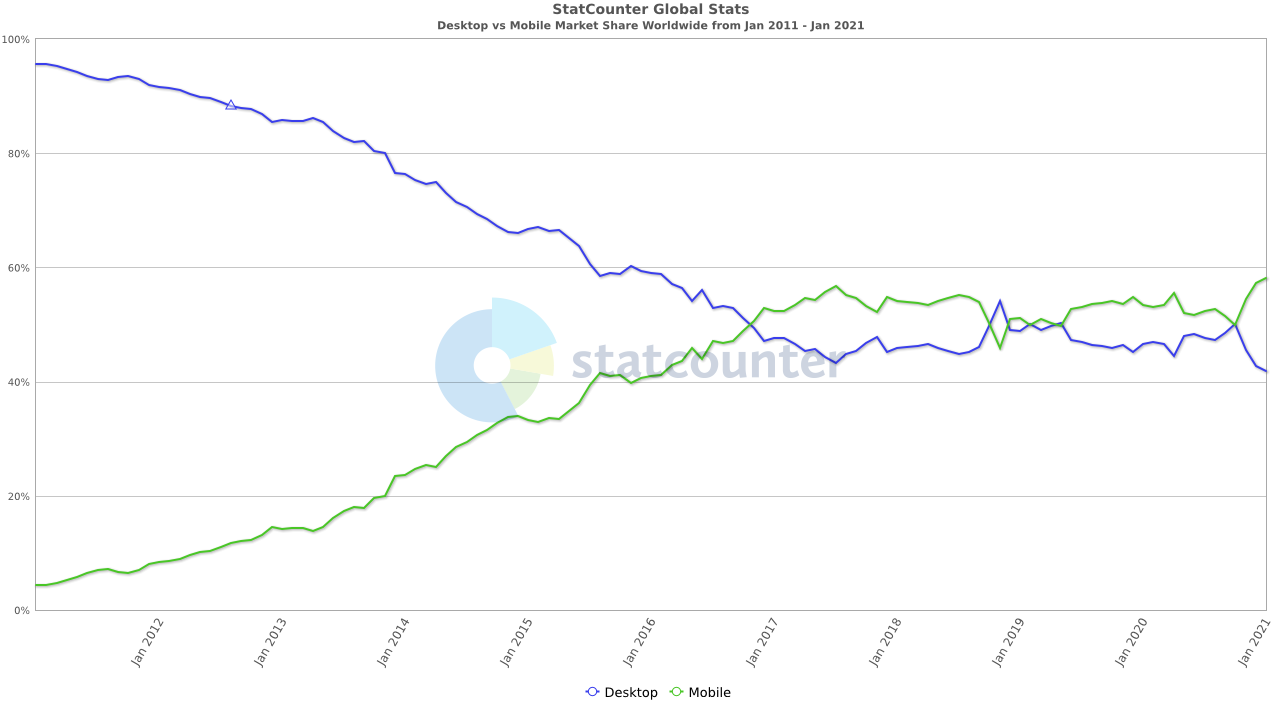 Desktop vs Mobile Market Share Worldwide, Jan 2011 - Jan 2021. Source: StatCounter
AI Is Everywhere and It Is a Gamechanger
The prevalence of cheap processing power and rapid advancements in technology over the past five years has seen a proliferation of AI applications emerging across every industry under the sun. The good news is that, with marketers under constant pressure to achieve more with less, AI promises to be a gamechanger.
At one end of the spectrum, AI-powered tools allow marketers to automate mundane daily tasks, letting you focus on bigger and brighter things that bring (hopefully) better results.
At the other end, AI is able to analyze the ever-growing mountains of data marketers are now exposed to. Not only can they do this faster and more accurately (they are a machine after all), but can also give you unique insights into anomalies or correlations you otherwise wouldn't have seen.
Put simply, with the right data, AI is going to let you work faster, go deeper, and identify trends before they even start to affect your performance.
AI in marketing attracted a lot of attention in 2020, not least because of the launch of Google Analytics 4 and its AI-based features, and this year you can expect to see a lot more similar features enter the market. 2021 is going to be the year for AI and by the end of it, if you're not using some sort of AI-powered solution in your marketing strategy, you'll be losing a massive competitive edge.
2021 - Let's See How it Goes…
There you go - a lot is set to happen in 2021 and our list is far from exhaustive. From data privacy through to AI, change is happening fast across almost every industry while COVID-19 has completely redefined how we live, work, and enjoy life.
Let us know what your thoughts are for 2021 in the comments section below and, hopefully, at some point this year, we'll be able to join you all outside in the sun again!