In episode five of The Undiscovered Metric, we're joined by Sinem Soydar Gunal, Senior Digital Marketing Manager at Vodafone, to find out how Vodafone has introduced multi-layered metric reporting, and why data truly is a global language.
Find out how to build a leveled metrics system with Sinem Soydar from Vodafone
Hi Sinem, firstly can you tell us a bit about yourself?
Of course, I've been working at Vodafone for the past four years within the marketing team, and I've been working within digital marketing domains for the past 20 years, and as you know digital marketing means data. So essentially I've been working in data for the last 20 years of my life.
Can you give us a little background into what you have been working on at Vodafone and why it is so important?
For the last couple of years, we have been focusing on the digitalization of our commercial journeys, we want to have a bigger understanding of our marketing and sales efforts. Additionally, we want to run a centralized effort that allows us to see the performance of a market as well as provide an overall view so we can create more insights for each individual market.

To do this we launched Project Orbiter, which addresses the customer journey starting at the first impression, and ending at the activated sale. The project gives us a huge wealth of insights that we can optimize at all three different stages of the funnel - upper, middle, and lower. It means that we can come up with new creative ideas for any part of the customer journey. To achieve this effectively, we of course need to work with several different stakeholders across the business from the different verticals such as technology, brand ideas team, and marketing teams.
Was there a particular reason why you chose a leveled metrics structure?
Great question. When we look at the three stages it is clear that each vertical has its own dynamics, whether it's the campaign management, the product offering on the website or apps, or even creating a CRM connection with the lead or sale. There are so many different metrics that can be identified to help optimize performance. However, you can't present over 50 different metrics to the senior decision makers such as the ExCo (Executive Committee). That's why we want to group the metrics. We want to monitor everything. We don't want to skip anything just because it's small or hard to measure. We want to measure everything but visualize it and put in a story that makes the best sense for the company.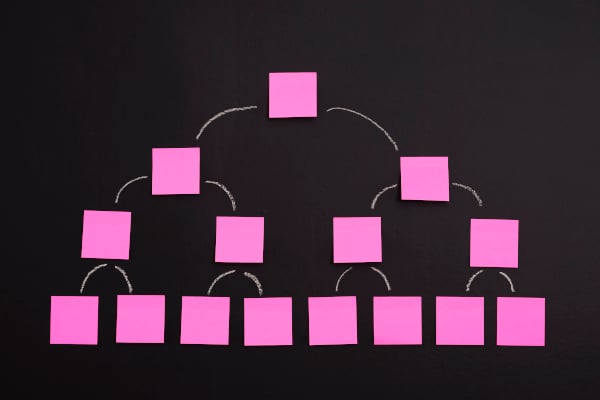 Decide on the key metrics that senior decision-makers need to see
How did you approach that leveling process?
Firstly identifying the key metrics. For us, the key ones are those that are 100% relevant to the business overall, which means revenue, the number of customers, acquisition, and retention.

However, as this is a multistakeholder project each department wants to see different metrics and insights. For example, the media team wants to understand how their campaigns are impacting the business using their own media metrics, which are different from web conversion or CRM.

Therefore, whilst we all look at the business goals, for managing our day-to-day we are checking the metrics that we can directly impact. We are not just looking at the set of numbers to see whether everything is going well or not. We're also trying to get a tactical plan for our day-to-day business.
When implementing a reporting structure of this complexity, should marketers think first about how the goals for all those different teams fit together?
I'm a person who is more willing to see the holistic picture of the company because we need to be collaborative. Of course, expertise, and building expertise in our own domains are still critical to have efficiency and maximum quality in our jobs. However, you cannot create value for the company and for the consumer by you only doing your own job. You need to see how you impact the other chains of the system.
Marketing at the end of the day is a process and we need to understand while we are doing our job well enough, what about our collaborators? Are they doing what they need to do or do we miss any insights that we need to capture?

That's why these dashboard projects are not limited to the facts and figures that they can provide. It is not just putting the data sources on one dashboard, it's also learning how to work together to create incremental value.
Have you found that this structured way of reporting has helped show the value of marketing to other teams?
To be honest, yes. Now we are more working closely within the verticals and we see the same pattern in different markets because this project is happening for different markets in the Vodafone world. So for instance, in Italy, in Spain, we're seeing more collaborative actions across the teams which brings more value. Most of the time my finance contact is my best friend because they can also understand how marketing adds value.
How do you get stakeholders on board for a project like this?
We are lucky because we have the right forums where the marketing people, technical people, and technology people can come up together to discuss future initiatives. So we had already designed the kind of forums and place where you can address how we can initiate a new idea and how we can carry on the plans that we have.

On the other hand, if you are in a smaller-sized company or you're in a startup, the standardization of the key metrics and KPIs is really critical, before you then share the requirements of the business.

Large projects require support from stakeholders across the business
Do you think it's a common pitfall that marketers start projects without looping in those senior stakeholders?
If you are working with the same values and if you have the right communication skills within the team, there is nothing that you cannot achieve. But of course, it also needs to link to the context that you're dealing with or the targets that you have.

Creating the right momentum and right buzz around the topics is critical, and not limited to marketers, but in many different verticals, we need to learn how to defend our cases to bring value to the business. And the data really helps out.

I love talking on the topic of data. I love figures and facts because for instance, I'm a Turkish woman and talking with an accent in English, but when you put the figures in every country in every language, figures tell the same story. You cannot say that conversion rate means a different thing in French and German. No, every single digital metric can tell you the same story in every market. That's why I prefer talking about the data and making decisions based on it.
Are there any global trends marketers need to prioritize over the next 12 - 18 months?
Yes, I guess let's consider our times as the post-COVID times, right? We're faced with turmoil in the economy, and in household budgets, and most industries aim to give the best value at the best price while doing responsible marketing. That means, as marketers, we have an important agenda of optimization. Growth needs to come from customer satisfaction.

You can measure satisfaction with many metrics like conversion rates, and customer retention, these are the key metrics that you can convert to customer satisfaction. Growth metrics in revenue building should be addressed in different industries, and customer satisfaction in web and app journeys needs to be addressed clearly across the board. And of course, forecasting models, and forecasting marketing models to understand better the optimization opportunities could help many markets.
What advice would you want to pass on to our listeners?
Do not be afraid of the size of the project, but prepare a proper plan and work with a team that shares the same vision as you. Otherwise, it's a really hard and frustrating process.
---
If you enjoyed The Undiscovered Metric, you can check out the previous episode here where Dayo Fordah discusses how you can optimize LinkedIn video ads.