Trusted by leading brands and agencies
Issues with data collection?
"Having so much data to analyze, we're not sure how to turn it into useful insights."
"We get some insights from our data, but we're not able to do it quickly enough for real-time strategy adjustments."
"We spend more time evaluating the past than considering what is happening in the present or likely to happen in the future."
Get ahead with real-time data services
Let's be strictly honest, no data integration is going to be completely real-time.
However, making data-driven decisions using the freshest information available is key to outperforming your competition and driving business growth.
Don't find yourself stuck making decisions from last week's data while others race ahead.
Adverity's near real-time data services ensure you can make business decisions from the most recent and relevant insights.
"Real-time data technologies increased revenues for 80% of companies…and 98% reported increased customer satisfaction."
Unlock data from any source
With over 600 pre-built connectors at your fingertips and the capability to customize your own, Adverity enables you to effortlessly gather data from your marketing platforms, APIs, databases and file-based storage, and convert it into standardized real-time insights to help you improve business performance.
Create a single and secure source of truth
Creating a single view of performance is perhaps the biggest barrier organizations have when understanding their business data.
Adverity's data integration platform makes this easy by connecting to all your data sources, transforming, enriching, and harmonizing your data, and loading it to your preferred data destination.
This provides your data team with a single, accurate, up-to-date source of truth that can empower your business to make data-driven decisions faster and confidently.
Easily transform data
Data teams spend a lot of their time trying to manually clean, standardize and harmonize data from a number of different sources.
Our data integration platform joins different data sets based on unique identifiers, and apply a variety of enrichments to your data such as smart naming conventions and currency conversion.
Automated transformations can be applied to your data as soon as it is fetched, helping to match metrics and dimensions across your data based on your agreed data schema.
Zero coding required
One of the main benefits of our data integration platform is the ability to connect all your business data sources without having to write a single line of code.
With simple no-code enrichments, Adverity makes it quick and easy to integrate your business data. You can also build custom scripts to achieve any transformation you require.
This means less time spent on data integration, allowing more time for providing valuable data insights to improve business performance.
Want to learn more?
Check out our comprehensive guide to data gathering!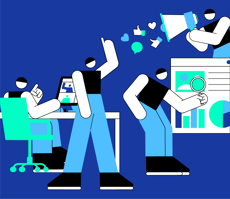 Find the right pricing plan
We're proud to be trusted by leading household brands such as IKEA, Vodafone, Red Bull, and BOSCH. But enterprise level data integration isn't just for enterprise level businesses.
We've got packages and pricing suitable for organizations of all sizes, starting from only €500 per month.
Want to see what Adverity can do before you commit? We're currently offering a 14-day, no-commitment free trial.
Standard
From
$500/mo
For fast access to basic data integration, management, and analysis needs.
Most popular
Professional
From
$2,000/mo
For advanced use cases using standard data connectors, storage, and BI data destinations.
Custom
Custom
For larger teams that need more data rows, more features, additional data sources, and additional destination options.
Our latest success stories
We've helped hundreds of businesses of all sizes improve their data-driven decision-making with our data integration platform