In our last blog, we found out that personalized content, and audience building and targeting are the top strategic priorities — but what's getting in the way? And how do the challenges faced by marketers and analysts differ?
Adverity's latest research report, based on a survey of 964 marketers and analysts, takes a look at the challenges they face when it comes to data analytics, and how they plan to take them on.
Read on for insights from our challenges and priorities report, or download the whole thing here.
#1 Challenge: Freeing analysts from data wrangling
Both analysts (42%) and marketers (40%) struggle with manual time and effort to wrangle data for reporting, making it the top challenge.
This holds true even across large companies. A bigger marketing budget means more campaigns, higher levels of personalization, and ultimately more data. What we've found is that the scramble to get on top of that data runs from the smallest business to some of the biggest corporate giants.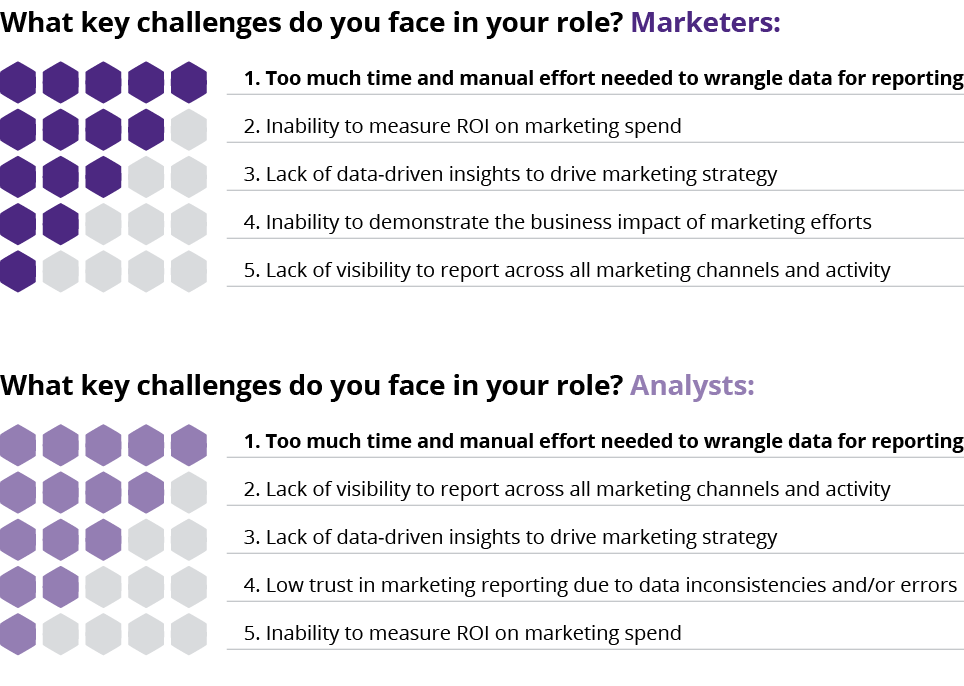 The upshot of this is that the data analysts who have been trained to carry out sophisticated analysis end up spending a large portion of their time in a fairly basic and unexciting capacity — trying to get their arms around marketing data. And this spills over into the role of marketers too, as they need data in one place so that they can make data-based marketing decisions.
"Modern marketing moves so quickly that you cannot afford to be waiting three weeks until someone has gone through a spreadsheet to find out how your campaign is doing."

Alexander Igelsböck, CEO at Adverity
"By manually wrangling data, businesses are not only opening themselves up to human error and inefficiencies but committing to a reactive strategy." Says Alexander Igelsböck, CEO at Adverity.
"Modern marketing moves so quickly that you cannot afford to be waiting three weeks until someone has gone through a spreadsheet to find out how your campaign is doing."
---
Find out how one company saved
$2.3 million

by improving their data efficiency

By freeing up 80% of their data analysts' time, this enterprise-level company was able to save $2.3 million over three years through improved efficiency in data management and operations!
---
#2 Challenge: Measuring ROI Vs. Visibility over marketing data
Being able to measure ROI on marketing spend (37%) is the second most significant challenge for marketers. What's more, the inability to demonstrate the business impact of marketing efforts (34%) also ranked much more highly for marketers than for analysts.
What this tells us is that marketers are really struggling to turn data into tangible insights, and ultimately to prove the worth of marketing to the C-suite.
There are a couple of reasons why this is so tough. One is the time and effort it takes to manually integrate data for marketing reports. More often than not this limits the view to a shallow, and retrospective look at campaigns.
The other major spanner in the works here is a lack of visibility, and this falls on the plate of the analyst. So while marketers are struggling to get value from their data, the second biggest challenge for analysts is getting the data to a state where marketers can start to get value from it.
39% of analysts say visibility over marketing data is a significant challenge for them. However, for marketers, who often only see the end product of these integrations, this falls to their fifth most significant challenge.
Data conundrum: Capability vs. Usability
To find out how marketers and analysts plan to take on these data challenges, we asked what their priorities are when it comes to their data strategy. Across the board, analysts are much more vocal about prioritizing technical capabilities, and this is where the biggest gaps between analysts' and marketers' priorities can be found. 72% of analysts prioritize the ability to send data to a warehouse, and 70% want to send data to a BI tool, compared to just 53% of marketers who prioritized these features.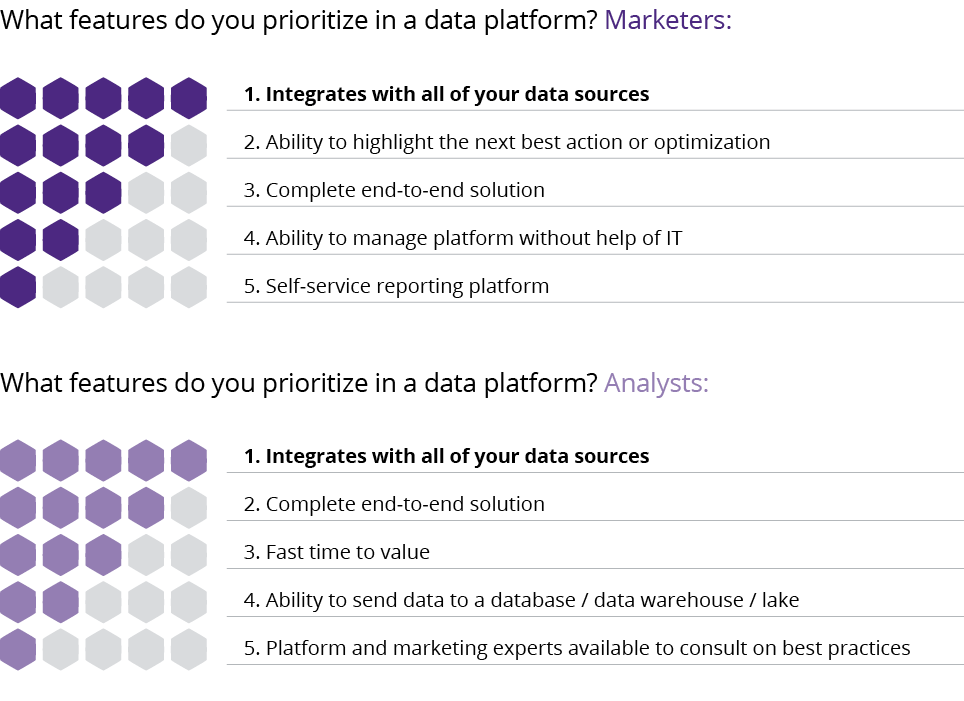 Marketers' second most important priority is the ability to highlight the next best action or optimization, continuing the trend that marketers are trying to identify actionable outcomes from their analytics. Marketers also ranked other usability features more highly, including the ability to manage a platform without the help of IT (#4), and self-service reporting (#5).
#1 Data priority: Integrating all data sources in one place
Even though there's some contention between analysts and marketers on how to tackle data challenges, there's one thing that they can both agree on. Analysts (74%) and marketers (66%) both say that integrating all their data sources is their top data priority. Both roles know all too well that by prioritizing end-to-end integration of data, they can ease their top challenge of time and energy spent wrangling data.
"Those that cannot keep up with the evolution or aren't willing to embrace the new ways of working will ultimately be left behind. Moving away from manually wrangling data is the first step to becoming a data-driven business," says Alexander Igelsböck, CEO at Adverity.

Check out the full report for insights from 964 marketers and data analysts.
---
Want to eliminate manual data wrangling from your marketing?
Speak to one of our experts to find out how Adverity can help you!
---