Budgeting for marketing activities can be tricky even at the best of times. But in the latter half of 2021 is especially tough, with things like the death of third-party cookies having a huge impact on marketing strategy, not to mention the ongoing COVID-19 pandemic.
The strategy and execution of successful marketing campaigns depend, among other things, on the planning of a solid marketing budget. After all, if you can't justify the size of the investment your team needs, the company may decide to spend the money on other activities.
So, to give you a hand, we've put together some top tips when it comes to planning out your budget for the remainder of 2021, with some key things to look out for.
What are the big changes happening in marketing now?
COVID-19's effect on social media marketing behavior
Because people are working remotely, consumers have flocked to social media during the global pandemic, spending 7 more minutes per day on social media in 2020 compared to 2019. The above study has shown that consumers have increased their utilization of social media as a tool for identifying, evaluating, and making product purchases. Therefore, these findings demonstrated the growing importance of social media marketing since the COVID-19 pandemic began. Marketers have in exchange adjusted their strategies to start advertising more on social media and on digital platforms.
A strain on trade shows and networking events
Marketing events across the globe are being postponed or cancelled, with marketers experiencing a high volume of stress. Businesses have quickly realized that they're no longer able to advertise products and services the way they are used to, and have now adopted a new tactic - virtual events. A study done by Data Connectors explored what the post-coronavirus era may potentially look like for conferences in 2021, with 86% of virtual event attendees have described an increase in engagement as opposed to in-person events.
Adverity's very own Holly Thomson heads up the Global Events team and has shed some insights into her experience. "The importance of being agile was paramount when the in-person B2B event world collapsed. The ability to move quickly and change tactics to an online strategy ensured the successful continuance of event brand building, whilst also filling the void where in-person event generated leads would have been. Pivoting to virtual was definitely our saving grace," explains Holly.
Mid-year ad budgets swung wildly
The coronavirus pandemic has caused a considerable increase in advertising spending. A report commissioned by Dentsu's Ad Spend Report 2021 forecasted a 10.4% YoY ad spending growth in the UK by the end of 2021, followed by France at 8.9%, Canada and Italy at 7.2% and 5.9% respectively.
The extinction of third party cookies
In January 2020, Google announced that Chrome will phase out third-party cookies by 2022, in order to make the web more secure and private for users. From a budget perspective, social media campaigns and paid search campaigns will be affected by these changes, and will create a fundamental shift in attributing conversions and budgets to the right channels.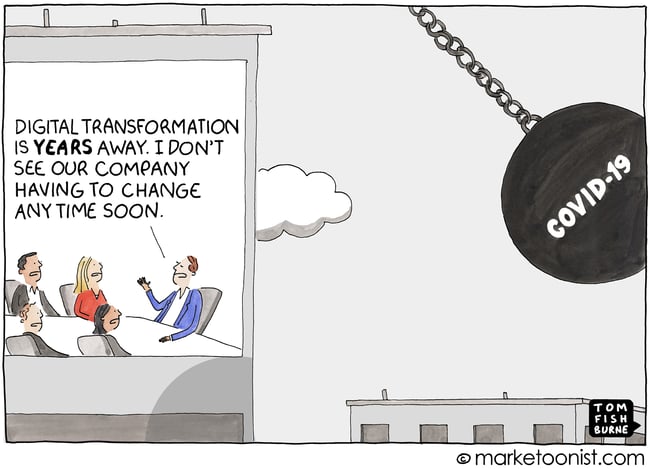 For the CMO's and Digital Marketing Managers, they have many options for how they want to allocate their marketing budget. But in the end, it's not about how much they spend, instead it's about what they do with the budget they have. And so, the pressure is solely upon the CMO's and Digital Marketing Managers to create the right budget plan.
So, what are some of the challenges they are facing?
Understand the performance of all marketing channels at a single glance to enable data-driven decision making - This is difficult as information is constantly scattered across different systems and therefore is difficult to compare the performance of individual channels.
Ensure that everyone in the company can easily recognize how marketing contributes to company goals - With increasing accountability and focus on business contribution, the role of marketing is becoming more embedded into every aspect of company performance. This repositions the marketing function as a continuous driver of a company's revenue and growth.
Be able to negotiate a sufficient budget for all planned marketing activities - CMO's often need to back up their budget pitch with reliable data to justify their spend going forward. By having a deep analysis of historical spend and recent spend allocation, CMO's will understand better how their budgets need to be split by each channel to produce maximal results.
How to Plan Your Marketing Budget for H2
Now that you understand the importance of a marketing budget, let's take a look at how to prepare your very own budget plan:
Step 1: Set your marketing business goals
Your goals are the results you want your marketing efforts to yield. High priority projects would receive more budget than projects that don't contribute that same amount of growth. For example, one of your marketing goals can be to drive the amount of traffic to your website or increase engagement on social media.
Other marketing objectives can include:
Driving more sales
Increasing leads
Earning more subscribers
Increasing brand awareness
and many more...
Step 2: Define your overall budget
Organize your financial status by taking a look at last year's budget. Take into account steady profits, and adjust for any financial losses that may have been sustained throughout the year. It's also important to establish any hidden costs, such as print advertising, promotions, exhibitions, social media etc. After determining the overall fiscal health, the marketing budget can now start to take shape.
Step 3: Track ROI
When you invest any amount of money you need to figure out what your returns are. So, make sure to track your marketing expenses and measure the impact to determine if your budgeting helped you attain the revenue you set out to achieve.
Attributable vs. Accountable
One last point to consider: although measuring the impact of your marketing efforts is crucial, with the end of third-party cookies on the horizon this process may not be so simple. Attribution modeling - where sales are attributed to specific marketing channels - is about to become a lot harder and less reliable, so it's important to find a new solution for understanding how each channel contributes to revenue.
However, as Adverity's Harriet Durnford-Smith, VP of Marketing & Growth, notes: "It's important to understand that the narrative of 'everything has to be attributable' is not the same thing as 'all marketing spend must be accountable'. There is still going to be a huge wealth of data available for calculating ROI and making spend accountable."
One solution set to be a popular choice for marketers is adopting a Market Mix Modeling (MMM) approach. While multi-touch attribution is a bottom-up approach that offers granular insights on a campaign level, MMM approaches provide an aggregated view on a channel level with no reliance on third-party cookies - making it a very tempting prospect for the second half of 2021.
If you can't measure it...
Despite the chaotic start to the year and the challenges marketers are likely to face over the remaining months of 2021, the old Peter Drucker quote still holds true: "If you can't measure it, you can't improve it." However you set-up your marketing budget for H2 in the coming months, and whether you choose to adopt an MMM approach to tracking performance or not, one of the key tips we have is - once you have your budget planned, make sure you have a method for measuring the impact. Otherwise, how else are you going to know whether your budget planning was successful or not?