A few years back perhaps, you could collect and keep track of all your marketing data in a single Excel file.
I am sure that most marketers will agree that it's hard to keep track of all your advertising data and reports.
From search to social media advertising, from Google Analytics to CRM to your e-commerce tools. A modern marketing department is using 91 marketing tools on average. Ninety-one! That's a lot of marketing campaigns.
Good thing is that marketing data warehouse can help you manage your big data, customer data and in between.
In this blog post, we will explain what a DWH is and why you need a designated space for your data. A single place, preferably in the cloud, for the data that is coming in on a minute-by-minute basis.
That's not an intervention, yet. We just think you need a data warehouse.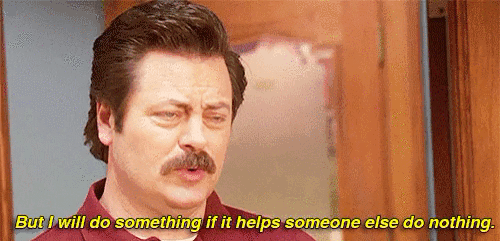 What is a data warehouse anyway?
In general, a data warehouse is for all businesses out there that want to get the most out of their data. Generating actionable insights and make the right business decisions are only two major benefits.
At its core, a data warehouse is a central location that lets you store all your data for reporting and data analytics. It's a single location even if the data comes from multiple, even hundreds, sources.
It's all about scalable data storage, and while you can decide to have it on-premise, more recently developed solutions tend to be cloud-based.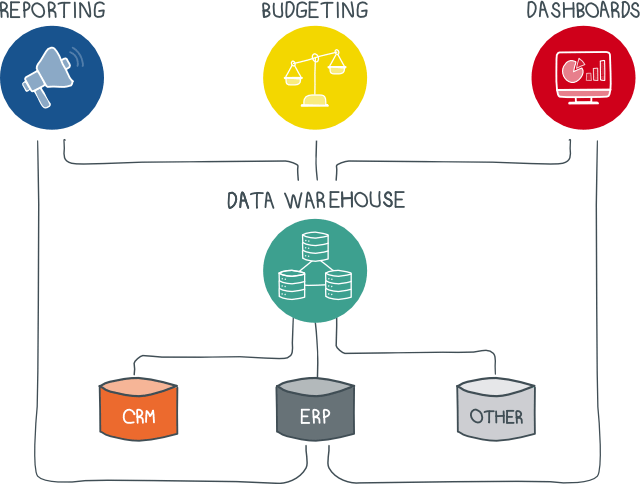 (Note: We will run you through a few viable solutions later in the text.)
it's important to understand that a data warehouse is not an equivalent to just any database. A database is there to collect and store data in real time. A data warehouse, on the other hand, is the home of all the data generated over time. It's the place where it all comes together, and businesses can use it to make the right decisions.
Speed, access and the highest data quality you can have
There is little doubt that having all your (marketing) data in one central location is a good thing.
For one, you get quick and easy access to the data you need, without having to pull it from a bunch of sources. That can be quite frustrating especially if you're on a tight deadline to deliver insights.
High-quality data is also something a data warehouse can help with. With the use of a data warehouse, you can convert data from all sources into one unified format.
This process helps you ensuring consistency for your marketing purposes across different campaigns.
A small inconsistency or a missing piece of your data can cause a chain reaction of wrong insights unless you catch it early on. This clean, high-quality data is something you need to strive towards at all times.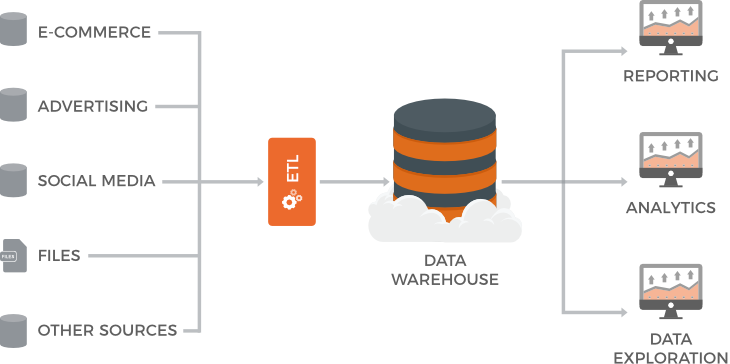 Benefits of using a data warehouse
There are a ton of advantages when it comes to data warehouses.
First of all, the storage of your data will be no concern anymore. As you know, keeping your large amounts of marketing data and reports in spreadsheets is a pretty bad idea.
Say NO! to spreadsheets when it comes to your reporting.
The magic of a data warehouse is in its ability to store all the marketing data you have so you can compare past and present performances.
Secondly, you would be able to maximize the impact of your insights. Once you coupled your data warehouse with a marketing analytics tool, you will find the drivers of your success easily.
Third: don't forget that proving your return-on-investment (Marketing ROI or MROI) is never an easy task. A data warehouse for marketing can certainly help you with. The more organized and clear your data is, the easier it will be for you and your peers to understand how Marketing contributes to its bottom line.
Fourth benefit: Users can uncover new trends, which might have been missed if they had only looked at the most recent numbers. If you plan to perform in-depth analyses of your data, you should make use of historical data. Most of your answers lie there.
From our experience, companies have already a lot of marketing data - but just did not use it, yet. Time to change this and get your Marketing Intelligence software to use. The amount of historical data required to make such predictions is often pretty extensive. Therefore, a data warehouse should be considered the only viable storage solution for your data.
Fifth, a data warehouse accelerates your decision making. When you have hard facts at hand, making the right move becomes an easy task.
6: foreseeing marketing trends is among the best competitive advantages a company can have. In competitive markets, every bit of insight helps to keep the competition at bay. Getting the big picture of your marketing is, therefore, your life insurance to keep a healthy business.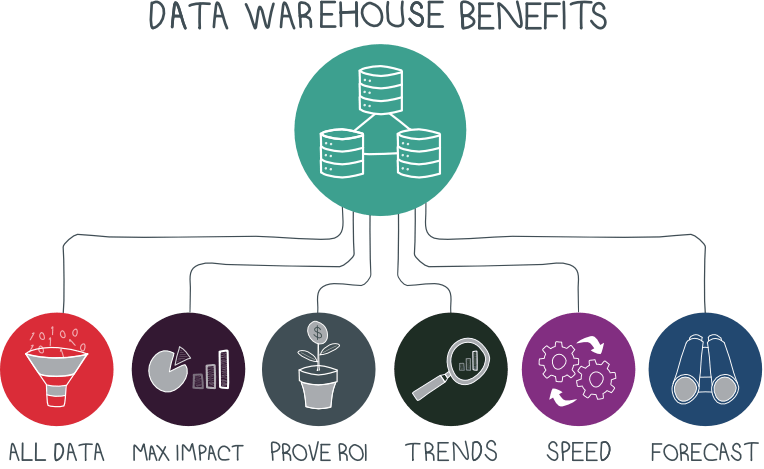 Last but not least: the future for marketers is bright. Why you ask. With artificial intelligence (A.I.) around the corner, machines will soon take over to do tasks that are too labor-intense. Or basically, not fun. For machines to learn, you need a ton of data. No, make it a million tons of data. Only with large, clean data, you will make your AI work for you. Prepare for the future now.
What to consider when assessing data warehouse options?
Clearly, there are quite a few arguments in favor of putting a marketing data warehouse to work. The question now is how to choose just the right solution for your needs.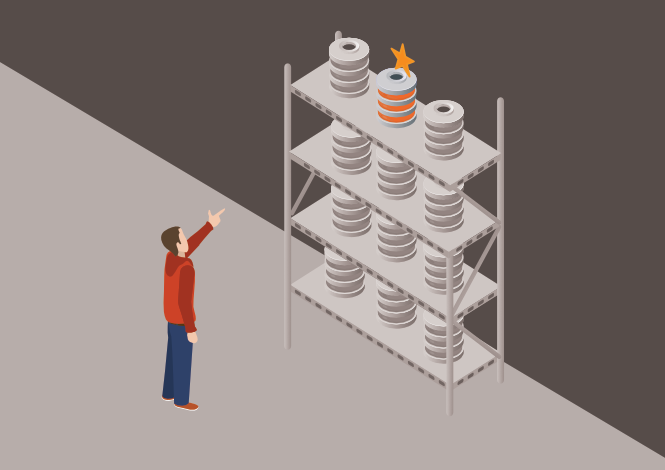 With data growing in volumes by the day, it's also important to decide where you want to store it. After all, your Marketing Analytics software keeps getting busier every day, too.
There are basically two options: whether you want your database on-premise or in the cloud - and to do so, there are several key factors to consider. Speed, cost, scalability, security, and reliability are among them.
Now, if you're looking for speed, tight security, and control, an on-premise data warehouse may be the choice for you. You are sure to have all your data in the server room at the back of your office, making it as secure as it can be.
Ironically, Security is also the main benefit of the cloud. Working with top vendors on the market ensures you get the latest security updates. Protocols are being updated on a regular basis and potential bugs are being fixed as soon as someone discovers them. Those guys have a lot to lose if they're not fast and secure enough.
Speed is a stronger feat for on-premise solutions. Your users do not have to wait for data and dealing with bottlenecks like limited bandwidth or server capabilities.
In terms of reliability, both solutions have their advantages. In the cloud, you depend on choosing the right provider. With your in-house solution, you can hire the experts you need and have them physically there in case a problem arises.
Where a cloud solution is clearly taking the lead is in having a much lower entry cost (no servers, no hardware!) and higher possibilities for scaling. After all, the space you can have in the cloud in practically infinite.
The best cloud-based data warehouses for marketing
The fundamental principles of DWH include:
- Store marketing data from all branches of a company's operations
- The data must be integrated before processing
- Allow for easy analysis of the data stored by the data warehouse
Let's take a closer look at the main contenders: Snowflake, Google BigQuery, Microsoft Azure and Amazon Redshift. All four deliver fast query performance thanks to advanced columnar storage technology, cost-based query plans, just-in-time (JIT) compilation and data pipelining. The devil is in the cloudy details.

Snowflake
First, we want to introduce to the new kid on the block. As a data cloud with an attractive pricing model, Snowflake is expected to grab a good share of the cloud-based DWH market.
The impressive VC investment of 450 mil dollars helps their quest to become a massive force. Snowflake major advantage is its powerful processing capabilities for semi-structured data. This results in easy data queries with flexible schemas, particularly from JSON or Avro. Snowflake supports granular access privileges, whereby user roles can be set and additional pluggable authentication set up.

BigQuery
BigQuery is a fully-managed SQL data warehouse built to handle the complexity of modern data-driven marketing. Like Snowflake, BigQuery is a cloud-based, serverless solution that requires no extra infrastructure.
Queries are performed against append-only tables, which means that when new rows are created or existing ones are updated, they will be appended at the end of the table.
Thus, this must be accounted for when writing new queries. Users are able to interact with tables using the web-based UI and command line tools. Regarding access roles, users privileges can be set e.g. owner, writer, and reader. Yet, this can only be set for whole datasets and not for individual tables.

Amazon Redshift
Amazon Redshift is an equally robust and scalable data storage solution capable of querying large amounts of data with ease.
Redshift seamlessly integrates with a whole host of BI and analytics tools.Amazon itself claims that Redshift 'one-tenth of the cost of traditional warehouse systems'. With finely-tuned access rights, powerful metrics and reliable uptime, it's clear to see why Redshift has emerged as a key player in the industry.

Microsoft Azure
Microsoft's ambitions with the cloud are nothing less but huge. Azure's revenue doubled every quarter in the last year alone.
The fully managed cloud data warehouse targets mainly enterprise clients, so expect a certain price range, too. One of the big advantages is the broad ecosystem of partners Microsoft works with - from ETL to data visualization tools.
Which data warehouse would be best for my needs?
With a saturated market, big data marketers would be well-placed to leverage their data to a data warehouse. This will be crucial to shifting your long-term focus away from tedious data aggregation and instead help to realign your focus to analyze the right data and deriving actionable insights for yourself or your client.
It is not possible to draw definitive conclusions regarding which of these giants comes out on top. Some provisioning solutions will be better suited to some people's needs more than others.
When deciding which solution to go for, you should be mindful of how the platforms are likely to respond to the type of data you wish to use; how much data needs to be processed and the kind of queries you plan to run.
While all four of the solutions we've highlighted are renowned for their lightning-quick processing speeds, it's not guaranteed that they will be able to maintain such speeds if your data and queries are structured in a way the platform finds problematic.
In such cases, even the fastest data warehouses available on the market can quickly become lethargic.
Choose wisely: it just may prove crucial in your pursuit of more compelling insights and improved efficiency in client reporting.
When assessing available options, ensure you consider the following
1. Get yourself a resourceful partner: not sure how to tackle a DWH project? Get yourself an expert who helps you avoid the potential traps.
2. The best cloud-based solution might be one you already have. Talk to your IT team and see what other departments are using. Their experience will boost your decision-making.
3. What are your use cases? Do you want to analyze marketing data from previous campaigns? Are you planning to work with other data scientists? Or perform econometric analyses to predict future trends and outcomes? The data architecture you ultimately decide to go for should be there to support you in achieving your goals.
4. DWH performance: try to answer the most important questions like "How much data are we going to use?" Take time to consider limitations on queries to avoid paying extra at a later date. Your marketing analytics team will thank you for the best performance, no question.
5. Costs! Even in 2019, big data is not cheap. Bandwidth and storage are limited. Queries, too. Using a data lake to your IT stack might save you money in the end. Note that some vendors charge a flat query fee, while others charge by volume.
6. Maintenance: plan ahead to ensure that you won't be short of resources in your team. Be sure to consider your future vendors support offers: self-service tools tend to charge for your extra wishes. Fully managed warehouses have a higher base cost.
7. Features: there are certain commodities you'll need and expect from your cloud vendor. Do you need an elaborate ecosystem or can you work in a siloed environment? How many extra tools do you require and does your preferred partner natively support these?
At the end of the day, it's up to individual businesses to decide what factors are the most relevant for them. One thing is clear: marketing executives need to look towards data warehouses as an enabler of their future success. A marketing data warehouse is not just a nice-to-have anymore; it's becoming more and more of a must.