Deriving insights from your data is one thing, being able to present it in an easily digestible way is a whole different ballgame. Indeed, ensuring that reports can be understood by colleagues and clients is no easy task. Your best bet is to use supporting statistics to craft a story.
These stories should be relatable. The quantification of experiences and findings will resonate better with their audience.
If done correctly, storytelling in reporting is a surefire way to guarantee comprehension from your peers.
In this blog post, we'll be looking at what data storytelling is and why it is important to marketing.
What is storytelling in marketing?
"I believe in the power of story. A story is where we came from. A story is where we're going. A story is what connects us and binds us to each other. A story is powerful."
Jeff Goins has a strong passion for storytelling, which many might think is what his profession expects from him. He's a writer, after all.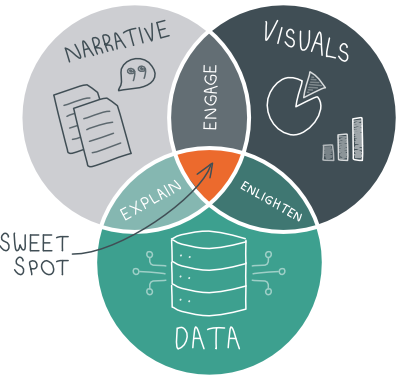 Yet, being able to create a compelling narrative is a skill many of us should hone, too. Compelling stories are something we all understand and relate to; they are a language that we all speak.
For marketers, in particular, stories are an opportunity to connect and engage with their audiences. In a profession that has long relied on creativity, strong messages are key.
Nowadays, however, many companies tend to put creativity in the back seat, while making room for ever-growing amounts of data and the work that comes with analyzing it. And that's fair enough – data can help derive plenty of actionable business insights.
"Most organizations recognize that being a successful, data-driven company requires skilled developers and analysts. Yet, fewer grasp how to use data to tell a meaningful story that resonates both intellectually and emotionally with an audience. Marketers are responsible for this visual story; as such, they're often the bridge between the data and those who need to learn something from it."

Daniel Waisberg, Analytics Advocate at Google
It may sound strange at first, but data analysis is not just about visually appealing graphics and charts. It's about telling a good story. The visualization is the means, the story is the actual message. And the more compelling it is, the more value you will eventually derive from your data.
"The ways in which organizations deliver business analytics insights are evolving, notably in the rising use of what is called data storytelling," says James Richardson, research director at Gartner.
"This trend is an extension of the now-dominant self-service model of business intelligence (BI), combining explorative data visualization with narrative techniques to deliver insights in a way that engages decision-makers in a compelling form."

James Richardson, Research Director at Gartner
Data storytelling is a skill that more and more companies are looking to adopt in their efforts to stand out from their rivals and connect with customers.
With data growing by the hour, data analytics is going beyond the reach of data scientists alone, and into the hands of just about every marketer. Yet, that will not matter if marketers are not able to tell the story behind that data.
Data is obviously at the heart of it all. By combing narrative and visuals, and you make it possible to explain to your audience why a particular insight is important. Apply visuals to your data, and you allow for them to see the value of those insights. Merge all three and you have yourself a story that can not only engage and inspire your audience but also bring them that much closer to the truth behind your data.
In a way, it does sound logical that a story can make data that much more understandable. But there is data (coincidence?) that can prove that, too. In a study by Stanford professor Chip Heath, a good 63% of participants remembered stories as opposed to 5% who were able to recall specific statistics.
What are the benefits?
In a different case, "researchers discovered people enter into a trance-like state, where they drop their intellectual guard and are less critical and skeptical. Rather than nitpicking over the details, the audience wants to see where the story leads them."
The truth is that to really stand out from the competition, marketers do not need just any stories. They need original ones.
The best way to create unique stories is to base them on first-hand data – something only your company has and no one else. While first-hand data is often more time-consuming to get, it has the potential to set you well apart from your competition.
The challenges of storytelling and how to overcome them
1. Dealing with an ever-growing amount of data and metrics.
It can be tough to choose what data and insights to present. Though, sometimes less is more.
When producing marketing reports, there are a whole host of different metrics you could present. Look beyond vanity metrics and make your reporting more specific. Focus on the data and insights that have the most value for your business.
2. Concern that insights will bring unwanted change.
Analytics may uncover new trends and insights that may ultimately force a new change of approach. Not everyone will be receptive to new initiatives.
Sometimes change is necessary - particularly in an ever-evolving industry such as marketing. Change can, however, be slow on the uptake.
3. Reluctance to become data-driven.
Despite its undeniable benefits, your team may not be willing to embrace the power of big data. Similar to challenge two, they may prefer to persist with current decision-making procedures and prefer to rely on their experience, gut feeling, and intuition.
Let's get one thing clear: decisions shouldn't be made entirely from data alone. Data should be there to support decision-making. Experience, intuition, and creativity still certainly have a place in decision-making. Do not forget that data can also be used to verify hypotheses and beliefs.
Each one of your colleagues will have their own point of view on the topic. Finding a harmonious and mutually agreeable approach is important.
Though, if you plan on championing the benefits of being data-driven, make it clear that it will not stifle their creative freedom. In fact, data may help colleagues provide a more compelling case for their arguments.
4. Reporting to multiple stakeholders.
Marketers often have to report to several people. It's likely that they will each have different expectations and requirements for the reports they want to receive. Producing multiple reports can be time-consuming, which in turn can limit the time you're able to spend on crafting stories.
Harnessing the power of automated marketing reporting is the best step you can take here. With advanced dashboarding software, you can create templates for each stakeholder. These dashboards can update automatically when new data becomes available.
Time is a valuable commodity. Any marketer's working day is too short to compile numbers and manually create static visualizations. What's more, these reports will later be obsolete from out-of-date data.
Imagine your marketing review meeting is postponed. The whole report must be updated.
Fortunately, it doesn't have to be this way! A dashboarding solution that supports real-time data will ensure that your reports are always up-to-date and reliable.
5. Using the right technology.
There is no shortage of tools out there. Though, it may be difficult to choose the right tool for your needs and budget.
At the end of the day, good storytelling goes hand in hand with good data. Every unique insight brings a story with itself – marketers just need to embrace it and pass it on to the ones who are there to listen.