We're very excited to announce our partnership with Tableau - one of the leading business intelligence (BI) and data visualization platforms.
Adverity and Tableau are both very powerful tools that have revolutionized the world of marketing analytics and big data visualization. This seamless product integration will change the way people see, understand, and consume marketing data in any type of organization or industry.
What is Tableau?
Tableau is a powerful business intelligence suite with award-winning visualization possibilities. Users can create and share interactive dashboards that are populated with data from a variety of big data sources. Tableau offers an interactive BI and data visualization platform to explore your data and uncover trends by employing a range of statistical and methodical analyses. As a cloud-based platform for sharing data, visualizations, and reports is effortlessly simple - allowing easy collaboration between teams and departments.
Compete or Cooperate? Introducing customer success 2.0
This cooperation is a great example of how highly innovative companies, both being perceived as competitors in the data visualization segment, have decided to collaborate, in order to boost their customers' success.
"Adverity makes it easy for you to get data-driven. For us it is important to enable our customers to leverage all their data in their desired tools of choice. As a result, we have become a partner of Tableau to make all your marketing data accessible in your Tableau versions as well,"

Alexander Igelsböck, CEO & Co-Founder at Adverity GmbH
From now on, Adverity's advanced data collection capabilities alongside its powerful transformation engine empowers Tableau users to analyze all their marketing data faster and on a more granular level than ever before. In addition, customers from both companies are able to benefit from high-end data discovery and data visualization capabilities, that enable them to derive even more value from their data for improved business results.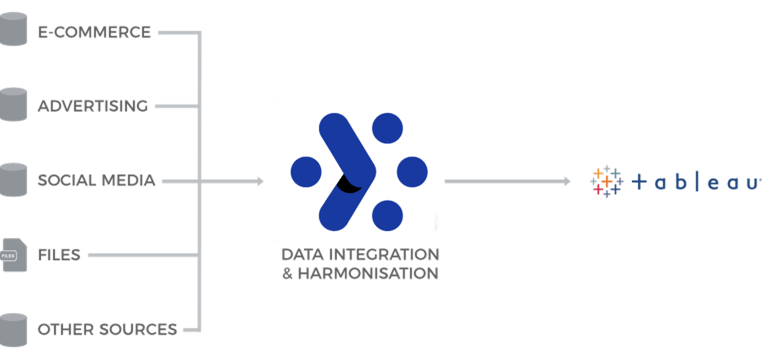 Furthermore, Adverity acknowledges that different customers have different analytical needs and that strong visual analytics are incredibly important. This partnership aims to deliver an outstanding tailor-made marketing reporting and analytics solution with powerful and highly customizable interactive dashboards, designed to address marketing and e-commerce-specific business needs and challenges.
Why data matters and how to harness the power of data
Oil was the economic driver of the last century. Today the world's most valuable resource is data. It inspires progress and drives change. But to know where we need to go, we need to know what we have achieved, where progress is being made and where are the major challenges. In this new era of data-driven everything, the demand for high-quality marketing data and analytics is larger than ever before. The number of different data sources and channels is growing rapidly, and marketing analysts are being challenged to pull data from dozens of separate systems, in addition to their usual data repositories.
There are tons of raw data material available, which is highly valuable but often too messy to use. In such cases, manually aggregating the data might be too time-consuming. More still, the data volume continues to grow each day. This demonstrates a clear need to extract and filter large amounts of complex data and transform it into something tangible, which is quick and easy to consume.
Furthermore, it is necessary to cleanse datasets by filtering and removing data that is incorrect, incomplete, duplicated, or has incompatible formatting. Our customers want to quickly analyze large data volumes, in order to uncover hidden patterns, unknown correlations, short-term trends, customer behavior, and other useful business information. In addition, companies are looking for the most efficient way possible to integrate all of their data into one central hub.
Evolving data sources require a new approach to marketing analytics
In the future, analysts will be expected to do much more than just data crunching and report generation. Analysts will have to become storytellers. It will not be enough to simply create a dashboard and send out a weekly report. With new data sources continually emerging and existing marketing channels and tools evolving, analysts will be expected to know how to:
Collect data from new and non-traditional marketing data sources
Cleanse their data
Display data in easily digestible charts and graphs using data visualization tool;
Transform their data into easy-to-understand stories, which help non-analysts to identify growing trends and business opportunities
The power of data transformation
Adverity is here to help you overcome these new challenges and close your skills gap. You can empower your teams to achieve more by providing them with innovative marketing analytics tools. And this is how it works: Adverity can join data from different sources, enrich it with additional information and apply rules to certain data segments. Marketers and analysts can choose from a wide variety of functions, depending on the industry or type of their business. In addition, they can scale down the amount of data, which is being transferred from the original source. Furthermore, data can be continuously updated in real-time. The end result is clean, accurate, harmonized, and aligned datasets.
Why are transformations such a big deal? Having a unified data schema is the foundation of successful and high-performing data analysis. Collecting data from a wide variety of sources, and having the same data structure and naming conventions, is essential to perform the easiest calculations. With Adverity these different formats are not a problem anymore: different dates, currencies, timezones, KPI naming and all other aspects of different metrics and dimensions are now being transformed into a consistent structure to accelerate your work.
How our joint customers will benefit from our new partnership
Combining Adverity with Tableau provides the best solution for data-driven companies looking to extract, transform, clean, join, prepare, and visualize data. This partnership ensures that Adverity's extract transform load (ETL) software seamlessly integrates with Tableau's visual analytics platform. As a result, users will benefit from faster and more powerful data-driven decision-making, thanks to consistent data formatting that permits detailed cross-channel analyses.

By using Adverity and Tableau, marketing and business intelligence analysts, data-driven managers and other business decision-makers will be equipped with powerful data harmonization capabilities. This will ensure that data will be immediately ready for your analysis. No matter where it might originate from, can process any type of data or format - this includes data provided in structured spreadsheets, unstructured and complex Excel files, .json, .xml, or any other file type.

Once your cleaned and harmonized data has been shipped to Tableau, there's no need to switch between different platforms to get access to your data. With just a few clicks your data is perfectly ready to be explored, analyzed, and visualized. That means no more time wasted on manual data processing. Instead, you can better spend your time generating valuable insights into your marketing and sales activities, which can be used to optimize the performance of ongoing campaigns.

Aside from improved data quality, Adverity can also deliver functionality that may not only have been considered possible before. With native access to hundreds of marketing data sources, Adverity can aggregate highly granular data from a wide array of tools on the fly. For our customers, this means improved efficiency and decision-making.
How can you boost your marketing and sales performance with Adverity and Tableau?
By harnessing the powerful data transformation capabilities of Adverity alongside the visualization and reporting opportunities of Tableau, you'll be able to discover valuable new insights from your marketing and sales activities. This way, you'll be better placed to understand the true drivers of your campaign success and improve your return on your spending on advertising. You will get a comprehensive set of analytics tools designed to help you measure, analyze and optimize marketing and sales performance.
In addition, you can easily present your findings through highly informative dashboards and reports that can be easily shared with managers, co-workers, teams, and clients. This alliance underlines Adverity's commitment to helping organizations leverage best-in-class marketing analytics tools to support faster and better business decision-making.