Empower your team with Adverity's Automated Data Integration
Struggling with inefficient and error-prone manual data integration?
"We're spending too much time and resources on manual data processing instead of focusing on valuable analysis."
With more than 600 pre-built data connectors, Adverity automates data collection and processing from all your data sources. This frees up valuable time and resources for your data team to focus on insights and action from your data.
"We're encountering data accuracy and reliability issues due to human errors in data processing and integration, impacting our ability to access meaningful insights."
Adverity's automated data integration platform cleans, harmonizes, and enriches your data to provide an accurate single source of truth and eliminate the risk of human error.
"We're struggling to make timely strategic adjustments due to delayed data insights, preventing us from responding quickly to market changes."
Adverity can fetch data from your data sources as often as every 15 minutes. With real-time insights, your business can make faster data-driven decisions, enabling you to respond quickly to emerging trends and opportunities.
Save time and drive success with automated data integration
Is your business still spending valuable time and resources on manual data integration? If so, you're likely missing out on the most complete, accurate, and up-to-date information to make informed decisions.
By embracing automated data integration, you'll not only save time and resources previously spent on manual processes - but also enhance the quality, accuracy, and timeliness of your data.
Don't let the talents of your data team be wasted on mundane data processing tasks. With Adverity, you can free up your time and expertise to focus on identifying trends and spotting growth opportunities for your business.
Unlock the power of real-time data-driven decision-making with Adverity.
Discover Adverity's powerful automated data integration features
Easily connect all your data sources
With more than 600 pre-built connectors, you can quickly and easily connect to all your data sources.
Each connector is painstakingly maintained and we're adding new connectors all the time - providing you with a comprehensive and reliable data integration solution.
Experience effortless data transformation
Improve your data quality with a hassle-free solution that enables automated data cleaning, the joining of data streams, and advanced data transformations.
Your data is not just collected, but perfected - tailored to your unique business needs.
Leverage powerful custom data enrichments
Enhance the value of your data with our no-code enrichments, such as currency conversion, language translation, and location data unification.
And if you've got something specific in mind for your data, you've also got the ability to code your own custom enrichments.
Transfer your data to any destination
We understand the importance of data mobility, which is why we've designed our platform to seamlessly transfer your data to any destination you need.
Whether you're working with data warehouses, data lakes, data lakehouses, cloud storage, or BI tools, we've got you covered.
Enable real-time decision making
With a market-leading fetch frequency of every 15 minutes, we empower your marketing and analytics team to make decisions from the very latest data.
React to opportunities and trends in real-time and gain a competitive advantage.
Maintain complete control of your data
Maintain full control over the security and accuracy of your data.
You choose who has access to which data, ensuring the right insights reach the right people at the right time.
And our built-in anomaly detection alerts you to unexpected data trends, so you can act swiftly and decisively to maintain the quality of your data.
Want to learn more?
Check out our comprehensive guide to data gathering!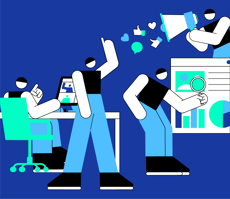 See how Adverity has helped other businesses like yours
When I go to a client, I like to go there with lots of data and show them how easy it is to uncover new insights with Adverity. It's nice to show them that we can reduce our hours and achieve even better results by using the best technology.
We can focus on the bigger challenges now because we no longer worry about how to move data from point A to B. In partnering with Adverity, we knew we'd be in this together and ultimately, that meant more than anything else.

With our platform LOOP we struggled with maintaining the breadth of APIs, whereas with Adverity it is automated, offering us a rounded proposition, keeping Accord on top of the fast-paced and ever-changing digital landscape. Flexible pricing for businesses of all sizes
STANDARD
From €500/mo
Looking for quick access to automated data integration?
Connect up to 15 data sources with our standard plan - ideal for smaller businesses just getting started with integrated data.
PROFESSIONAL
From €2,000/mo
Need to connect to a larger number of data sources and deliver data to multiple destinations?
Our professional plan comes with unlimited data connections to cover all your data requirements.
CUSTOM
Contact Us
Are you an enterprise-level organization with complex requirements?
Chat with our team about how Adverity can help, and receive a tailored quote.