The role of the CMO is changing. Well - sort of… While the goals of determining strategy and delivering growth will likely remain the same, how these are accomplished is going to continue to evolve significantly over the next 10 years.
Our recent research, based on a survey of 300 CMOs at small to midsized businesses (SMBs), found that many CMOs expect increased access to advanced marketing tech and AI will deliver CMOs more value from marketing data, and act as the main driver of this change in the coming years.
The current CMO thrives on data, and in ten years, the CMO will thrive on AI-driven solutions.

CMO, Finance, USA
After the advent of digital channels reshaped the landscape of marketing, an influx of data, and the subsequent tools created to manage it promised CMOs a simpler path to growth. However, many are still struggling to take advantage of advances like predictive analytics.
So what exactly is stopping CMOs getting value from their marketing data?
Building a strategy around insights instead of reports
One of the big shifts we've seen in strategy has been away from getting data for the sake of data, and towards getting insights that drive decisions. Instead of building a strategy around creating endless reports without a clear goal, teams are starting to think more carefully about what kind of data they need to make their most crucial decisions.
The CMO's role is more data-driven now, and it will be intelligence-driven in ten years.

CMO, USA, Tech
Jeff Coleman who joined the US kids' clothing brand Carter's in March 2021 as their Leader of Digital Marketing Science recounts of his experience, "I wanted to transition the mindset from 'where's this report' to 'what is the analytics guiding us to do as a business. I wanted to make sure we'd have the insights at our fingertips when it's time to make a business decision."
For Jeff, a big part of this strategy was laying the groundwork for speedy insights with data analytics tech. He explains, "I spent a lot of my first year getting the table stakes out of the way and getting the tools and data lakes set up for the future success we want."
According to the research, the biggest individual challenge to getting value from marketing data is a lack of data tools (18%).
Now, as a marketing analytics platform, of course, we would say this, but the truth is, without the right tools to take on the growing mountains of information coming from countless platforms, it's easy to find yourself drowning in data. And, 43% of the CMOs surveyed say their team spends more time getting data in one place than they do actually using it to make decisions.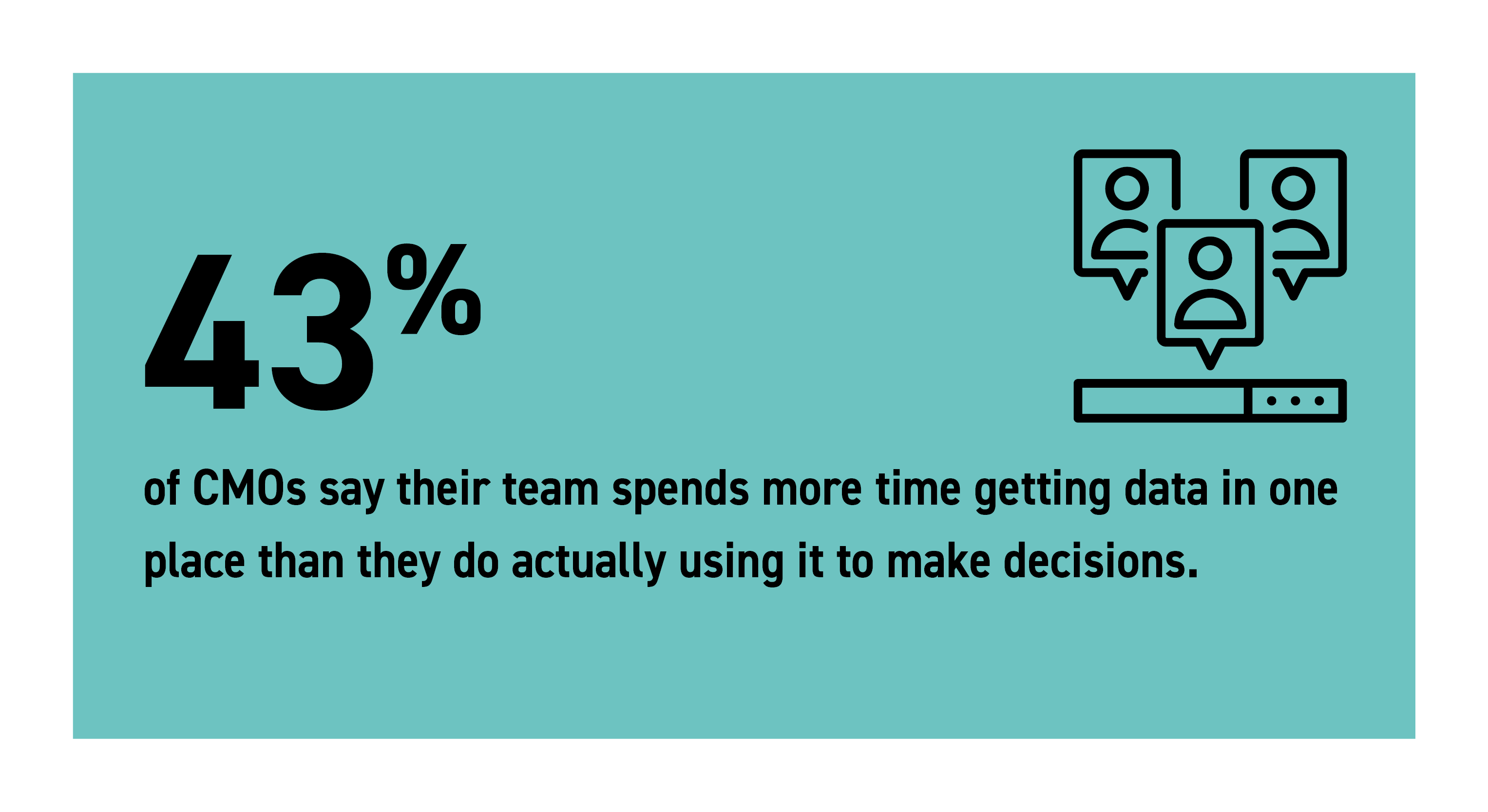 Aside from this kind of manual work being incredibly time-consuming, inefficient, and error-prone, CMOs at SMBs must carefully consider the environment they're creating for their team. To get the most value out of your analysts, businesses should look at what data tools they can invest in to take mundane tasks off their plates.
Clearly, tech is a key focus for the years ahead - but what else should CMOs focus on in the race to data insights?
Creating a data-driven culture is the top challenge
Out of the CMOs surveyed, 43% identify an issue with their company culture as the biggest barrier to getting value from marketing data.
The second biggest group of challenges falls under the umbrella of tech, with respondents struggling to find data tools to consistently deliver valuable insights from data (38%). This is followed by the challenge of having people with the right skillsets on the marketing team (19%).
Underneath the umbrella of culture, the biggest individual challenge is a lack of enthusiasm from leadership (17%) — a data-driven culture needs to be driven from the top down to be truly effective, but it seems that CMOs are having trouble getting the rest of the C-suite on side.
According to Jeff Coleman, Leader of Digital Marketing Science at Carter's, marketers need to start by framing this in terms of business-critical questions. "Explain the problem, and how to solve the problem", he says, "and then start to bring in how data is part of that solution."
Tech alone isn't enough to build a data-driven strategy
It's no secret that the ability to make accurate, data-based, marketing decisions quickly is a significant competitive advantage for any business. The development of marketing analytics means that with a bit of setup, marketers can see a clear view of what ads are performing well and where budget should be cut or ramped up for maximum impact. In short, this means your budget can go much further.
So, it's hardly surprising that the global marketing tech industry was valued at $344.8bn last year, and budgets continue to grow. And while it's heartening to see so many CMOs making technology a focus, make no mistake - creating a data-driven strategy within your team requires more than just technology.
"You might have the greatest tech stack in the world feeding you business-changing forecasts on your ad spending and delivering real-time performance data, but if this isn't translating to actions, then it's useless."
The three cornerstones of a data-driven strategy
Without the right skillsets in your team or a culture where these skills can thrive, CMOs may find themselves sinking their budget into a tech stack without seeing any ROI. CMOs and other senior leaders are advised to invest in all three pillars when looking to improve the analytical maturity of their department.
Find out more in our latest report, "Data, People, and Culture: The Evolving Role of the Modern CMO"