Adverity is proud to announce that we are the first ever Austrian based APN Partner to achieve Amazon Web Services (AWS) Digital Customer Experience Competency status.
What is the AWS Competency program?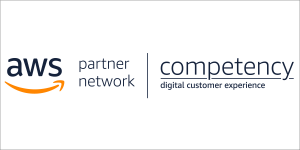 AWS is enabling scalable, flexible, and cost-effective solutions from startups to global enterprises.
To support the seamless integration and deployment of these solutions, AWS established the AWS Competency Program to help customers identify Consulting and Technology APN Partners with deep industry experience and expertise.
Why the Amazon Web Services (AWS) Competency matters?
Achieving the AWS Digital Customer Experience Competency differentiates Adverity as an AWS Partner Network (APN) member that provides specialized demonstrated technical proficiency and proven customer success with a specific focus on workloads based on Customer 360.
"We are proud to receive the AWS Digital Customer Experience Competency status. We strive to provide a world-class data intelligence solution, that truly enables our customers to be successful in their day-to-day lives and give them the confidence to tackle any data-obstacles that they may encounter."

Alexander Igelsböck, CEO and Co-Founder, Adverity
You can learn more about Adverity's customer success stories including reBuy and Mediacom by visiting our Adverity Resources page.
---
About Adverity:
Adverity is helping brands to capitalize on the data opportunity and our platform provides them with all the means to make better marketing decisions. Adverity enables centralized access to granular data from all systems and augments that with artificial intelligence and visual analytics to uncover patterns and transform them into actionable insights.
#smartwithdata.