Single source of truth
Integrate all your customer, sales, and marketing campaign data and compare in a single visual dashboard.
Segment and target
Build and analyse high-value customer segments to deliver effective campaigns that drive sales and increase ROI.
Optimized marketing mix
Easily identify ROI from online and offline channels over time to build the best performing marketing mix.
Fully automate your data collection with our out-of-the-box eCommerce connectors
---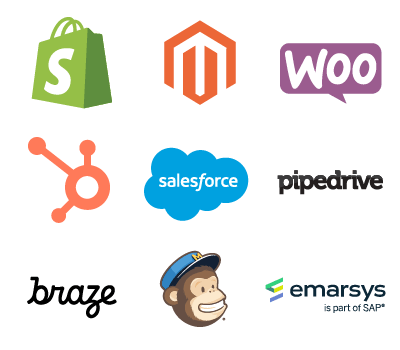 Unify data from customer, sales, and campaigns and turn it into powerful insights
---
Maximize the value of harmonized datasets to create a single view on performance across your business. With the help of powerful data visualizations, analyze your sales data alongside your advertising data, to better understand your marketing performance and deliver against your KPIs efficiently.
Build high-value customer segments for targeting and lookalike modelling
---
Easily export customer data from your CRM, apply advanced data enrichment in Adverity to calculate predictive CLTV, and build a segment of customers with the highest CLTV. Then send this segment to Facebook or Google and maximize ROAS by targeting only the customers with the greatest propensity to buy.
Analyze the performance of different segments (age, gender, or geography)
---
Easily identify highly performing (or underperforming) segments and readjust your marketing strategy with the Segment Analysis feature. Easily capture all segmented data from relevant data streams, analyze different demographics across multiple channels, and cluster similar segments to assess the relative performances of each.
Prove marketing's contribution to revenue growth – all without third-party cookies!
---
We can monitor every eCommerce KPI and connect transactional data to our marketing campaigns on a daily level, including our ad spend, to draw conclusions, derive actions for our operational business, and optimize profitability.
Before working with Adverity, we were doing a lot of manual reporting, which was very time-consuming. By using Adverity, our data is updated automatically every day, without any extra work.