At Adverity, our commitment to the sustainable development of society is a large part of our culture. From offsetting all our CO2 emissions to supporting local businesses, we aim to benefit society through CSR projects and programs that focus not only on the sustainability of our environment but also on the development of our society.
Corporate Social Responsibility (CSR) at Adverity encompasses a wide range of policies, projects, and programs that are constantly growing and evolving. We seek to reduce the harmful impact of our business processes on the environment by implementing sustainable energy use, waste management, recycling, environmentally friendly offices, and business travel policies.
We also focus on community engagement and involvement, which is another key pillar of CSR. Many of our charities and volunteering are chosen by our employees and we support them in their voluntary work. Through sustainable practices, each of us can do our part to help Adverity make a positive impact on the environment.
Here are eight ways we are committed to sustainable development and social responsibility.
1. Adverity hosting is 100% green
As a SasS company, CO2 emissions from hosting are an inevitable part of our business. However, we have retrospectively offset all our carbon emissions since 2019 so we can proudly say that Adverity's hosting is 100% green.
2. Green travel
Business trips and travel are unavoidable aspects of an international company. However, just like our hosting emissions, since 2019, we have also offset all our CO2 emissions stemming from travel.
3. Planting the Adverity forest
We donate to Tree Nation, an organization whose goal is to reforest the world and fight climate change. So far, we have planted more than 2,900 trees with new trees being planted every year. We are proud to have an Adverity forest that is growing ever more green and beautiful.
4. Going organic and supporting local businesses
Food and beverages in our offices are all locally sourced and from organic farms. This is to not only make sure that we minimize CO2 emissions from transportation, but also to support the local businesses around us.
5. Paperless offices and renewable energy
We are committed to our offices being as close to paperless as possible, and where any paper is used, waste is collected selectively in every Adverity office. What's more, where possible, we have switched to running our offices on renewable energy.


"We strive to improve in everything we do - not only within our own organization but beyond. Adverity´s hosting is 100% green. All employees are also eligible for two paid CSR days off a year to support social causes or NGOs of their choice so we can help improve the society around us too." Alexander Igelsböck, CEO
6. Charitable giving plus the Annual Adverity Flea Market
As a company, we regularly donate to various charities throughout the year partnering with globalgiving and impactory. But as a special event, at the end of the year, we usually organize a Charity Flea Market, where we bring in items from our homes to sell to each other. Not only do all the proceeds go to charity, but it also means that unwanted items get reused in a new home plus we get the chance to find hidden treasures among the stalls! Last time, proceeds were donated to Saint Anna Children's Hospital.
7. Building a homeless shelter with CSR days
All Adverity staff receive two fully paid CSR days a year. While everyone has the chance to look for their own places, local initiatives, and events to support, we also offer several opportunities for our team members to participate in CSR activities together. In 2022 October, for example, the CSR Day project in Austria is the construction and renovation of homeless housing near Vienna suggested by the organization Social Held, while in the UK, our colleagues will visit and volunteer at an urban farm that helps people learn how to improve their lives through farming and in the USA, our team will be volunteering at a community garden in New York.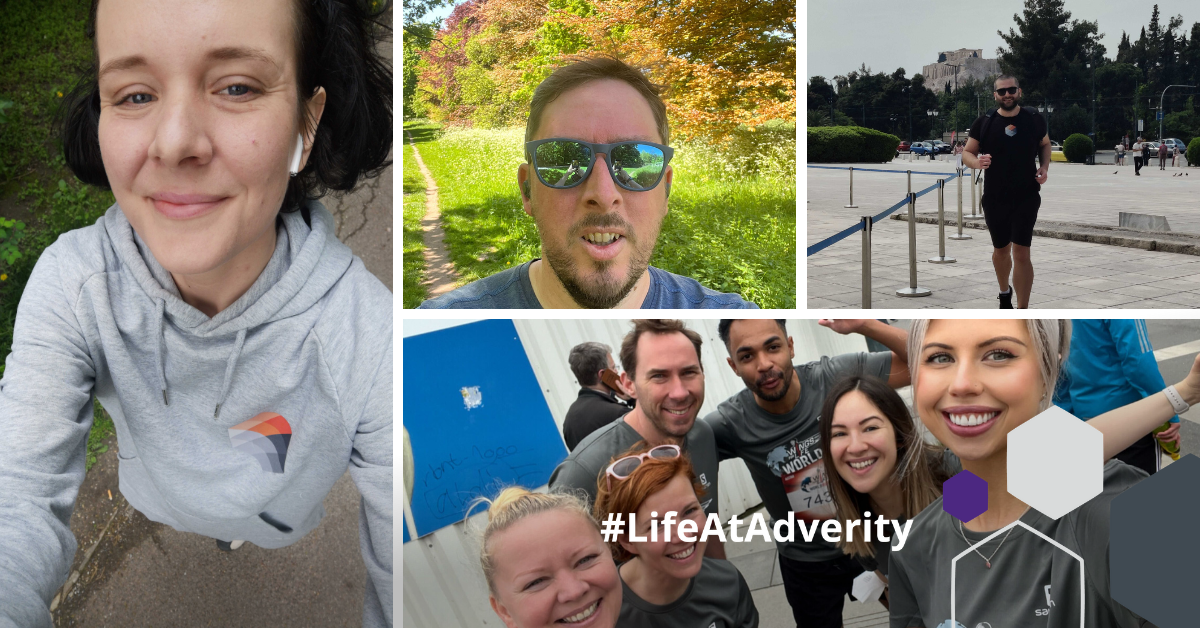 8. Keeping fit for a good cause
Lastly, the Adverity team is an active bunch and you can often see them taking part in a variety of charitable sports events fully sponsored by the company. Such as earlier this year when a team of 27 runners from Adverity took part in a global run to support Wings for Life - a charity dedicated to finding a cure for spinal cord injuries. Not only do events like this provide valuable support to fantastic causes, they also keep our team fit and healthy - bonus!
What next?
At Adverity, we are committed to the sustainability of our environment as well as the development of our society. However, while we're proud of our various charitable activities, CSR projects, and sustainability programs, we also know that there is always more we can do. Companies have a responsibility to consider their impact on society and the environment. We recognize this responsibility and we encourage our colleagues, clients, and partners if they have a good idea on how to make our office greener or what organization could use more help from our community, to come and share their ideas and thoughts with us.
If you want to learn more about our various CSR-related activities, follow us on LinkedIn and Instagram!