At a glance
Compared to Supermetrics, Adverity is a much more sophisticated data integration platform.
Supermetrics is a great entry-level data integration tool for pushing raw data to Google or Amazon destinations.

Adverity on the other hand is a sophisticated, fully-integrated data platform that provides a vast selection of data sources and destinations, powerful transformation options to blend your data, and a range of features designed to make managing your data easier.
Who should use Supermetrics?

Teams that need a simple but basic data solution with little future need to scale.

Teams that use a small number of data sources or are able to build their own APIs.

Teams that have a technical experts or do not require much technical support .
| | | |
| --- | --- | --- |
| Prebuilt connectors | More than 600 | About 100 |
| Transformation and harmonization | A range of tailored, versatile, and customizable transformation features | Basic |
| Destinations | Send your data anywhere and even to multiple destinations at the same time | 15 possible destinations (and that includes Excel and Google Sheets) |
| Data governance features | Yes - with Adverity you get a range of features and options to easily monitor data quality and centrally manage access | None |
| Data exploration and dashboards | Yes - With Adverity you also get access to mature dashboarding and data exploration features | None |
Quality of support

Data Transformations

Automation

Multichannel Tracking

APIs

Product Direction (% positive)
Adverity vs Supermetrics - in depth
How many connectors?
Supermetrics offers a decent range of connectors that cover a lot of the basic data sources that many companies will use. However, not all data sources are covered such as Amazon Selling Partners or Mailgun or eBay or Zendesk or Twitch.
Adverity's connector library on the other hand has more than 600 connectors compared to around 100 in Supermetrics. What's more, Adverity has teams dedicated to the painstaking maintenance of all their APIs to ensure they are always working and up-to-date.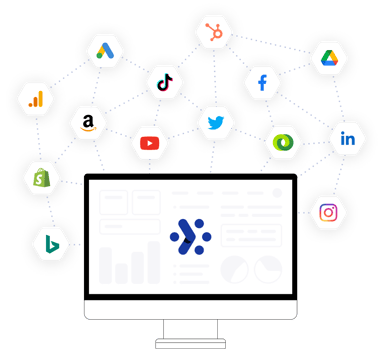 How about data transformation?
While Supermetrics offers some useful data transformation, the options are limited. For example, country code standardization and currency conversion are available for certain sources and destinations. However, beyond this, Supermetrics remains a basic tool for extracting data unless you are able to write your own scripts at the data warehouse level.
Adverity enables you to easily blend or harmonize your data from different sources with flexible schema, tailored and versatile no-code enrichment templates, easy-to-use and powerful smart naming conventions, and advanced enrichment using custom scripts to get your data exactly how you want it.
Where can you send your data?
Looker Studio is the only real data visualization destination offered by Supermetrics.
However, if you are looking beyond basic data visualization, Adverity comes with more than 22 native destinations and can easily send data to Tableau, Power BI, Looker Studio, and Qlik.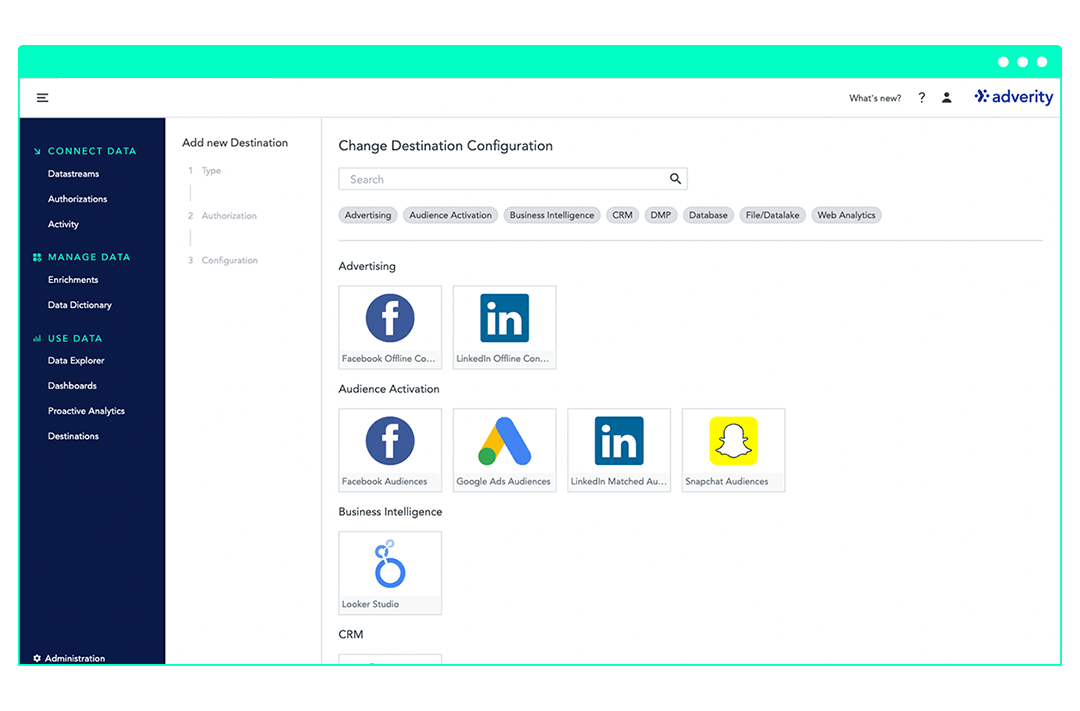 Any data governance tools?
While Supermetrics is a great data extraction tool, it doesn't include key tools for monitoring and ensuring the quality of your data.
Adverity gives you access to advanced data governance tools such as Performance Manager, Automated Scheduler, and Usage Monitor so you can ensure your data is 100% trustworthy. What's more, as a fully-integrated data platform, Adverity lets you easily view, configure, enrich, manage, store, secure, and send your data all from one place.
What's the cost?
Supermetrics is a good option if your budget is small and your needs are basic. However, users should be wary of additional costs that can escalate quickly, particularly when adding new users, accounts, connectors, or data ingestion frequency.
Compared with Supermetrics basic package, the Adverity Standard package comes with a much wider range of options, features, and users all included. You can also sign-up for Adverity's free 14-day trial to see for yourself.
In summary
If all you need is to push raw data from Google or Amazon, then Supermetrics is a great entry-level tool.
However, if you need to implement sophisticated transformations, manage data quality, OR require more data sources and destinations, Adverity may be the best choice for you.
"Supermetrics and similar solutions pull the data, but there is a ton of data strategy around schema naming conventions and work to manipulate the data that still needs to be done."
"I dislike having to pay per module [with Supermetrics]. It would be nice to have an affordable plan where I could integrate everything that Supermetrics has to offer. It's almost too expensive to use."
"Frankly, the service, UI, and ease-of-use for Adverity made it a no brainer compared to the competition."