Adverity is proud to be the Gold Sponsors of B2B Marketing Expo and Marketing Technology Expo at ExCel London on 16 & 17 November 2021; Europe's leading marketing event that connects you with the tools, techniques, and innovations you need to be at the forefront of the ever-evolving world of marketing.
Use our meeting booker to grab some time (and a coffee) with our friendly team at booth MTX-L30, and let us untangle your marketing data needs. Join us and learn how Adverity:
Provides you with a single view of marketing, sales, and eCommerce performance across your entire business
Demonstrates the ROI across channel spend, reducing the time-to-value from your data
Reveals tangible insights and uncovers real-time opportunities for improving performance and driving growth.
Marketing analytics: The Great Divide
Why are we all so confused about our data capabilities?
16 Nov 2021 | 11:00 - 11:25 | Data Analytics, AI & Compliance Theatre
According to the latest research, while 50% of C-level executives say they lack the data-driven insights to drive marketing strategy, only 1 in 3 of their managers do. At the same time, although 60% of marketing data analysts say they utilize predictive analytics in their company, only 42% of marketers believe that to be the case.

From CMOs to data analysts to marketing managers, none of us share the same view about our own marketing analytics capabilities. So, what's going on here and why can't any of us agree? More to the point, what is the impact of this on the bottom line, and who, if anyone, is right?
Join us to discover:
The latest research shedding a light on this worrying disconnect within businesses.
The potential impact on the company's bottom line.
How businesses can bridge the gap and improve performance in the process.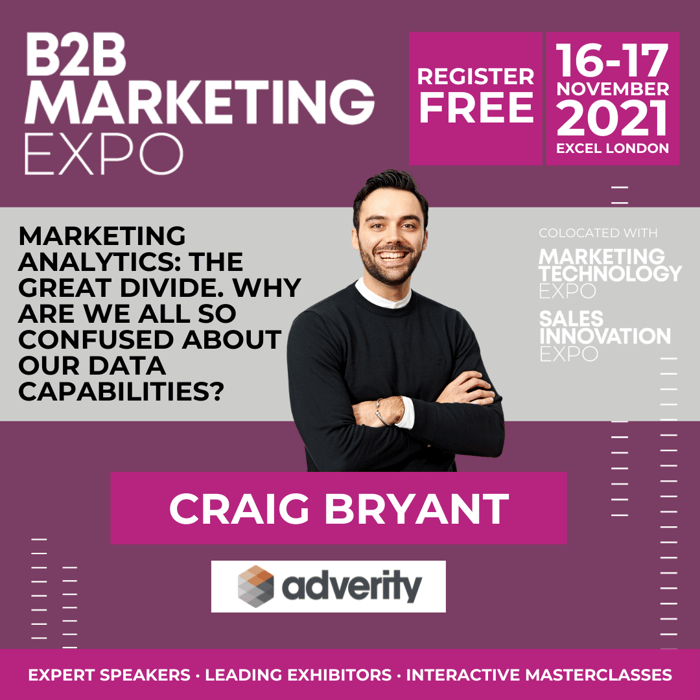 Climbing the marketing data analytics mountain – How close is your company to the top?
17 Nov 2021 | 11:00 - 11:25 | Data Analytics, AI & Compliance Theatre
Before you answer, consider that while more than 3 in 5 marketers believe their company is analytically mature, a worrying 63% also said they still used spreadsheets for their reporting.

Meanwhile, less than half of marketers who believe they are analytically mature are leveraging predictive analytics and a whopping two-thirds are still working on unifying all their data into a single view.

Something clearly isn't adding up…

So, what does the top of the marketing analytics mountain look like to you? Is it a Snowdon or an Everest? And are you a few steps from the summit or still at base camp? More importantly, where are you in comparison to your competitors?
Join us to discover:
The latest research on marketers' self-assessment of their data maturity - and the reality.

Where you are on the data maturity mountain compared to your industry peers.

What businesses can do now to reach the top of the data analytics mountain.
More questionable mountain metaphors!