The customer is king: Brands know that, and so do their marketers. Today, more than ever, companies are looking to target increasingly specialized market segments and cater to the specific wants and needs of their customers. Technology has made it possible for people to not only browse and shop online, but to do so on their mobile devices and on the go, too.

Brands, in turn, need to follow closely.

A recent report on the State of Branding 2018, produced by marketing software company Bynder and brand intelligence platform Survata, reveals just that: The top priority for companies in 2018 will be providing people with a great customer experience. Brands are increasingly focused on delivering targeted and personalized offerings, yet, that does not come without its challenges.
Great customer experience requires great tech
While most companies understand the need for creating engaging brand experiences, many of them struggle to find the right technologies to do so.
"The top challenge for marketers going into 2018 is 'identifying the right technologies for our needs'," the report reads. "Interestingly, 89% of respondents agree that emerging technologies play a critical role in developing an engaging brand experience, but 90% struggle to identify the right technologies to serve as an extension of their brand."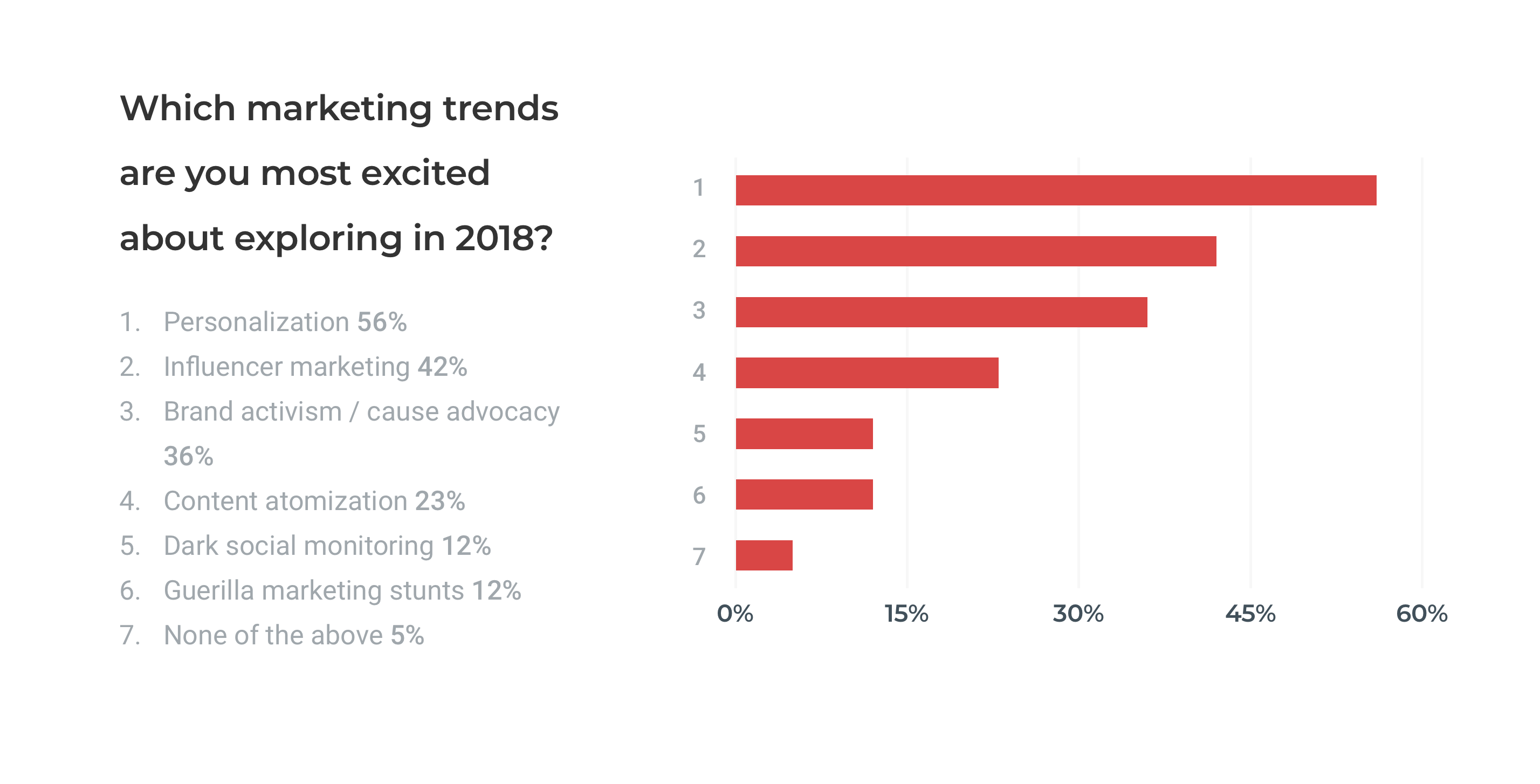 Biggest challenges going into 2018. Source: Bynder's State of Branding 2018 report
Personalization is among the key differentiators for brands, and the ones that can provide it will be the ones claiming a competitive edge in their market. It is actually cited as one of the top 3 trends in marketing this year. And for a good reason. More than 40% of customers that enjoy a personalized experience with a brand are likely to become repeat customers, according to a study by Segment, a data analytics company.
Especially for retailers, providing a personalized customer experience on their website or online store is no longer enough. They need to be on social media, run ads – online and via email, and constantly optimize their mobile apps.
Mobile apps, in fact, will be the biggest marketing tech investment for brands in 2018, according to Bynder's report. Nearly 70% of respondents said that they will invest in building or improving their applications to better serve their customer base. Voice search came in at a close second, with 40% of respondents listing it as a key priority.
Gartner, too, has predicted an increasing trend towards voice search on websites: "By 2021, early adopter brands that redesign their websites to support visual- and voice-search will increase digital commerce revenue by 30 percent."
Without question, embracing the right technologies will be crucial for brands to fulfil the wants and needs of their customers, and remain strong competitors in their markets.
Getting the hang of brand safety and data analytics
Over the past year, ensuring brand safety and deriving actionable insights from ever-growing amounts of marketing data have also been giving advertisers a hard time.
Research by video advertising platform Teads showed that, in 2017, 78% of participating CMOs were more concerned about brand safety than ever before. In fact, many see themselves personally responsible for where their ads are being displayed. As a result, CMOs have been looking to increase their spending on brand-safe websites, as well as gradually review their contracts with advertising agencies and vendors.
Bynder's report, however, offers a slightly different view: It lists brand safety as one of the least significant challenges for 2018, with only 10% of respondents identifying it as such.
As for marketing data analytics, only 7% of interviewees considered deriving actionable insights to be a challenge this year. It is safe to say that more and more brands are now able to embrace and leverage growing amounts of their marketing data.
Recent findings by Gartner show that companies are adopting self-service analytics and business intelligence (BI), and using it to make timely and relevant business decisions. This is now so much of a trend that by 2019 Gartner expects business users to generate more analytics output than professional data scientists.
After all, it is increasingly important - not only for CMOs, but also for people in different management positions - to understand data and the insights it can generate for the business. Everyone within the C-suite, whether that's the CIO, CFO or the CEO him- or herself, needs to embrace data to assess their current course of action, and to predict possible future changes to their business approach.
At the end of the day, it looks like companies and their marketers are focused on the big picture – providing customers with the best brand experience possible, and leveraging the technologies that can help them do that. Maintaining a positive brand image and deriving actionable insights from advertising and business data will be key in driving this process forward. It is good to see, therefore, that data analytics is becoming less and less of a challenge.
What are some of your main marketing priorities (and perhaps challenges) for 2018? Feel free to share your thoughts with us in the comments.