I think any marketer or analyst would agree that a reporting creator's aspirations should go beyond crunching data. Telling stories with your data that provide valuable insights should be a priority.
At Adverity we're constantly striving to introduce features to improve our data visualization platform with interactive dashboards. Our aim is to provide a toolset, which empowers marketers to tell better stories through. Stories with data.
So, today I would like to give you some actionable tips on how to create interactive dashboards and tell stories with our platform.
A great way to turn data sources into actionable stories is to give viewers the opportunity to explore data themselves. Ideally, dashboard software should be interactive for users to do so. The tips below focus on increasing engagement on your dashboards and aim to increase the informational content your dashboard widgets present.
1. Create a clickable monthly bar chart that enables users to quickly jump to a daily view
This interactive feature allows BI dashboard creators to segment by two levels of time granularity within one widget. In the case below, we use a monthly and a daily segment. Therefore, if a dashboard viewer is interested in the daily composition of a particular month, they can click on the desired month to see the stats from each day.
Try it yourself. Click on a bar!
This visualization has been embedded directly from Adverity
How to rebuild this in Adverity:
Go to Explore-Mode
Add time dimension Monthly
Add the second, more granular, time dimension Daily
Add metric Costs
Right-Click in the cost-column on level Monthly and Visualize Monthly
Enable drilldown in Data sets section: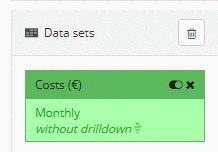 2. Rebuild entire campaign setups within clickable bar charts
Let's take drill downs to the next level.
This type of visualization essentially rebuilds an entire account setup and lets viewers explore it by themselves. Campaign setups on Google Ads or Facebook allow ads to be structured in a very clear way, which guarantees full transparency. In our case, we allow users to uncover which ad groups generated particular conversion types within a specific time period.
Use this widget below to try it for yourself!
This visualization has been embedded directly from Adverity
How to rebuild this in Adverity:
Go to Explore-Mode
Add dimension Campaign
Add a secondary and more granular dimension Ad Group
Add time dimension Monthly
Add a fourth and even more granular dimension, Conversion Type
Add metric Conversions
Visualize by "All Campaigns" on the highest level
Enable drilldown for Dataset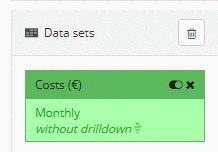 Drilldowns basically work for every level of granularity. There's no limit for using this feature as your engagement booster!
3. Provide dynamic segmentation possibilities by adding quickfilters
Quickfilters are a rather simple but powerful feature, which enables users to quickly derive valuable information out of even the largest datasets. The example below shows that relevant information can be extracted from the even most complex tables in a matter of seconds.
In order to use such dynamic in real time filtering, the data has to be properly segmented in advance.
But the work required for segmentation will definitely pay off...
The quick filters can be combined as desired and one or more values can be selected from each dimension.
Quickfilters options are dynamic. When based on selections in one filter, the options for additional filters will be reduced or enhanced!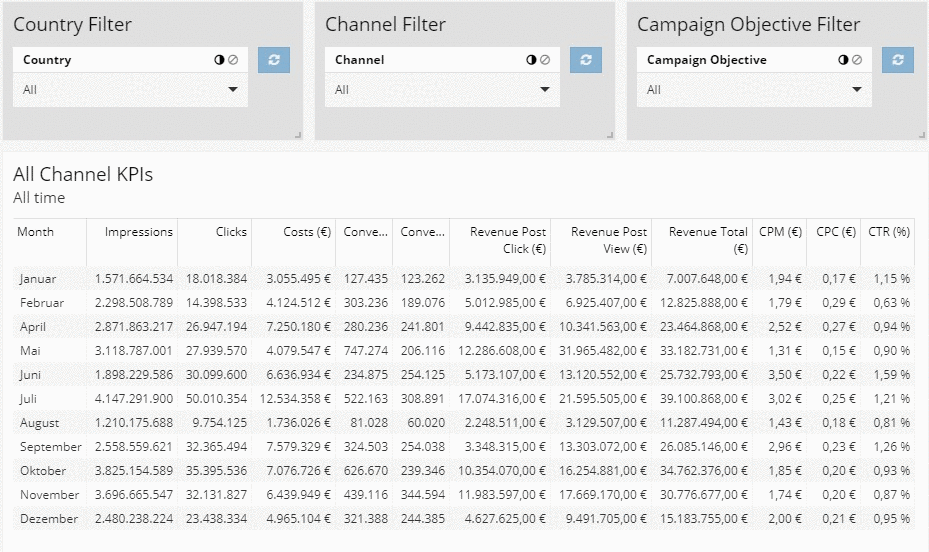 4. Geo-charts
Geo-Charts are a great way of adding actionable location-based context to your data. To use this type of visualization, the data source has to be segmented by Country in ISO-Format.
Try it yourself. Zoom into the map using the scroll-function of your mouse!
This visualization has been embedded directly from Adverity
How to rebuild in Adverity:
Go to Explore-Mode
Add Dimension Country (has to be in ISO-format)
Add any metric (in our case, this will be Cost)
Visualize metric by Country
5. Hide metrics by default
Hiding metrics by default is a great way to create complex widgets that containing lots of valuable information yet still retain a clear message. At first sight, only the most relevant numbers are visualized.
Users can display further metrics by activating them when they click-on an entry in the legend.
Try out the interactive dashboard yourself. Click a value in the legend to display the metric!
How to rebuild in Adverity:
Go to Explore
Add Monthly
Add Impressions, Link Clicks, CPM, Cost per Link Click and Frequency
Click on CPM, Cost per Link Click and Frequency in the Legend to hide them
Click on Save
6. Bonus: Dashboard Pages - A New Feature in Adverity 🎉
I'm happy to announce a new feature in Adverity. This has been requested by a number of clients and I am pleased to say that it will be a part of our latest Adverity Insights product update.
This new function enables users to take their data storytelling to the next level. By splitting your dashboards on to multiple pages, information can be presented in a much more structured way.
Analysts can use each page for a different dimension. For example, splitting dashboards by target countries and displaying this data on different pages. What's more, you can use this feature to segment different channels or produce different interactive dashboards that are each relevant to particular stakeholders.
It is totally up to you! However, this feature is great to present as much information as possible in one interactive dashboard and let users decide for themselves what information to extract from it.
Got any tips you would like to share? Please feel free to post them in the comments below!