Big news - the Adverity platform is getting a fresh look! We are pleased to announce our unified, fresh looking and improved platform, designed with productivity and ease-of-use in mind.
Over the last few years, Adverity's engineering team has shipped over 6000 features, improvements and fixes for our platform, now used by brands, agencies and companies of all sizes worldwide. Each of these was designed to comprehensively transform and unify your data, making your everyday work with all types of data and reports much easier.
We know that the digital marketing industry is a dynamic landscape, so we focused on building a strong and versatile platform providing maximum connectivity, through building and maintaining a wide array of data source connections and data destinations. This meant that a uniform UI appearance sometimes fell by the wayside.
We believe, however, that you should have the most consistent experience possible when working across the Adverity platform. All feedback we received over the last few years has been used to improve the design across all of our modules.
We've recently combined forces across our teams to work on a bolder, more coherent, single environment, where all three modules are brought together in a unified Adverity platform. In this post, you will see the changes we have made, not only in terms of visual enhancements, but also productivity-focused improvements in the UI.
We are already looking forward to this major update, which will be continuously rolled out to all of our customers in the weeks coming after its official launch on Thursday, March 26th 2020 (late afternoon CET time/early morning US time). All documentation materials will be updated in the following days to ensure all users have a smooth transition to the new experience.
One Navigation Bar to Rule Them All
We brought together all three of our modules, ensuring easy access to all Adverity features from one navigation bar:

Our new navigation now features 7 elements:
"Connect" combines features related to Data Collection, Connections, and Datastreams, essentially all operations related to data acquisition. An example of the "Home page", a monitoring dashboard to keep track of all your data activity, can be seen below.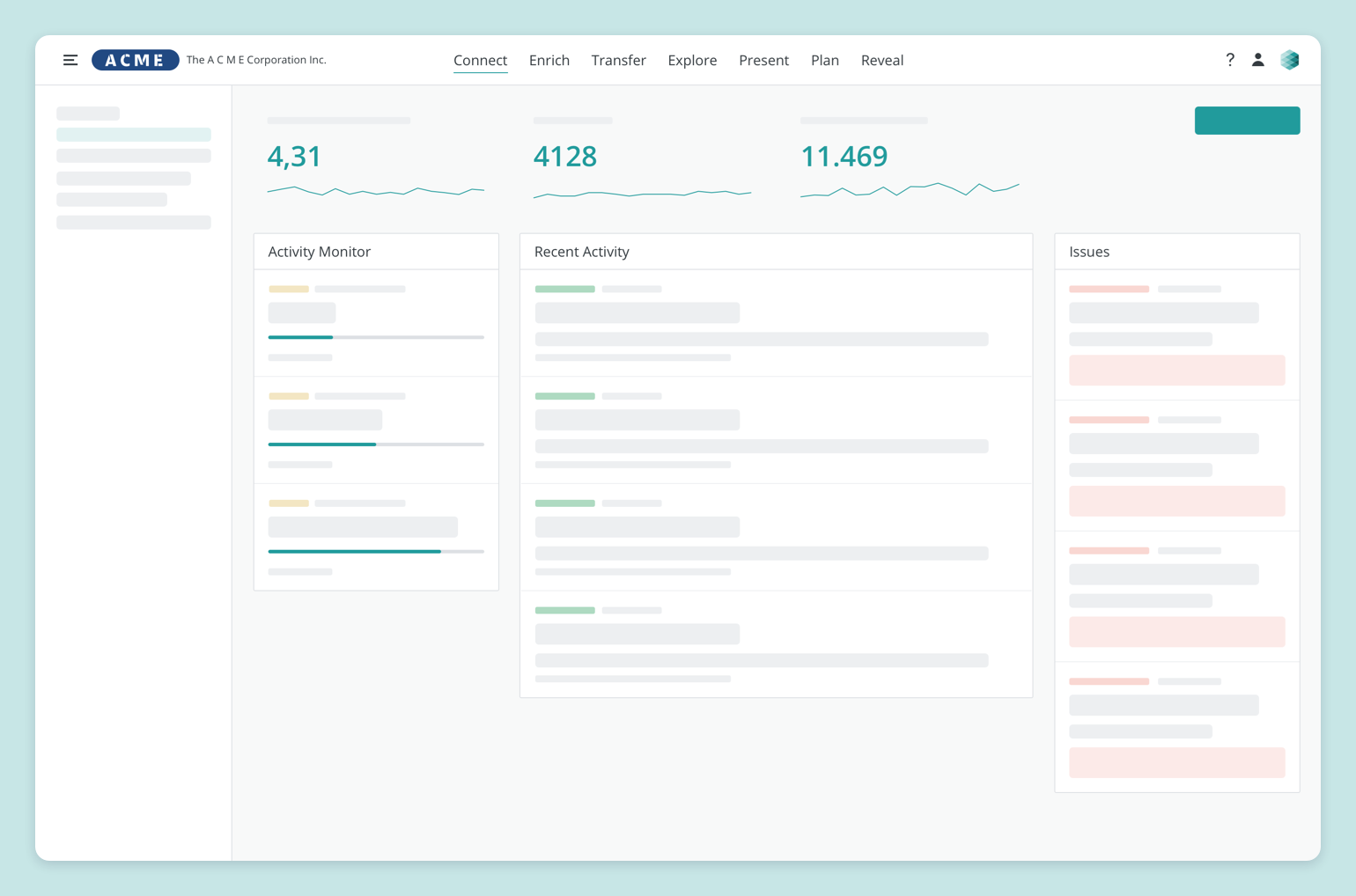 "Enrich" links to our powerful transformation engine, allowing you to prepare the dataset for analysis in the best possible way.
"Transfer" allows you to send and use your transformed and prepared data wherever you need it. Here you will find a list of your existing destinations, can set up new ones, and will be provided with a link to our data harmonization engine ("Data Schema").
"Explore" lets you browse and analyze your data with an easy-to-use drag & drop interface. Analyze data ad-hoc and fast within an integrated environment.
"Present" lets you build dashboards and visual insights into your data, which you can easily share with all stakeholders in need of these reports. This feature was formerly available through the "Dashboards" link in Adverity Insights.
"Plan" offers you a wide range of features that allow you to monitor budget and delivery compared to your planned values.
"Reveal" is our home for augmented analytics, a brand new addition to our platform that brings the benefits of proactive and intelligent data analysis. This module highlights various types of issues with the performance of your campaigns, as well as budget shift recommendations. Soon, here you will also find smart forecasting features, as well as our cMMM (Continuous Market Mix Modelling) capabilities.
Restructured Home and Datastream Overview Pages
We have significantly improved the very heart of Datastream management - the Overview page. Process lanes will be situated side-by-side, instead of on top of each other, allowing you to quickly spot what needs closer examination without scrolling below the fold.
The Datastreams overview page will allow you to access all settings right from the Overview page. This provides a more efficient process for creating, modifying, fetching and analyzing data.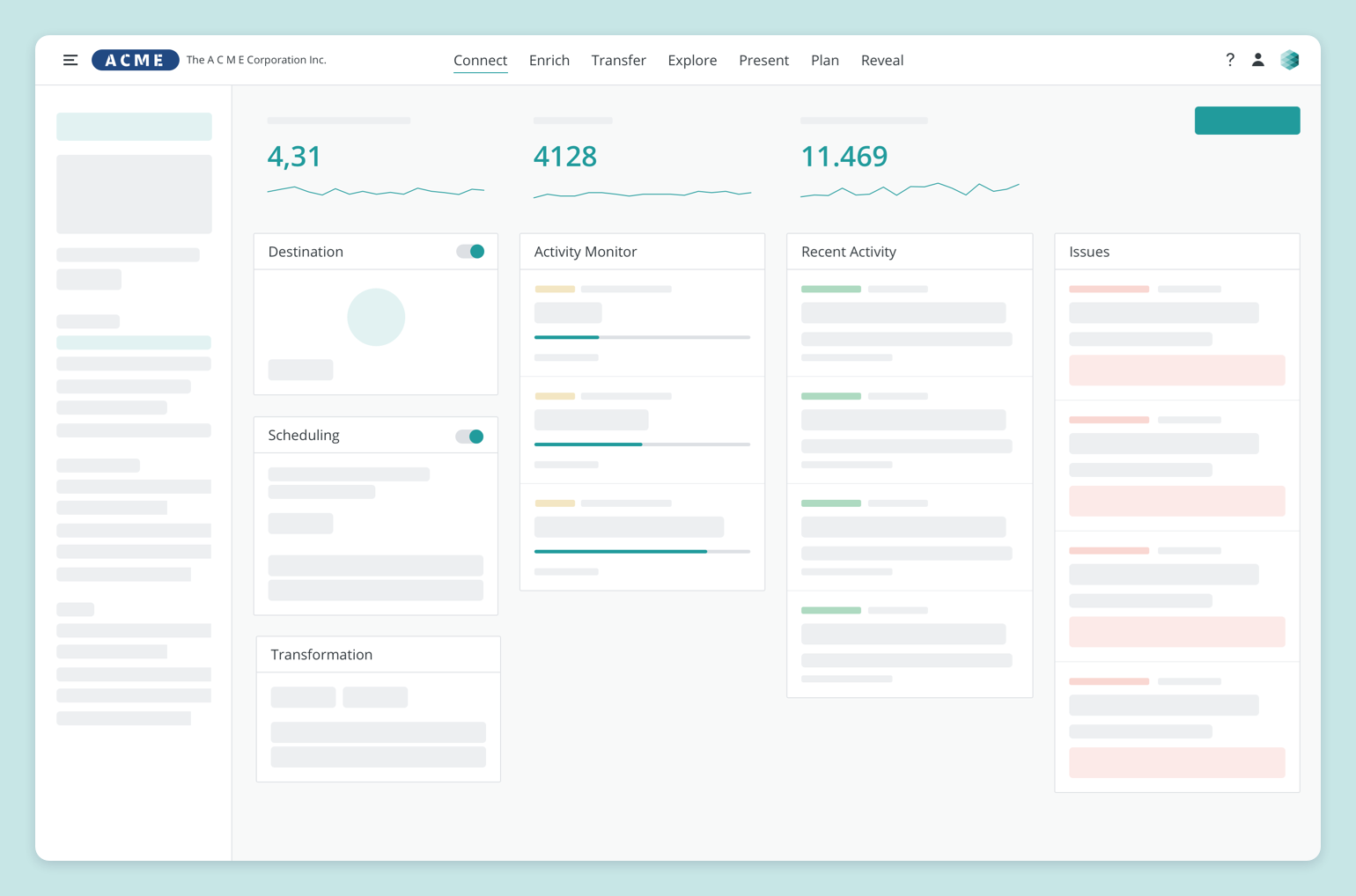 Introducing Report Templates
Datastream configurations are now available as presets. What does that mean? Within the Datastream setup process, you will notice an additional step after a Connection was selected. Instead of defining all settings manually, you can now save time by choosing from predefined configurations called "Templates". This new feature can save you a lot of time and effort in the initial setup of connections to all your data sources.
We have compiled a comprehensive list of commonly used Datastream configurations, and we will be adding more over time, in an effort to reduce complexity and make adding connections to various data sources as simple as possible.
The 4-Click Datastream Setup Wizard
The previous improvements lead to a largely simplified process of exporting to, and importing from, data connectors, which is now faster than ever. It's now possible to set up Datastreams and start the data acquisition in just four simple steps:
Choose Datastream type
Authorize Connection
Choose Report Template
Fetch Data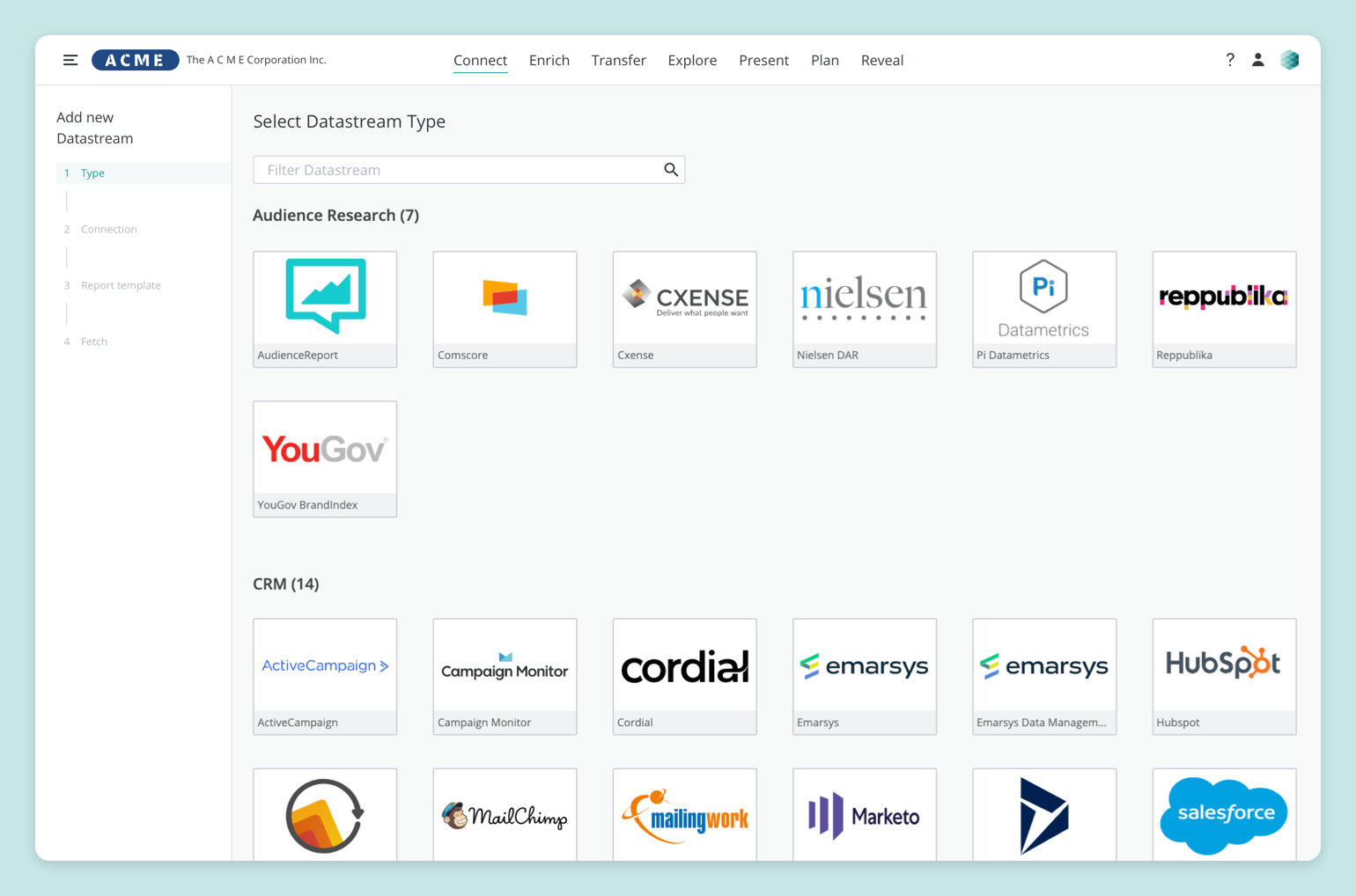 As soon as you click "Add new Datastream", you will be guided through the rest of the process.
Say Hello to "Workspaces"
We harmonized the wording of our "working entities''. What were formerly called "Organizations" (Datatap) and "Tenants" (Insights), are now named "Workspaces". That naming convention will now be consistent across all Adverity modules. Furthermore, we are introducing a new Workspace Picker, as seen left on the picture below.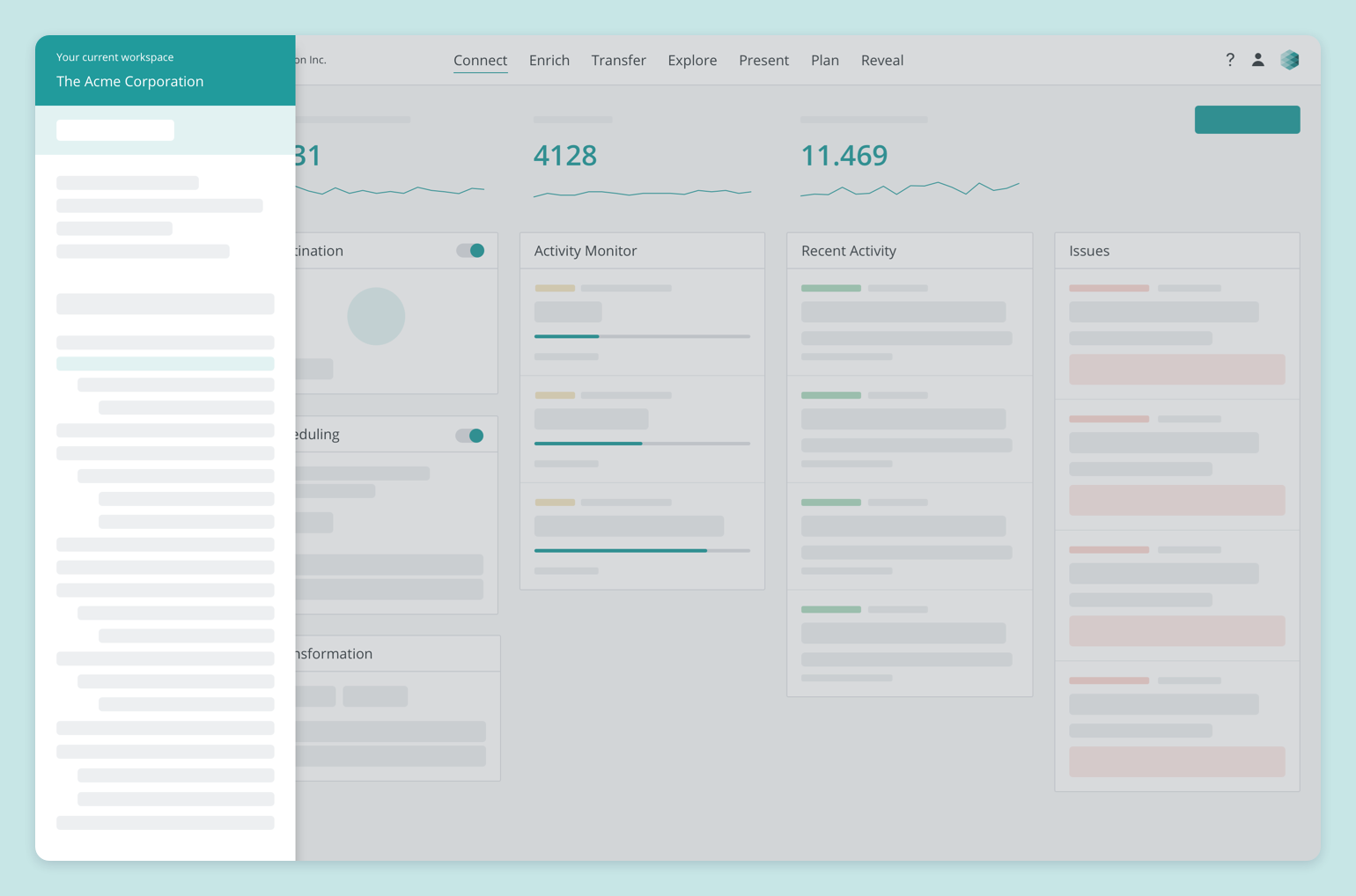 "Profiles" Are Now "Accounts"
...and in all of our modules they can now be accessed by clicking on the little icon in the upper right corner. Here, you will find everything related to your personal user account.
Our New Administration Area
Our brand-new administration area will be accessible from the Workspace picker by clicking on the "Administration" button. It will cover everything necessary to adjust all general stack settings.
If you click on the navigation menu in the upper left corner, you will also notice we have a new, harmonized Workspace picker that lets you quickly navigate through your Workspaces.
Improved Mobile View
Apart from all the updates mentioned above, we also reworked the mobile view and the general scrolling experience to make navigation easier.
---
We hope you are as excited as we are about the upcoming changes to Adverity!
If you are an existing customer and have any questions regarding the changes, please contact your Account Manager. If you're still not using our marketing analytics platform to make your marketing efforts even more efficient and effective, we invite you to learn more about it.